Watch Felix Jaehn & Mike Williams "Feel Good" Music Video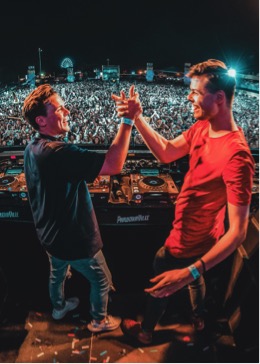 Felix Jaehn and Mike Williams just revealed their new high-octane music video for "Feel Good," out now on Vevo for your viewing pleasure.
The video shows highlights from Jaehn's whirlwind of a summer, from the white sands of Ibiza to the roaring stages of Tomorrowland. A summery festival season compilation video of epic proportions, it follows his sunny journey from one main stage to the next. It's throws a dancey 'feel-good' vibe of all around good-hearted fun. Sharing cake-throwing, fire blowing, and booming tunes with thousands of people – who wouldn't want a summer like that?
Watch the official "Feel Good" music video now:
Performing with Steve Aoki, David Guetta, and Hardwell at sold out clubs and festivals across the globe is just a piece of the kick ass summer Jaehn has been having. Other high points in the last several months include the release of "Hot 2 Touch," and a performance at Parookaville in July with Mike Williams for the live premiere of "Feel Good." Williams has had a triumphant season as well, releasing "Let's Go," a collaboration with Lucas & Steve, and a remix of R3hab's "Trouble."
The German superstar continues his European travels this Fall so don't fear – there's still time to catch a show. See upcoming tour dates for both Jaehn and Williams below, and keep up with the latest on their socials.