Thomas Jack to Bring Tropical Express Fall Tour to North America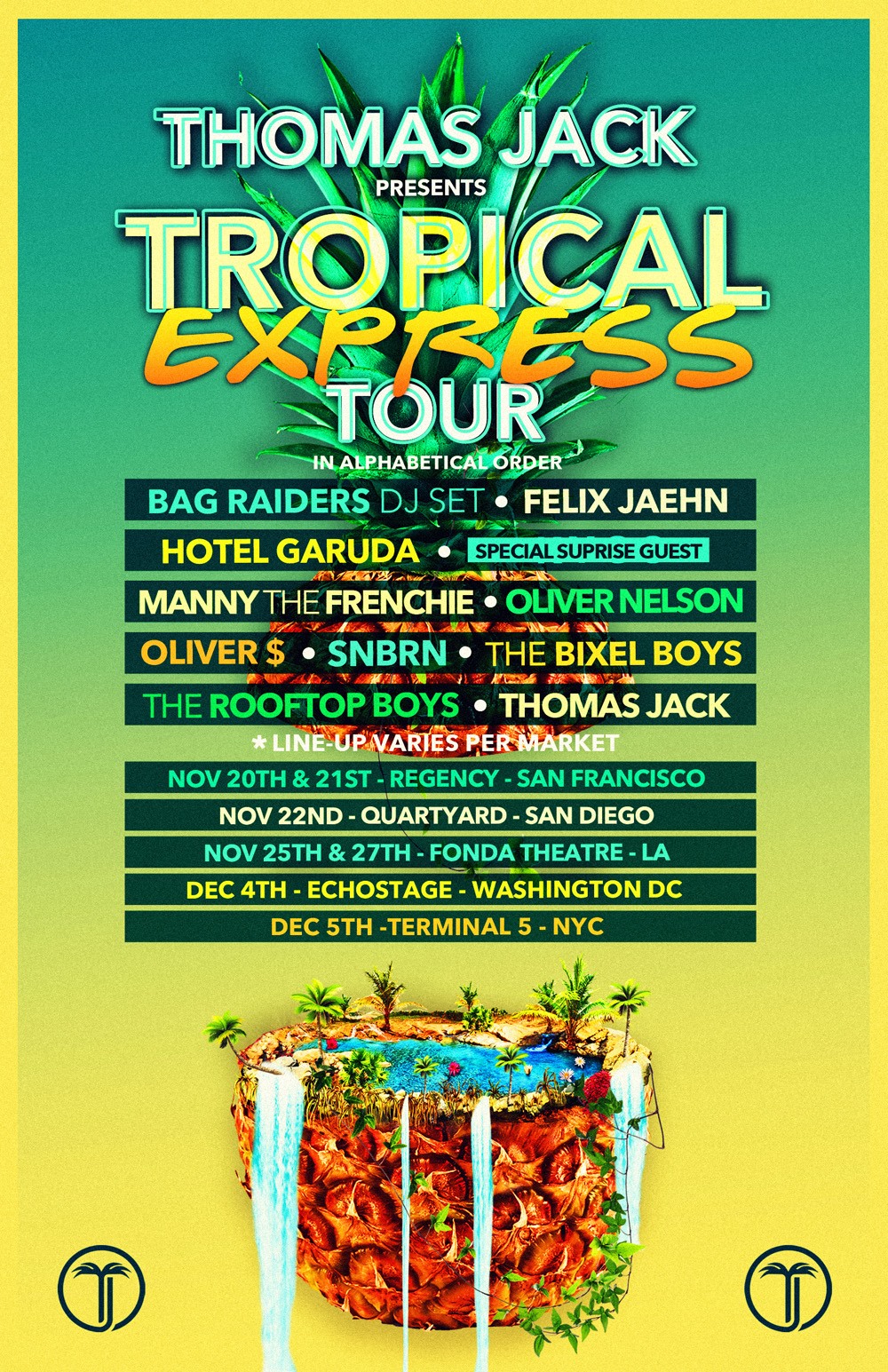 Festival season is nearing its end, but Thomas Jack plans on keeping the summertime fun afloat with his newly announced fall tour, Thomas Jack presents Tropical Express Tour.
The man who brought you the sounds of tropical house, Thomas Jack, will be making a 7-stop tour around some of the most popular venues in North America. The Tropical Express Tour starts with a back-to-back night performance at Regency in San Francisco on November 20 & 21. The show then makes its way down the coast stopping in San Diego and Los Angeles. The crew then flies out East to perform at the esteemed Echostage nightclub in Washington DC. The Tropical Express tour then concludes in a big way as a final performance is scheduled for Terminal 5 in NYC on December 5.
Giving even more incentive to attend the Tropical Express Tour (if you needed more incentive), Thomas Jack will be bringing some of the hottest names in the current house genre to perform alongside him. SNBRN, who is coming off his Where's The Aloe playlist and string of festivals, will be joining Thomas Jack for the tour. Hotel Garuda will also be on the set list, bringing their catchy, melodic house tunes with them.
To add to the lineup, the producer who exploded onto the scene with his interpretation of OMI's hit, "Cheerleader," Felix Jaehn is scheduled to make an appearance. But the cast doesn't stop there; The Bixel Boys, Bag Raiders, Oliver $, Oliver Nelson, Manny The Frenchie, and The Rooftop Boys are also tagging along for the Tropical Express Tour.
Don't miss your chance to be a part of the tropical house wave, while imagining you're having some fun-in-the-sun during the early winter season.
Tickets for Thomas Jack's Tropical Express Tour can be purchased HERE.