The Nocturnal Times Top Electronic/Dance Songs of 2021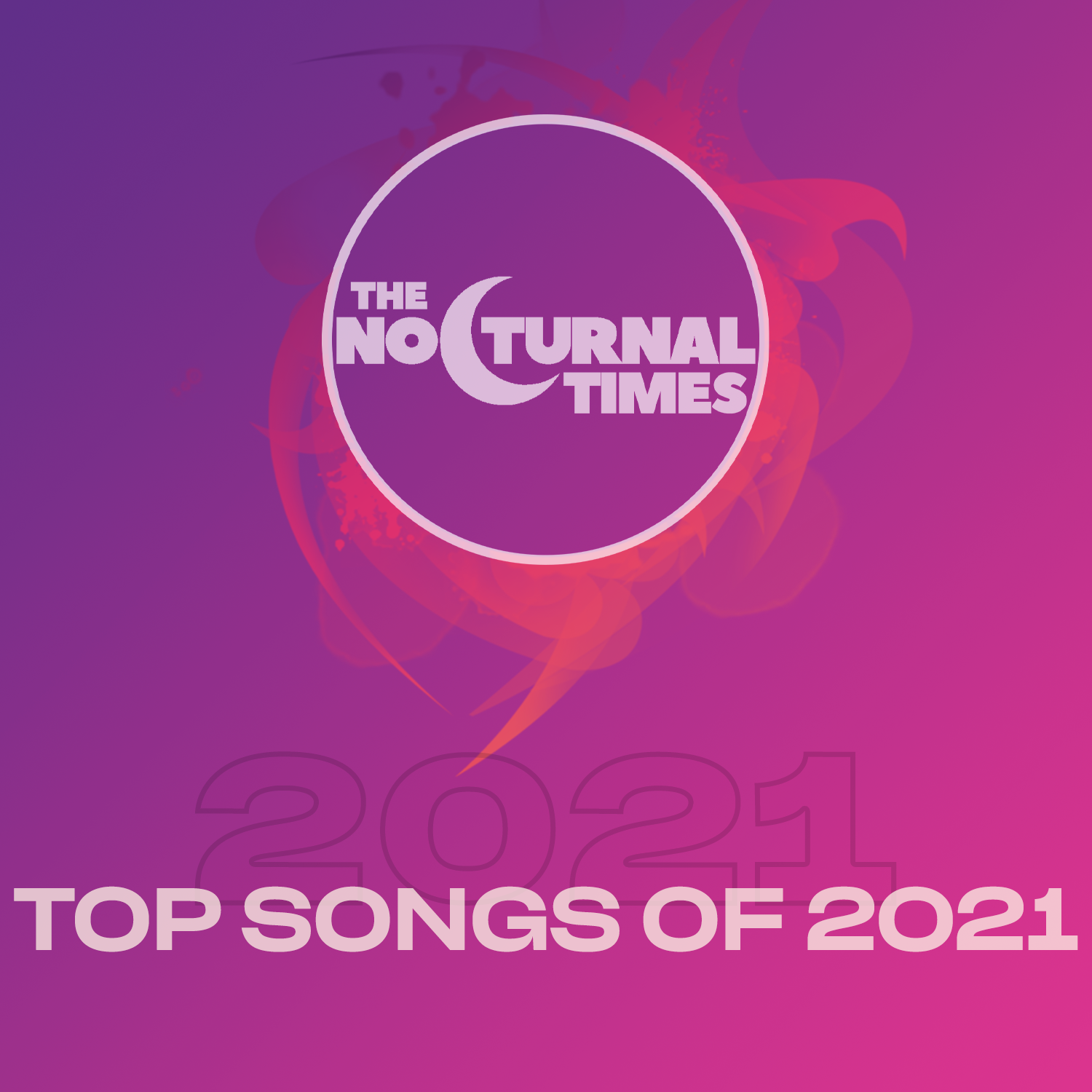 Another year coming to a close means we're proud to present The Nocturnal Times Top Electronic/Dance Songs of 2021. From your EDM favorites, to the sub-genres of dance & electronic, including tech & slap house which were especially popular this year, to mainstays like trance, techno, pop dance, tropical house, deep, dubstep, underground, and more — we've compiled a list (and playlist) of some of the biggest, most popular, and our favorite songs of the year. Whether original productions, remixes, covers, or collaborations, these are the tracks that stood out most in 2021.
The Nocturnal Times Top Electronic/Dance Songs 2021
*(listed alphabetically)
HRVY – 1 Day 2 Nights
LP Giobbi, Born Dirty – 24
Cash Cash – 42
SIDEPIECE – Acrobatic
Gryffin, Jason Ross feat. Calle Lehmann – After You
RÜFÜS DU SOL – Alive
Zeds Dead, MKLA – Alive
David Guetta, Jack Back, Fancy Inc., Roland Clark – Alive
Azteck, Afrojack – All Night Long
Tchami feat. ZHU – All On Me
Above & Beyond, Justine Suissa – Almost Home
Alle Farben feat. KIDDO – Alright
Duke Dumont, Channel Tres – Alter Ego
Shane Codd feat. Charlotte Haining – Always On My Mind
Loud Luxury, Ship Week feat. GASHI – Amnesia
Armin van Buuren, Timmy Trumpet – Anita
Roger Sanchez, Oliver Heldens – Another Chance
Timmy Trumpet feat. Lovespeake – Another Level
SLANDER, Au5 feat. shYbeast, PLYA – Anywhere
Fastic, twoDB, Over Easy, Linney – Anywhere Tonight
KSHMR feat. NOUMENN – Around The World
Sultan + Shepard – Assassin
Motorcycle – As The Rush Comes (No Mana Remix)
HUGEL – Back To Life
Ferreck Dawn, Jem Cooke – Back Tomorrow
Marshmello, Nitti Gritti feat. Megan Thee Stallion – Bad Bitches
Ed Sheeran – Bad Habits (MEDUZA Remix)
Tinlicker, Helsloot – Because You Move Me
Joel Corry, David Guetta, RAYE – BED
Navos – Believe Me
Alan Walker, Conor Maynard – Believers
Hook N Sling, Galantis, Karen Harding – The Best
Gryffin, Kyle Reynolds – Best Is Yet To Come
Rita Ora, David Guetta, Imanbek, Gunna – Big
Fred again.. – Billie (Loving Arms)
Jonasu – Black Magic
ILLENIUM, Tori Kelly – Blame Myself
twocolors – Bloodstream
Elderbrook – Body
Goodboys – Bongo Cha Cha Cha
Eli & Fur feat. Camden Cox – Burning
GRiZ, Jansten – Burn Up The Floor
Skrillex, Starrah & Four Tet – Butterflies
Calvin Harris feat. Tom Grennan – By Your Side
Chris Lorenzo feat. High Jinx – California Dreaming'
RAYE – Call On Me
Sam Feldt feat. Georgia Ku – Call On Me
Martin Jensen, Amber Van Day, N.F.I – Can't Come To The Phone
Surf Mesa, Madison Beer – Carried Away (Love To Love)
LP Giobbi, Kaleena Zanders – Carry Us
Topic, Bebe Rexha – Chain My Heart
deadmau5, Wolfgang Gartner – Channel 43
Alesso, Marshmello feat. James Bay – Chasing Stars
MK – Chemical
Kaskade – Closer
Sonny Fodera, Just Kiddin feat. Lilly Ahlberg – Closer
R3HAB, Andy Grammar – Close To You
LP Giobbi, HANA – Close Your Eyes
Elton John, Dua Lipa – Cold Heart (PNAU Remix)
Eli & Fur – Come Back Around
Petey Martin, Lauren Daigle – Come Back Home
Steve Aoki, Yves V feat. Ryan Caraveo – Complicated
HARBER feat. Robbie Rosen – Count You In
CamelPhat, Green Velvet – Critical
Jax Jones, Jem Cooke – Crystallise
Galantis, JVKE – Dandelion
The Chemical Brothers – The Darkness That You Fear (Edit)
Martin Garrix, Julian Jordan, Tinie Tempah – Diamonds
R3HAB, Timmy Trumpet, W&W – Distant Memory
DVBBS, Icona Pop – Do It Anyway
ACRAZE, Cherish – Do It To It
Diplo, Damian Lazarus feat. Jungle – Don't Be Afraid
Tiësto, KAROL G – Don't Be Shy
Camila Cabello – Don't Go Yet (Major Lazer Remix)
Alan Walker, Georgia Ku – Don't You Hold Me Down
Purple Disco Machine feat. Eyelar – Dopamine
Gorgon City, Jem Cooke – Dreams
SOFI TUKKER – Drinkee (Vintage Culture & John Summit Remix)
Clean Bandit, Topic feat. Wes Nelson – Drive
Chris Lake, NPC – A Drug From God
ILIRA, VIZE – Dynamite
Steve Aoki, Jolin Tsai, MAX – Equal in the Darkness
Dubdogz, JØRD – Everybody Wants To Party
3LAU, Funkin Matt, Frawley – Everything
Alan Walker, salem liese – Fake A Smile
SG Lewis – Fall
David Guetta feat. Bebe Rexha, Ty Dolla $ign, A Boogie With Da Hoodie – Family
Chet Faker – Feel Good
Nina Simone – Feeling Good (Joel Corry Remix)
Michael Calfan, HARBER feat. NISHA – Feelings After Dark
Michael Calfan, HARBER feat. NISHA – Feelings After Dark (Kiko Franco Remix)
Jax Jones – Feels
San Holo, Bipolar Sunshine – find your way
Purple Disco Machine feat. Moss Kena, The Knocks – Fireworks
ILLENIUM, iann dior – First Time
Kaskade, WILL K – Flip Reset
Sia, David Guetta – Floating Through Space
Sam Feldt, Rita Ora – Follow Me
Hayden James, Gorgon City, Nat Dunn – Foolproof
Vintage Culture, Fancy Inc., Roland Clark – Free
Riton, Nightcrawlers feat. Mufasa & Hypeman – Friday (Dopamine Re-Edit)
Gareth Emery, Dani Poppitt – Friendly Fires
Alison Wonderland – Fuck U Love U
Niiko x SWAE, Zack Martino, Kyle Reynolds – Glue
Faithless, David Guetta – God is a DJ
Alesso, CORSAK – Going Dumb
Kygo feat. James Gillespie – Gone Are The Days
Imanbek, Goodboys – Goodbye
Charli XCX – Good Ones (Joel Corry Remix)
Travis Scott, HVME – Goosebumps (Remix)
NERVO, Carla Monroe – Gotta Be You
Louis The Child feat. Bea Miller – hate u cuz i don't
Cheat Codes feat. AJ Mitchell – Hate You + Love You
Dimitri Vegas & Like Mike, Felix Jaehn feat. Yea – Heard About Me
Jonas Blue, LÉON – Hear Me Say
Shallou – Heartaches
Galantis, David Guetta, Little Mix – Heartbreak Anthem
Paul Woodford, Amber Mark – HEAT
Afrojack, David Guetta – Hero
Clean Bandit feat. ann dior – Higher
Coldplay – Higher Power (Tiësto Remix)
Tommy Trash, Daisy Guttridge – hiiigh
Armin van Buuren, Davina Michelle – Hold On
Ilan Bluestone, Giuseppe De Luca – Hopeless Dreamer
Whitney Houston, Clean Bandit – How Will I Know
John Summit feat. Echoes – Human
Ofenbach, Ella Henderson – Hurricane
deadmau5, Foster The People – Hyperlandia (Vocal Mix)
Rezz, deadmau5 – Hypnocurrency
RÜFÜS DU SOL – I Don't Wanna Leave
Tujamo – I Don't Wanna Go
Riton, RAYE – I Don't Want You
David Guetta, MistaJam, John Newman – If You Really Love Me (How Will I Know)
Peggy Gou – I Go
Felix Jaehn, Robin Schulz, Georgia Ku – I Got A Feeling
Tinashe, TOKiMONSTA – I'm Every Woman
Paul Oakenfold, Aloe Blacc – I'm In Love
Paul Oakenfold, ZHU, Velvet Cash – I'm Into It
David Guetta, MORTEN feat. John Martin – Impossible
PinkPantheress – I must apologize
J Balvin, Skrillex – In Da Getto
Disclosure – In My Arms
Alok, John Legend – In My Mind
Elderbrook, Bob Moses – Inner Light
KAYTRANADA feat. H.E.R. – Intimidated
Alok, SOFI TUKKER, INNA – It Don't Matter
Swedish House Mafia – It Gets Better
San Holo – IT HURTS!
R3HAB, Mr Eazi, Wafia – I Wanna Run Away
Gryffin, Two Feet – I Want Love
KSHMR feat. Jake Reese – I Will Be A Lion
Joel Corry feat. Mabel – I Wish
Dolly Parton – Jolene (Destructo Remix)
FISHER – Just Feels Tight
Frank Walker, Theresa Rex – Kiss Me
Becky Hill – Last Time
Cheat Codes, Tinashe – Lean On Me
Alesso, Armin van Buuren – Leave A Little Love
Marshmello, Jonas Brothers – Leave Before You Love Me
DVBBS, GATTÜSO feat. Alida – Leave The World Behind
Alle Farben, Fools Garden – Lemon Tree
Benny Benassi, Ne-Yo – Let Me Go
Mabel – Let Them Know
MK, Raphaella – Lies
PS1 feat. Alex Hosking – Life Goes On
Swedish House Mafia, Ty Doll $ign, 070 Shake – Lifetime
Flight Facilities feat. Channel Tres – Lights Up
MATTN, Klaas – The Logical Song
Porter Robinson – Look at the Sky
Paul Woolford, Diplo, Kareem Lomax – Looking For Me
Surf Mesa feat. Bipolar Sunshine – Lose My Mind
Lindsey Stirling, Mako – Lose You Now
Majestic, Nightcrawlers – Losing My Mind
Steve Aoki, GATTÜSO, Aukoustics feat. MKLA – Losing My Religion
Alok feat. Alida – Love Again
SLANDER, Dylan Matthew – Love Is Gone (R3HAB Remix)
Dillon Francis, Shift K3Y, Marc E. Bassy – Love Me Better
Kygo feat. Zoe Week – Love Me Now
Shouse – Love Tonight
RÜFÜS DU SOL – Make It Happen
John Summit – Make Me Feel
Fred again.., The Blessed Madonna – Marea (We've Lost Dancing)
David Guetta feat. Kid Cudi – Memories (2021 Remix)
Demi Lovato, Ariana Grande – Met Him Last Night (Dave Audé Remix)
Cloonee, Wade – Mi Amor
Kaskade, Ella Vos – Miles To Go
ZHU, John The Blind – Monster
Bee Gees, SG Lewis – More Than A Woman (SG's Paradise Edit)
Sleepwalkrs feat. MNEK – More Than Words
Swedish House Mafia, The Weeknd – Moth To A Flame
Tiësto, Ava Max – The Motto
Flight Facilities, DRAMA – Move (Edit)
Porter Robinson – Musician
Steve Aoki, Armin van Buuren – Music Means Love Forever
Ava Max – My Head & My Heart (Claptone Remix)
Becky Hill feat. Topic – My Heart Goes (La Di Da)
Joshwa, Lee Foss – My Humps
A-Trak, Ferreck Dawn – My Own Way
Coldplay, BTS – My Universe (Galantis Remix)
Steve Aoki, Aloe Blacc – My Way
Sonny Fodera, KOLIDESCOPES feat. Sinead Harnett – Nah
LODATO – Neon Lights
Kungs – Never Going Home
Black Coffee, Diplo feat. Elderbrook – Never Gonna Forget
Gorgon City, Hayley May – Never Let Me Down
Cheat Codes, Little Big Town, Bryn Christopher – Never Love You Again
Gryffin, Boy Matthews – New Blood
Diplo & Mark Ronson pres. Silk City feat. Ellie Goulding – New Love
RÜFÜS DU SOL – Next To Me
Armin van Buuren, The Stickmen Project – No Fun
TELYKast, Loren Gray – Nobody To Love
Solomun feat. Jamie Foxx – Ocean
Jauz, HALIENE – Oceans & Galaxies
Icona Pop, VIZE – Off Of My Mind
Lane 8, Julia Church – Oh, Miles
Nicky Romero, MARF, Wulf – Okay
Diplo feat. Elderbrook & Andhim – One By One
SG Lewis feat. Nile Rodgers – One More
Jason Ross, Blanke, Chandler Leighton – One More Day
Robin Schulz, Felix Jaehn feat. Alida – One More Time
Felix Cartal, Karen Harding – Only One
RÜFÜS DU SOL – On My Knees
Tiësto, Lucas & Steve – Oohla Oohla
Christoph, Yotto, Sansa – Out Of Reach
The Two Fake Blondes – Out Of The Darkness
Joel Corry, Jax Jones feat. Charli XCX & Saweetie – OUT OUT
MEDUZA, Dermot Kennedy – Paradise
Farruko – Pepas
Gryffin, LOVA – Piece Of Me
VAVO, Tyler Mann – Pieces
Grimes – Player Of Games
Martin Garrix feat. Tove Lo – Pressure
Miley Cyrus feat. Dua Lipa – Prisioner (Jax Jones Remix)
Don Daiblo, JLV, John K – Problems
Diplo, Paul Woolford, Kareen Lomax – Promises
Dom Dolla – Pump The Brakes
Alok, Daniel Blume – Rapture
Majestic, Boney M. – Rasputin
Dillon Francis, Bow Anderson – Reaching Out
Dillon Francis, Aleyna Tilki – Real Love
Kito, VanJess, Channel Tres – Recap
Loud Luxury, Thutmose – Red Handed
Squid Kids, 71 Digits – Red Light, Green Light
Becky Hill, David Guetta – Remember (David Guetta VIP Remix)
DJ Snake, Malaa – Ring The Alarm
Lane 8, Davey Havoc – Riptide
Lost Frequencies – Rise
VINAI feat. VAMERO – Rise Up
Yves Larock, Stef Da Campo feat. Jaba – Rise Up 2021
Ella Henderson, House Gospel Choir, Just Kiddin – Risk It All
Calvin Harris pres. Love Regenerator, Solardo – Rollercoaster
Bonobo – Rosewood
The Knocks feat. Mallrat – R U HIGH
Moore Kismet, WYN – Rumor
R3HAB, Sigala, JP Cooper – Runaway
DJ Snake feat. Rick Ross, Rich Brian – Run It
Snakehips, EARTHGANG – Run It Up
Alan Walker, Jamie Miller – Running Out Of Roses
Bebe Rexha – Sacrifice
Rezz, PVRIS – Sacrificial
DJ Snake, Selena Gomez – Selfish Love
Oliver Heldens, Party Pupils feat. MAX – Set Me Free
The White Stripes – Seven Nation Army (The Glitch Mob Remix)
DJ Snake, Ozuna, Megan Thee Stallion, LISA – SG
Ed Sheeran – Shivers (Dillon Francis Remix)
Julian Jordan, TEO MANDRELLI, Jordan Grace – Shout
Above & Beyond, Armin van Buuren – Show Me Love (Sander van Doorn Remix)
KVSH, Schillist – Sicko Drop
ILLENIUM, Valarie Broussard, Nurko – Sideways
Regard, Kwabs – Signals
Andrew Rayel – Silver Lining
ZHU, Yuna – Sky Is Crying
Kaskade – Solid Ground
Jones Blue feat. AWA – Something Stupid
Louis The Child, BabyJake – Somewhere Else
R3HAB, Jolin Tsai – Stars Align
The Two Fake Blondes – Song for When Ur Sadddd
Alan Walker, ISÁK – Sorry
Rudimental, Skream – So Sorry
Louis The Child feat. A R I Z O N A – So What
Timmy Trumpet, Afrojack – Stay Mine
Salvatore Ganacci – Step-Grandma
Celeste, MK – Stop This Flame
ILLENIUM, Sueco feat. Trippie Redd – Story Of My Life
Dom Dolla, Mansionair – Strangers
Doja Cat – Streets (Disclosure Remix)
Sam Feldt feat. Kesha – Stronger
Elohim, Big Freedia – Strut
220 KID, LANY – Stupid Feelings
Noizu – Summer 91 (Looking Back)
Matoma, Jonah Kagen – Summer Feeling
Aluna, Punctual – Summer Of Love
Dragonette, Sunnery James & Ryan Marciano, Cat Dealers feat. Bruno Martini – Summer Thing
SOFI TUKKER, John Summit – Sun Came Up
Skrillex, Noisia, josh pan, Dylan Brady – Supersonic (My Existence)
Alan Walker, Imanbek – Sweet Dreams
Years & Years, Galantis – Sweet Talker
KREAM – Take Control
ARTY – Take Your Time
Rezz, Dove Cameron – Taste of You
Don Diablo, Galantis – Tears For Later
MEDUZA, Hozier – Tell It To My Heart
Gorgon City – Tell Me It's True
SIDEPIECE – Temptation
Danny Quest, Cheat Codes feat. Hayley May – That Feeling
Whethan feat. ericdoa & glaive – Think You Right
HONNE feat. Khalid – THREE STRIKES
Gabry Ponte, LUM!X, Prezioso – Thunder
Bob Moses – Time and Time Again (Single Edit)
Cash Cash feat. Wiz Khalifa & Lukas Graham – Too Late
Don Diablo, Ty Dolla $ign – Too Much To Ask
Aluna, Michael Brun, Alicai Harley – Trouble
DallasK feat. Lauv – Try Again
Morgan page, Lights – Turn Off My Mind
Armin van Buuren – Turn The World Into A Dancefloor (ASOT 1000 Anthem)
DJ Snake – U Are My High
TELYKast, Sam Gray – Unbreakable
Dillon Francis, 220 KID, Bryn Christopher – Unconditional
Kygo feat. X Ambassadors – Undeniable
Tinashe, Wax Motif – Undo (Back To My Heart)
Porter Robinson, Totally Enormous Extinct Dinosaurs – Unfold
Mike Candys – Vibe
GRiZ – Vibe Check
Anabel Englund, Yotto – Waiting For You
Oftenbach feat. Logique – Wasted Love
AJR – Way Less Sad (Cash Cash Remix)
Martin Garrix feat. Bono & The Edge – We Are The People [Official UEFA EURO 2020 Song]
Martin Garrix pres. Love Regenerator, Eli Brown – We Can Come Together
Dua Lipa – We're Good (Dillon Francis Remix)
Nicky Romero, W&W, Olivia Penalva – We're Still Young
Nathan Evans – Wellerman (Sea Shanty / 220 KID x Billen Ted Remix)
Lane 8, Arctic Lake – What Have You Done To Me?
deadmau5, Lights – When The Summer Dies
Lost Frequencies, Calum Scott – Where Are You Now
Toby Romeo, Felix Jaehn, FAULHABER – Where The Lights Are Low
Alok feat. John Martin – Wherever You Go
Craig David, MNEK – Who You Are
John Summit, Nic Fancuilli – Witch Doctor
Martin Garrix, Matisse & Sadko, John Martin – Won't Let You Go
KSHMR feat. KARRA – The World We Left Behind
ILLENIUM, Thirty Seconds To Mars – Woulnd't Change A Thing
Armin van Buuren, Vini Vici, Tribal Dance, Natalie Wamba Berry – Yama
Regard, Troye Sivan, Tate McRae – You
Caribou – You Can Do It
Sigala, Rita Ora – You for Me
Valentino Khan, Nitti Gritti – Your Body
ATB, Topic, A7S – Your Love (9PM)
ZHU, Arctic Lake, Yours
San Holo, Chet Porter – you've changed, i've changed
Gorgon City, DRAMA – You'd Done Enough
benny blanco, Marshmello, Vance Joy – You