The Nocturnal Times Exclusive Interview: Pierce Fulton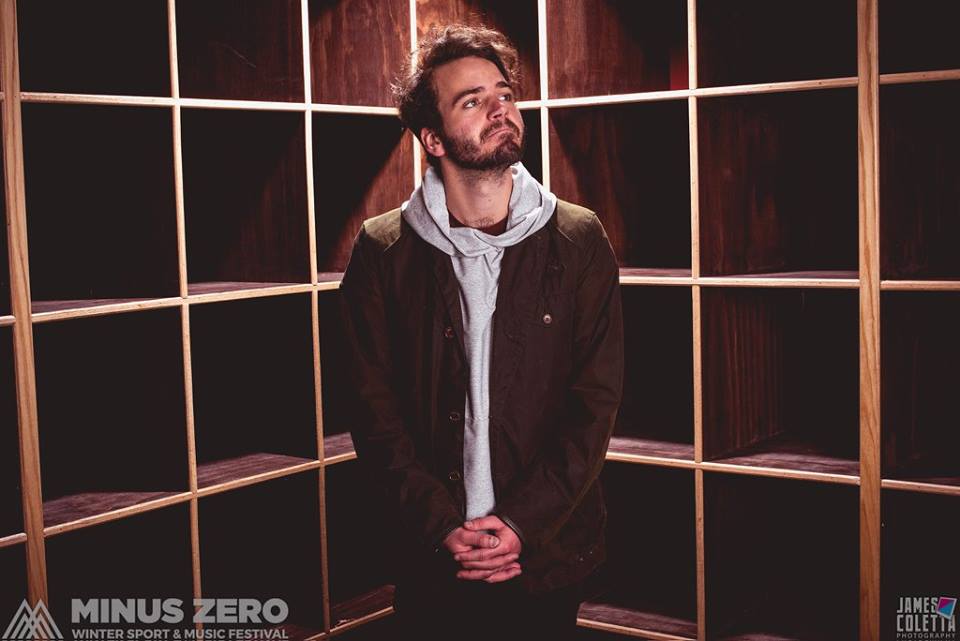 A hometown performance is special for any artist, and Pierce Fulton took the time to chat with The Nocturnal Times following his Minus Zero Vermont
The young New England producer has been making music since his early adolescent days and first took to the Electronic Music scene at the ripe age of 18 with his EP "Pardon My French."  Pierce Fulton has displayed a wide variety of musical range; from his downtempo 2012 favorite "10/6 (That Should Do It)" to the electro house remix of the Cash Cash hit "Surrender," Pierce Fulton can appeal to many different listeners.
He's been touring full time for just about six years now and he's no stranger to the big stage. Pierce Fulton has performed at some of the most prominent music festivals around like Electric Zoo, TomorrowWorld, and Electric Forest. So far this year he kicked things off in Vermont for Minus Zero Festival and has more stops planned with Backwoods Festival, The # Festival, and Sunset Music Festival later on this year. On the creative end his recent track "No More" was released through Armada and has already generated quite the buzz. Only to be rivaled by the classic "Kuaga (Lost Time)," Pierce Fulton has big plans for his future musical career and hopes to reach a bigger audience than ever before.
Coming off an adrenaline filled set for his hometown, Pierce Fulton found the time to talk to us about his origins, biggest hits, and plans for the future during the first ever Minus Zero Festival in Vermont.
Did you have any indication that you were going to do dance music growing up? When did that set in?
FULTON: Not at all, it kind of just happened! I grew up playing guitar when I was living in Connecticut and tried exploring some more instruments along the way. Once I moved to Vermont when I was around 10 years old, I continued to explore musically and started playing in various bands. My music teacher in high school had a self-made electronic music course that I took. We covered a lot of the basic synthesis stuff, sampling, and the history of the genres, so it was all very historical and really set in the foundation for my knowledge of electronic music. I was listening to the Deadmau5's and Kaskades and all of that, but I was learning about the guys who invented techno, how it went to Chicago and turned into house and spread back into Europe. I've always made music but I started exploring electronic music production around this time in high school right around when the Swedish House Mafia were starting out.
As far as your music career, what came first? What was it mixing or producing?
FULTON:  Production definitely came first, I still don't even see myself as a DJ for some reason. I DJ but I just basically play my own music. It's just what I prefer, I just love writing music and to be able to play it out is amazing. I used to be in the mentality where I thought "Oh I'm a DJ and I'm supposed to play the music people like." but I came to the conclusion a few years ago where I thought f*** it, I'm here I'm just gonna play my own music and if they don't like it that's fine and if they do that's great. Why else would I be here and why else would I be playing?
Do you have any memorable stories from your first big event gig?
FULTON: One that stands out the most would be when I played Electric Forest in Michigan a few years ago. I played the slot I was booked for and then I was also added to a special guest slot during a really good set time last minute. It was in the middle of the woods with a huge crowd as the sun had just set. It was a really special moment for me.
One of your biggest hits "Kuaga" really allowed you to get on the map. What was the inspiration behind that track itself and the name? And did you expect the success you saw from that?
FULTON: I don't really talk about the inspiration or the name because they're related. Basically it was the last song for one of my deals I signed when I was really young. I made it because it was going to be one of the last tracks and I just hoped they'd like it. I made it in one day. I was just messing around in my basement one day, released it, then boom it took off. My best ideas and my best songs are always very spur of the moment and spontaneous like that.
What's your take on collaborations? Do you have any plans for future collaborations?
FULTON: Other than doing vocals with other people, I've done I think three collabs in my entire career. One of them is this upcoming song that isn't even out yet. My last one was with my friend Puppet, and that was really fun. I'm kind of super stubborn and I work well with others but I also try to take control of certain situations when it comes to making a song. It's obviously a healthy activity for me to be able to share the responsibility. I'm doing an EP in the near future and one of the songs is me singing with my friend, so it's kind of a duet between him and I. Working with him is really nice because he's one of those dudes that always gets me in a great mood and it's very fun to work with him.
How did it feel performing at Minus Zero in Stratton, Vermont for your home crowd?
FULTON: I was actually a little nervous! I don't get nervous very often anymore so it was a nice humbling thing for me. I've played so many shows and I don't want to sound ungrateful (I of course love doing it) but you get to a point where you know how to DJ, and you can play any song even if you've never heard it before. Today I was kind of pacing before me set and was thinking "oh jeez, I'm a little nervous"! I had my parents here, people from my school, etc. I wanted to do well for all the people that came out. It was so fun!
Now looking at your residency at Omnia/Wet Republic in Vegas, what are you looking forward to the most?
FULTON: I've played some Vegas shows in the past when I was much younger and under 21. Now I've got these shows coming up with Martin Garrix and I'm so excited. To me just going back to Vegas is so sweet. Especially now that I live in LA, it's so close and I could just go and play a quick show with a totally new group I'm really excited and I love Martin. It's also going to be my first time back in Vegas being over 21. I can drink and gamble now. It's going to be fun for sure.
What are some experiences that stand out to you from you past years in the music business?
FULTON: There's been so many. I weirdly sometimes suppress them. Honestly one of the funnier things is being randomly recognized in public in odd places. There have been two separate instances that stand out in particular. One time I was getting a new iPhone at AT&T and some dude sees me and goes "WHAT?!" Another time I was at the doctor because I had to get my ears checked out for some sinus things. I was just getting out of the office and I still had water in my ear and was disoriented. Some guy came up to me and just goes "What up?!" I was super caught off guard, it was pretty funny haha.
So you had the recent release with Armada Music "No More." You did the original, the radio edit, and the Pierce Fulton remix. Can you tell us a little bit about the differences between the production processes of those three versions?
FULTON: This always confuses people but the remix was actually the original version all along. I realized that the vocal needed a production with something a little more than what it was. So I did a totally new version and made that the original mix, and then my previous original mix became the remix. I still loved the production of the remix and I had to figure out a way to put it out with the right context.
Is there any particular solo production that has meant the most to you?
FULTON: Ever since I decided I wanted to sing on all my new music, it's been such a rewarding process because I never really sang in my entire life. My great grandfather was a famous singer and I always thought I should just figure it out and see if I had it in me. I was kind of shy about it and it took a little time but I got over the shyness. I'm not Frank Sinatra but I can get by. I've also found the process of writing lyrics to be therapeutic. It was so hard for me for so long and I always found myself writing cheesy stuff. I even wrote some ideas on the flight over here. I've recently unlocked the key somehow and lyrics are just sh***ing out. You can get so crafty and it's such a different process of creativity that I didn't realize was going to be so rewarding.
So going forward overall you want to get in the live and vocal field. Is that the main direction your heading?
FULTON: It's definitely a major thing I'm moving towards but I don't want to just take a turn and say goodbye to all the electronic stuff. The real goal is to have my new music and the music I'm known for exist side by side so I can play these festivals and these club shows and I can also play these live venues that are hard tickets with just my fans. My biggest concern is not confusing people and not making it seem like I'm just abandoning everything I've built up. I don't want to just be "like see you later," because the electronic stuff is what built me up from the beginning.
Do you see yourself doing a live tour in the future?
FULTON: Absolutely.
Stay up to date with Pierce Fulton on Twitter, Facebook, and Instagram.
Feature Image and Body Image by: James Coletta