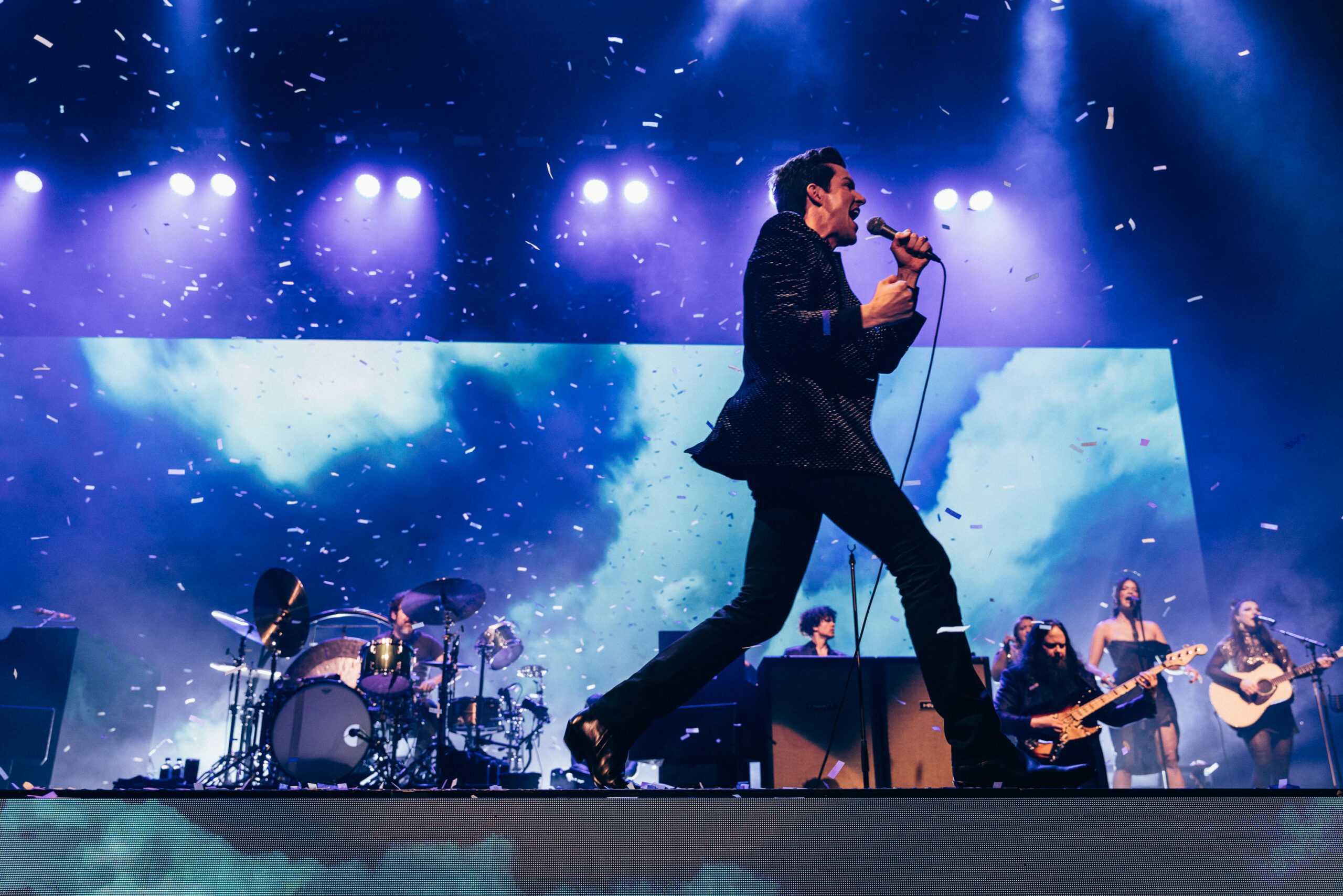 The Killers Bring 2-Night Sold-Out Spectacle to Madison Square Garden With Imploding The Mirage Tour
World-class, pop-rock supergroup, The Killers made a grand return to New York City for two back-to-back, sold-out nights at Madison Square Garden. Bringing their Imploding The Mirage tour to the World's Most Famous Arena, The Killers rocked (literally and figuratively) The Garden on Fri., Sept. 30 & Sat., Oct. 1.
The Killers took to the stage precisely at 9 pm, and as the full crowd at MSG was roaring, the band began their nearly 2-hour ensemble with "My Own Souls Warning," the opening track from their Imploding The Mirage album. Moving into Sam's Town territory, the show proceeded with "Enterlude" and "When You Were Young," followed by two Hot Fuss favorites, "Jenny Was A Friend Of Mine," and "Smile Like You Mean It."
There was an indescribable energy in the air as the chanting and singing along from the sold-out crowd only enhanced the overall experience. Next up from the multi-faceted band were "Shot At The Night," "Cody," from their latest LP, Pressure Machine, and two of their biggest songs from their repertoire, "Human" and "Spaceman," taken from the era of Day & Age. Before showcasing their latest single, "boy," it was time for "Somebody Told Me," which had the 17,000+ in attendance on their feet, moving and singing along.
Night one of the Imploding The Mirage tour at MSG continued with "Pressure Machine," "A Dustland Fairytale," and a cover of "The First Time Ever I Saw Your Face" by Ewan MacColl & Peggy Seeger. We traveled to the Battle Born era for "Runaways," into "Ready My Mind," "Dying Breed," and "Caution." When it came to closing time, The Killers wrapped up with "All These Things That I've Done," as the entire area sang along in unison, it was definitely one of many of the night's goosebumps-inducing moments. And to top it all off — night two at The Garden included a special guest: New Jersey's own Bruce Springsteen.
It was time for the night's encore, which consisted of "The Man," a cover of The Smiths "This Charming Man," performed with the show opener, Johnny Marr, followed by an unforgettable performance of "Mr. Brightside." As the night came to an end just before 10:50 pm, everything came full circle, as Brandon Flowers thanked NYC, made references to Frank Sinatra and The Rat Pack, and talked about finally being able to perform in the city, following a cancellation of their Central Park show last summer due to Hurricane Henri. Starting off their final song with the Jacques Lu Cont remix of "Mr. Brightside" with a full-blown laser show, the crowd went wild during what's undoubtedly The Killers' most-loved song (which also just celebrated its 19th anniversary).
Photo Credit: Chris Phelps