Subculture NYC Delivered Night of Trance at Best Buy Theater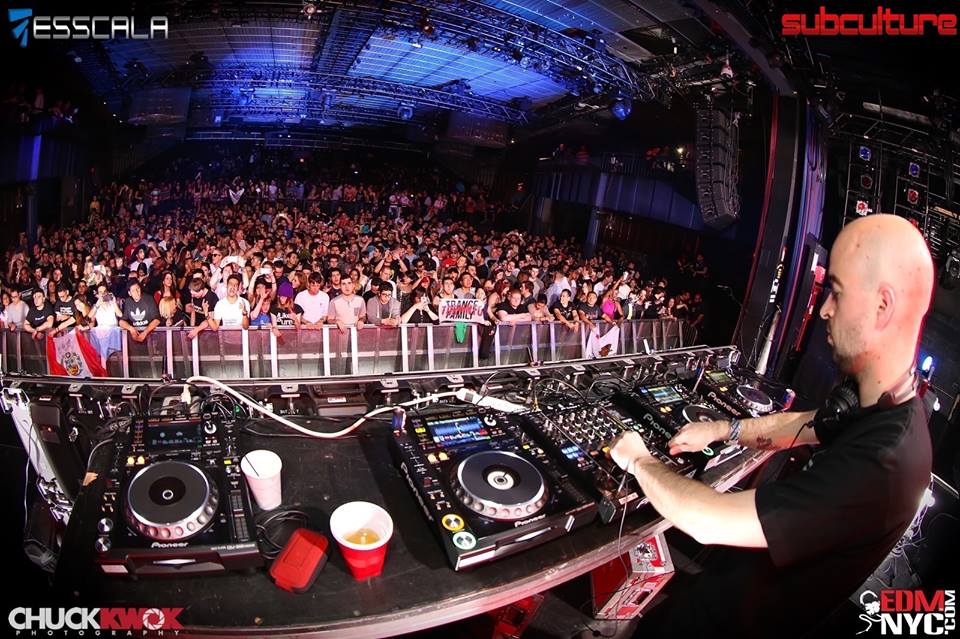 For those who were witnesses, April 25, 2015 will be remembered as the night that Subculture conquered Time Square. Esscala has done it again, successfully delivering a New York City event that fans eagerly anticipated in the months preceding the seven-hour affair.
Subculture NYC brought some familiar faces and legends of the trance scene to the Best Buy Theater, starting with the Subculture label owner and originator, John O'Callaghan.
The soundtrack for 7 hours of top-notch music also included hour-long sets from Bryan Kearney, John Askew, Pure NRG (Giuseppe Ottaviani vs Solarstone), Sneijder, Will Atkinson and Guy Mantzur. The Best Buy Theater was clearly in for a long night.
Warming up the crowd at 9 p.m. was Guy Mantzur, playing techno as the doors opened. Up next was the party starter Will Atkinson, who gave the crowd a taste of what was to come throughout the course of the evening. Atkinson's set featured his own "Numb The Pain," "Fresh Meat," and closing track "Game Over 2015."
Once 11 p.m. came, so did the purest and melodic music of the night. Giuseppe Ottaviani and Solarstone joined forces for a Pure NRG performance that uplifted the Best Buy Theater. An ensemble that included Pure NRG productions "Ghost," "Destinations," a remix of Armin van Buuren pres. Rising Star "Safe Inside You" featuring Betsie Larkin, and a brilliant mash-up of Ferry Corsten "Galaxia" vs. Above & Beyond "Good For Me." These two legends truly raised the bar with their highly anticipated joint ensemble.
The main event and host, Mr. John O'Callaghan, took to the stage immediately following the strike of midnight. Opening with his track "Adelphos" to a packed theater, JOC was sure to stick to his adorned Subculture sound from beginning to end. Towards the latter half of his deep track selection, JOC found time for Mark Sherry's "The Pillars of Creation" as well as showcasing his vocal track "Stay With Me." This monumental event was live broadcasted to listeners all over the world through AH.FM aka After Hours. John O'Callaghan fit nearly fifteen tracks into his power-hour tracklist and finished with his remix of Starfighter "Apache."
A fan favorite, Bryan Kearney, heard chants throughout his entire pulse-pounding showcase. Kearnage shirts swarmed the dance floor as Bryan dropped Vini Vici "The Tribe," a remix of "Personal Jesus" by Depeche Mode, and "Step Into The Light," Fabio XB & Liuck's vocal collaboration with Christina Novelli (Touchstone Remix). The crowd's energy was radiant until the finale shortly after 2 a.m. Kearney's set lived up to his "Kearnage" label name as he ended with unreleased IDs and his production "The Things We Should Say."
The performer who quite possibly stole the show was none other than New York City favorite, John Askew. A true member of Subculture, and JOC's good mate, Askew is an expert at getting the crowd moving. From the start, Askew played his own remixes of DJ Misjah & DJ Tim "Access" and the ever-popular "Are Am Eye" by Commander Tom. Other highlights of this masterful set were when Askew gave fans a glimpse of his darker side as he showcased his own "Mechanism" and a closing with his monstrous remix of JOC's "Stresstest," which never disappoints.
As the last hour came and went, a bittersweet set from Sneijder shutdown the Best Buy Theater in style. With his Bryan Kearney collab "Proper Order," remixes of tracks such as Sied Van Riel "Gravity" and Orkidea "Purity," Sneijder brought brought the night a close to a crowd filled with mixed emotions. Upset that the night was already over, but glad to it happened, Esscala has proven that trance events are alive and well in New York City and we cannot wait for what's in store for the summer.
Featured Photo: Chuck Kwok [Esscala/EDMNYC]
Additional Photos: Esscala/EDMNYC, John Askew