Solarstone Presents 'Pure Trance Vol. 4 Mixed By Solarstone & Gai Barone'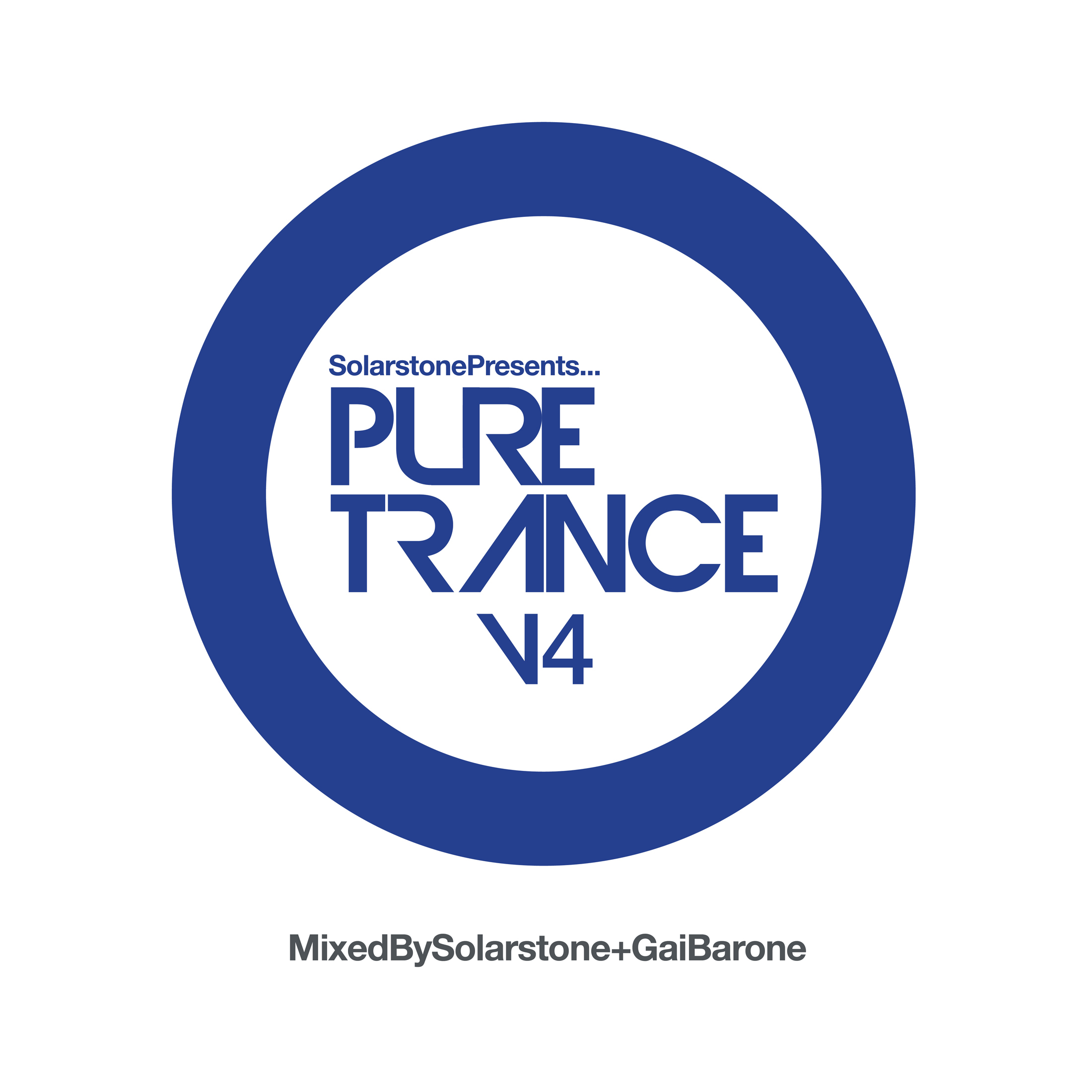 Rewind, just 5 short years, and the expression 'Pure Trance' was no more than one artist's encapsulation of his own output. Over the course of the following 12 months that solidified into his mission statement, before he catalyzed it into a scene-wide, 'brighter day' battle cry. It tapped into the fans shared consciousness, caught the current and nailed their prevailing mood: Pure Trance had become pure zeitgeist! With rolling-boulder momentum, it gathered pace, hijacking Trance's center-ground. Now, (still, at just the tender 'age' of 4), Pure Trance has established itself as the genre's new bedrock… And a firmer one, few could wish for.
At the centre of this singularity is Solarstone, the man who sketched the blueprint, authored the manifesto and set said boulder in motion. Through his 'Presents Pure Trance' series (co-mixed to-date by fellow P.T. laureates Orkidea, Giuseppe Ottaviani & Bryan Kearney), the albums' have established themselves as the wiki of 21st century trance purity. Right on cue, this November sees Solarstone issue the fourth in his series. Co-mixing the 2015 edition is Gai Barone, and with it the Italian drafts cooler, deeper (but no-less-Pure!) ether.
Throughout its 2 discs and 160 minutes you'll find the most rigorously refined, pure filtered trance music available to man or beast! Amongst the 31 tracks comes elevating audio from collectives like Above & Beyond, Röyksopp and Aly & Fila, as well as lone artisans including John O'Callaghan, Chicane, Sneijder & Giuseppe Ottaviani. There's also plenty of box-fresh studio-ware from Solarstone's own label nexus too, with music from Touchstone and Pure Trance Recordings artists like Liam Wilson, Forerunners, Basil O'Glue & Ciaran McAuley. You're also in line for much exclusively-featured purification from the DJs' own production desks, including the pair's first ever co-production, 'Fata Morgana'.
Out November 20th – Order Pure Trance 4, HERE. Signed Pure Trance 4 CD Pre-order offer, HERE.
Under Gai Barone's guidance, Pure Trance steps fourth… Disc 1 immediately charts a more esoteric course, exploring the genre's more sonorous depths. Gai uses the arctic-cool drift of 'Die Maschine In Mir' from Wellenrausch and the finger-snap rhythmics of Tom Bro's immersive 'Waves' to bring its initial frequencies. That augers deeper through Forerunners' 'Lost In Translation' and the hypnotic 'Leaving Places' from Slam Duck.
Heralding the start of the mix's thematic slingshot and successive ascent is 'Natsuzora' from Australian producer Audio Noir. 'Elicit Response', John O'Callaghan's latest (under his Henrik Zuberstein mask), Mark Found's celestial 'Stellar Spectrum' and Gai's own 'Blank Page' all angle the mix upwards, with galactic intent. It reaches its apex with the shimmered ethereal-ism of Solarstone & Barone's 'Fata Morgana', Thomas Datt's night-black Dub of 'Here Is The Place' from Empathy Test and Melodica's voluminous 'Abyss'.
On becoming the latest Pure Trance co-mixer, Barone said: "There are so many aspects to consider when you mix a session: great tracks, amazing producers and a perfect flow!! I've tried to blend all these elements into my mix on this compilation, creating a mixture of deeper Pure Trance gems! I'm sure you will fall in love with this set, getting lost, as I have, in the harmonic details, tune after tune and beat after beat!"
With the very first track of his mix, Solarstone brings about an epic first-ever meeting of trance minds. Its overture sees the origin-trance master apply his Pure Retouch to Chicane's summer 2015-enrapturing 'Ibiza Strings'.
From there, he builds a skilfully inclined emotional ascent to the mix. Through numbers like Stine Grove's 'Against The Flow' and his Pure Mix of 'I Had This Thing' (from Norwegian duo Röyksopp), Solarstone traffics in poignant, affecting vocalism. Interlaid between are soaring instrumentals like 'Mantra' from Peter Steele, Liam Wilson's re-mod of 'Eastern Sea' and Ciaran McAuley's lament-laden 'Maria'. Mainstage names roll heavy in its midsection, as the pianoforte-led Pure Dub of Aly & Fila's 'The Other Shore', 'Nero' from Sneijder & Giuseppe Ottaviani and Solarstone's 'Infatuation' collab with Basil O'Glue come under his laser. Peaking with a mash-up masterstroke, Solarstone brilliantly docks the vocal from Above & Beyond's 'A Thing Called Love' with Pulser's synth-strafe classic, 'My Religion'.
On the advent of Pure Trance Vol.4, Solarstone says: "The Pure Trance Movement is an organically evolving concept, & recruiting Gai is the logical progression for Vol. 4. Following on from Bryan Kearney's full throttle mix on Vol. 3 I wanted to showcase a deeper, more progressive side of the Pure Trance Sound. Gai's intuitive selection on Disc 1 is the perfect balance to my uplifting and driving selection on Disc 2; together they create a sonic journey which is my favourite of the series so far."
Puritans, time to rejoice again then! The psy-sides have been silenced and the electro elements expelled. Hard's had the red card, tech's ejected and Goa's gone. All that remains is all that you need: 100% Pure Trance!
Solarstone Presents 'Pure Trance Vol. 4 Mixed By Solarstone & Gai Barone' track listing:
Disc 1 – Mixed by Gai Barone
Wellenrausch – Die Maschine In Mir
Slam Duck – Leaving Places
Tom Bro – Waves
Forerunners – Lost In Translation
TFF & Steve Carniel – Fusion
Audio Noir – Natsuzora
Henrik Zuberstein – Elicit Response
Mark Found – Stellar Spectrum
Gai Barone – Blank Pages
Jason van Wyk, Stephen J. Kroos & JPL – Sun Rising
Solarstone & Gai Barone – Fata Morgana
Harmonix – Lucid Dream
Empathy Test – Here Is The Place (Thomas Datt Dub)
Jamie Baggotts – New Wave
Melodica – Abyss
Disc 2 – Mixed by Solarstone
Chicane – Ibiza Strings (Solarstone Retouch)
Stine Grove – Against The Flow (Solarstone Pure Mix)
Peter Steele – Mantra
Temple One – Santiago
Ciaran McAuley – Maria
Solarstone – Eastern Sea (Liam Wilson Remix)
Röyksopp – I Had This Thing (Solarstone Pure Mix)
Aly & Fila with Aruna – The Other Shore (Solarstone Pure Dub)
Sneijder & Giuseppe Ottaviani – Nero (Solarstone Retouch)
RNX – Colorado
Solarstone & Basil O'Glue – Infatuation
Woody van Eyden with Azima & Alexander Borisov – The Dawn (Til Dusk Mix)
Pulser – My Religion (Astuni & Manuel Le Saux Re-Lift)
Above & Beyond featuring Richard Bedford – Thing Called Love (Arksun Filmscape Mix)
Bjorn Akesson – Paper Dreams
Factor B – Sacrosanct
For more information on Solarstone, visit Solarstone.co.uk. Solarstone is on Twitter and Facebook.
For more information on Gai Barone, visit gaibarone.com. Gai is on Twitter and Facebook.
[Press Release]