Riot Ten & Stoutty Revealed as Pushing Daizies Identity & Release 12-Track Debut Album 'Initium' [Interview]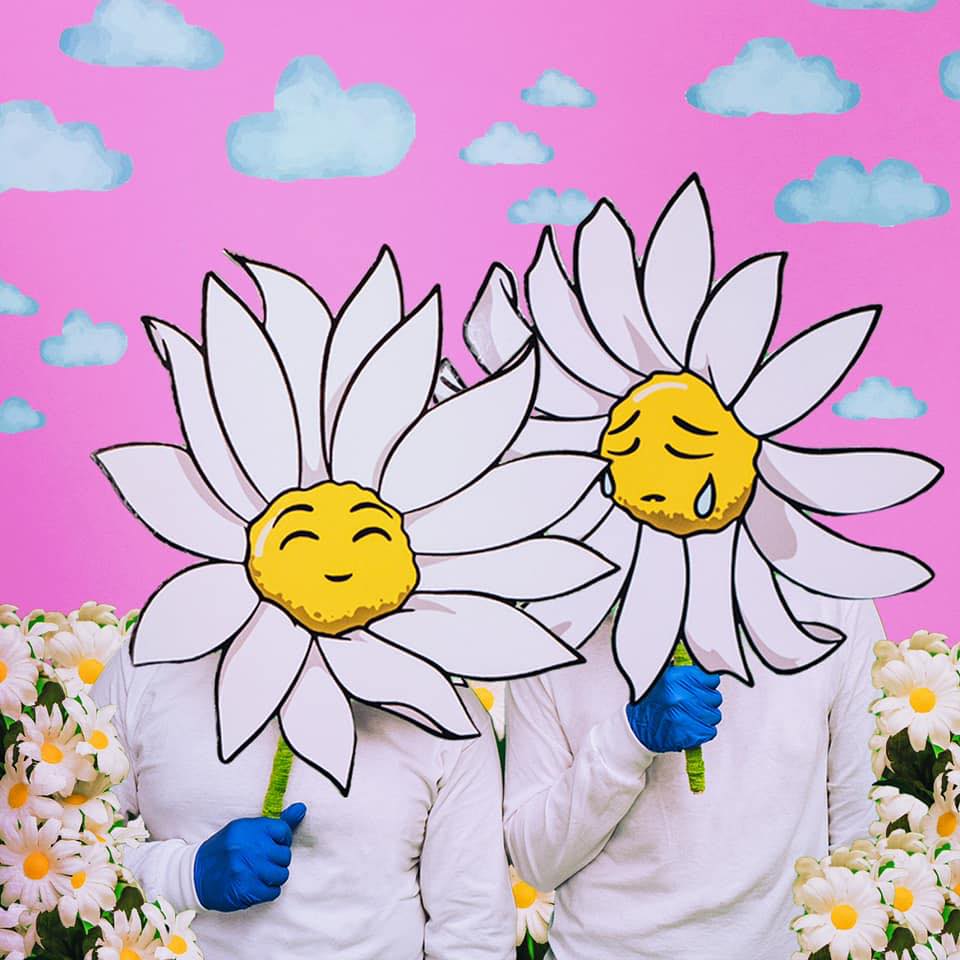 For these last couple of months the mysterious artist duo Pushing Daizies has been blessing us with fantastic track after fantastic track. Overall the enigmatic duo kept things under wraps throughout 2020 and most of 2021 with four amazing releases on Dim Mak. One might wonder how this mysterious duo was able to pull of such an amazing feat. With their signature style, future bass beats complemented by lush melodies, they have taking the world by storm. Now, they have unveiled their secret identities. Riot Ten and Stoutty began the project during quarantine with the goal of making music that was outside their norms as individual artists. After the much-anticipated announcement of their true identities, Pushing Daizies officially release their first full-length body of work with their Initium album out on Dim Mak.
"This album means so much to us. We've been working on it for over a year, and it's our first album together as Pushing Daizies. There's so much emotion that went into the process, especially during a time period like we've never experienced before. I don't think we've ever been more proud of a full body of work like this, and this is just the beginning. We hope you all enjoy listening to it as much as we did creating it." – Riot Ten & Stoutty (Pushing Daizies)
Initium features an epic culmination of 12 tracks. The LP features formerly released favorites such as "Want It To End," "Dreams" and "I Want To Know" as well as five brand new tracks. True to the Pushing Daizies style, each new track is both melodic and meaningful in its own way, exemplifying the emotion and personal experiences that take the shape of every song. From the nostalgic, heartfelt vocals of "Without You" to the melodic dubstep and angsty vibes of "I Would Never" and "Break Your Heart," the duo hits right in the feels. "Left4Dead" is the breakup song you've been waiting for, while "Edge Off" featuring Kelsey Ray is perhaps one of the most upbeat and groovy songs of the album. No matter what your mood is, Initium has a place.
Interview with Riot Ten
Christopher Wilson, better known by his stage name Riot Ten, has a slew of incredible releases and some amazing live performances behind his name. Naturally we're excited and happy that today we are fortunate enough to interview one part of this amazing duo.
Nocturnal Times: With your latest release "I Miss You" you decided to lift the veil of secrecy on your identity. Why did you choose to release your identity now and not keep it covered for longer?
Riot Ten: To be honest, as diverse as my fanbase is, I was initially afraid that they wouldn't appreciate the direction of music the project was in. And at the same time, I also wanted the fanbase to originate organically and not because I "told Riot Ten fans" to go follow it. As we came to a crossroad and I realized how much my audience was crossing over without any push, I decided it was the right time to go ahead and make the announcement.
Nocturnal Times: How did you come up with the name Pushing Daizies? Does it hold any special meaning for you?
Riot Ten: We had a couple names in mind, but Pushing Daizies just stuck with us. The term itself means to be dead, your body acting as fertilizer for flowers- or in other words, your body is giving life. There's a lot of emotion in our music and we felt the contrast between light and dark with the term was perfect for what we're creating.
Nocturnal Times: When did you come up with starting a secret project? Who's idea was it? And what were the reactions from your peers when they found out that you were behind it?
Riot Ten: We started this project in 2020 when the COVID lockdowns first began. Both of us felt we wanted to do something different and initially we were just going to collaborate as Riot Ten & Stoutty on a few songs. We wanted to make music that wasn't so aggressive and dark. Something that the fans would truly be inspired by and enact emotions from across the spectrum. Once we had a few records complete and saw overwhelming positive support from our peers, we just decided to pull the trigger and make it a full project.
Nocturnal Times: So far you have released four tracks. What track is dearest to you from this project so far? And what holds the future for your project now that you unveiled yourself as the masterminds behind this beautiful project?
Riot Ten: Actually, I think we've released roughly 12 originals and 3 official remixes at this point, and there is no end in sight. The dearest track for us I'd say is "I Miss You" because we can relate to that song so much. The future
for this project is to reach as many listeners as we can & spread our message to enjoy life, love one another, motivate each other and always be there for your neighbor.
Nocturnal Times: If we circle back to Riot Ten- you also had a string of awesome releases these last couple of months. One I wanted to ask about is "Ultimate" with Shaq and T-wayne. How did you end up working with Shaq? And how was it for you?
Riot Ten: Shaq actually reached out to me on IG one day out of the blue and told me he was a fan of my music. If you think I was starstruck and mindblown by this, you would be correct. Haha Things kinda just moved from there and we got working on the collaboration. T-Wayne is a good friend of mine and I'm also a fan, so it was naturally the perfect fit.
Nocturnal Times: You worked with so many artists in the past. So the natural question is, who would you like to work with in the future?
Riot Ten: For this project, we definitely want to expand and collaborate with more artists. I couldn't pick just one, or even a few, but as our sound develops, you can expect collaborations from across all of dance music and hiphop alike.
Nocturnal Times: How does it feel to play gigs again? You just started your Hype or die Tour. One of the locations was Lollapalooza. How was it for you playing there? And what other location are you looking forward to playing? What was the coolest location/event you've ever played at?
Riot Ten: It was honestly a dream come true to play Lollapalooza. No seriously, I think i could die happy now Haha as far as the tour goes, I'm excited to play every market as it's been so long. 2020 was such a wild ride and I'm just grateful to be back doing what I love and seeing all my amazing supporters and fans along the way. Some key shows coming up are in Denver, Los Angeles, New York and Seattle.
Nocturnal Times: So what does the future hold for Riot Ten besides an amazing tour? Anything you want to share with us?
Riot Ten: Honestly, just more and better music, more shows, and some more music. When you love what you do, it makes it easy. And I absolutely love what I do.
Thank you Christopher for taking your time for this interview and we wish you loads of fun on your next gigs.