Life is Beautiful Returned to Las Vegas For 3-Day Music & Art Festival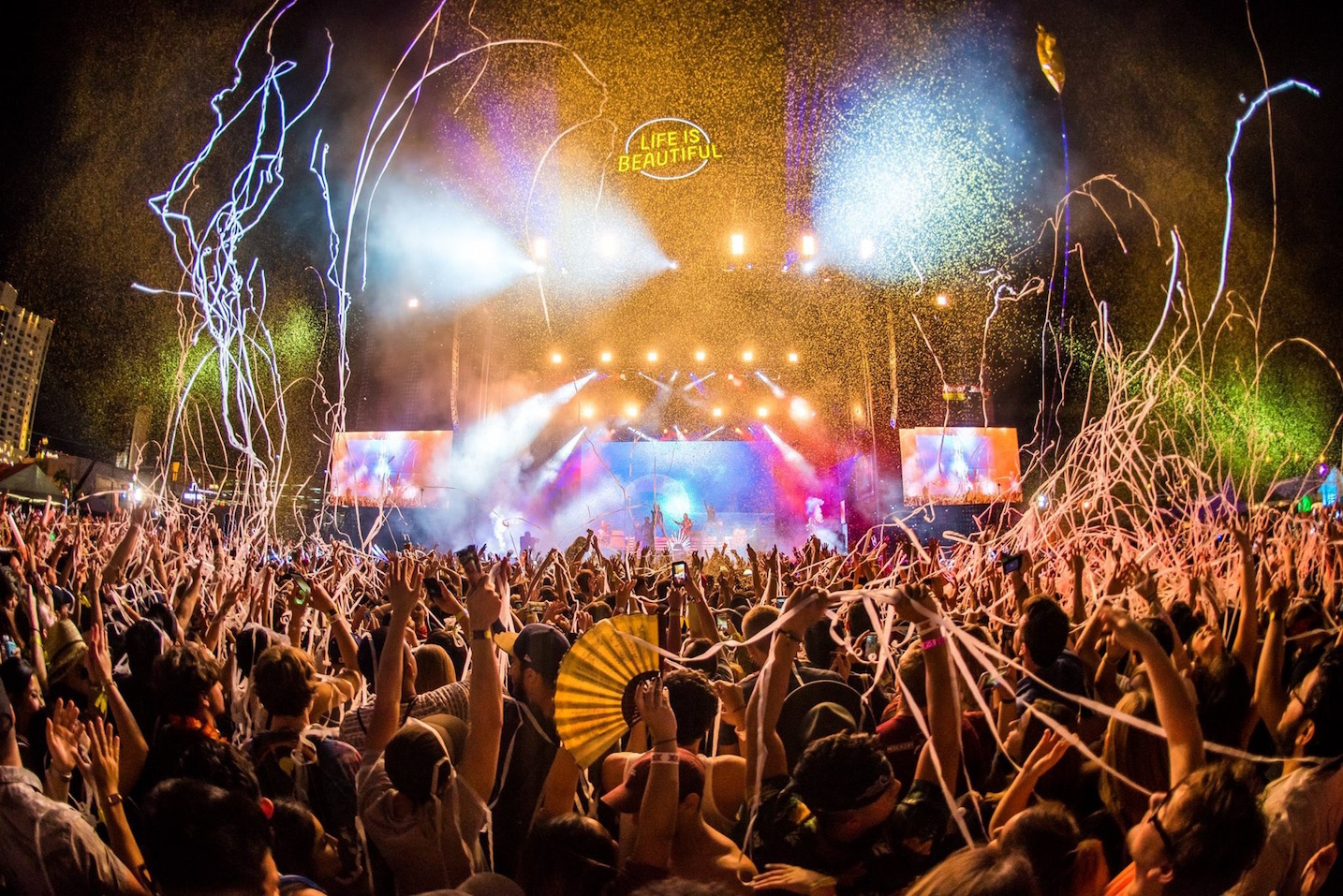 Life is Beautiful Festival returned to downtown Las Vegas for its fourth installment this September 23-25, 2016
A celebration of music, art, culture, taste, and ideas; Life Is Beautiful proved to be a one of a kind experience. 2016 was the festivals biggest year yet, fully transforming 18 square blocks of downtown Las Vegas into an ultra-fun sensory playground with something sure to excite people from every walk of life. The festival included 50 art installations, 10 new murals painted by world renowned artists, 35 speakers, 41 food vendors, a 360-degree video projection art dome, and 83 musical acts spanning across four stages. The festival also incorporated businesses that were already a part of downtown, including book stores, record stores, restaurants, and the entirety of the famous Container Park.
For the second consecutive year, Life is Beautiful teamed up with Insomniac to bring back the fan-favorite Troubadour Stage, which featured incredible PK sound production, multiple LED screens with mind-melting special effects, and a ridiculously stacked roster of EDM artists, including Bassnectar, Duke Dumont, Excision, Seven Lions, Zhu, Galantis, and many more. This stage remained the most continuously crowded throughout the entirety of the festival, proving the massive love for electronic music in Vegas, and the epic, bass-filled lineup of Saturday night drew the largest crowd Life is Beautiful had ever seen.  In addition to the Troubadour Stage, Insomniac's iconic art cars roamed the festival grounds, treating fans to pop-up performances throughout the streets over the whole weekend.
Friday's lineup included Mumford and Sons, The Shins, G-Easy, Zhu, Galantis, Bloc Party, City and Color, Keys and Krates, and more.
Award-winning British folk rock band, Mumford and Sons, closed out the main stage on Friday night with hits such as "Little Lion Man", "Lover of the Light", and "I Will Wait". The band has been awarded 14 Grammy nominations throughout their career, and won Album of the Year for their album "Babel" in 2013. The band drew a massive crowd of indie and alternative music lovers alike.
Zhu closed out the Troubadour stage on Friday and led attendees into the late night with a super sexy new set list composed of a multitude of new songs off his debut album, Generationwhy, which debuted in late July of this year. Hits off the album includes "In the Morning," "Generationwhy," "Hometown Girl," and "Working For It," which was done in collaboration with electronic music superstar, Skrillex. Zhu was also sure to incorporate older hits, including his single "Faded", which earned him a Grammy nomination for Best Dance Song in 2015. Zhu was accompanied by a live guitarist and saxophonist, which helped create the ultimate late-night dance music vibe.
Saturday's lineup featured a multitude of enormous acts, including J. Cole, Empire of the Sun, Bassnectar, Die Antwood, Crystal Castles, Excision, Seven Lions, Snails, The Temper Trap, and more.
J. Cole closed out the main stage on Saturday with a high energy performance that drew one of the largest crowds of the whole weekend. After appearing this year at Bonnaroo, Lollapalooza, Outside Lands, Jazz Fest, and more, Cole's festival performance, from pacing to how to work a crowd, has been finely honed and it showed Saturday night. Pacing the stage back and forth with an energy that looked like he was ready to explode at any moment, Cole worked the audience into a frenzy during songs like "Nobody's Perfect," "Wet Dreamz", "Apparently", and many other hits off his 2014 platinum-certified album, "2014 Forest Hills Drive".
After an absolutely massive day for bass music on the Troubadour stage, featuring a lineup of Snails, Seven Lions, and Excision, Bassnectar brought the night to a close with a wicked-heavy set, just days after premiering an all new mix with Nightowl Radio. For Bassnectar, 2016 has been a wildly successful year; gracing the stages of many festivals including Electric Forest, Paradiso, Mysteryland, Summer Set, Electric Zoo, and more, as well as selling out the debut of his very own festival, Basscenter, selling out a two-day gathering in Atlanta, putting together a three-stop Midwest tour for Halloween weekend, all before making final stops for the year at Decadence Colorado and his very own Bassnectar NYE 360 event.
Sunday's lineup included a diverse spectrum of artists, including Major Lazer, Flume, The Lumineers, Chromeo, Jimmy Eat World, Duke Dumont, AlunaGeorge, and more.
Complete with drum machines, synthesizers, and one-of-a-kind stage production, Flume graced the main stage on Sunday night hoping to appeal to both the live music and EDM crowds of this festival, and executed it flawlessly. The set was part-live performance, part-DJ set: He smashed through the massive drums and bells of "Holdin' On" and "Sleepless" before launching into a collection of his own remixes including RL Grime's  "Core." His well-known production complimented the huge tunes; a geometric arrangement of light bars flickered on and off in time with drops in "Helix," and a giant LED projected the images of flowers and lovers during the crowd-pleasing closer, "You & Me."
Featuring a giant hamster ball, fireworks, confetti cannons, and gorgeous dancers, Major Lazer closed out Life is Beautiful with an immensely high-energy performance. Alternating between electronic dancehall fusion hits and calm, powerful tracks, the group gave festival attendees one last feel of the all-encompassing atmosphere, and highlighting the ultra-positive vibe the festival radiated throughout the entire weekend by closing out with their Platinum smash hit, "Lean On".
Life is Beautiful 2017 is already in the works, and is set to take place on the weekend of September 22-24, 2017. Limited amounts of pre sale tickets will go on sale Thursday, September 29 at 10 am.
Stay up to date with the latest Life is Beautiful updates at lifeisbeautiful.com, or on Facebook, Twitter, and Instagram.