Gabriel & Dresden Delivers Classics Performance at Anjunabeats in Miami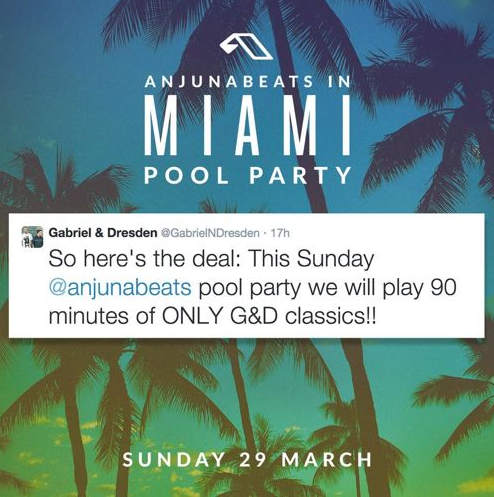 Emotional dance duo Gabriel & Dresden delivered a classics DJ set at the Anjunabeats pool party during Miami Music Week. The diversely skilled duo consisting of Dave Dresden and Josh Gabriel has been producing and remixing electronic music for more than a decade.
Taking into consideration that the Anjunabeats creators, Above & Beyond, are known for their emotionally euphoric creations, what better place for G&D to showcase their classic hits than at the Anjuna label event? Taking place at The Raleigh Hotel in South Beach on Sunday, March 29 during MMW 2015, the lineup boasted acts such as Gabriel & Dresden, Audien, Ilan Bluestone & Maor Levi, Jerome Isma-Ae, Jason Ross, Pierce Fulton and more.
Closing the midday – 10 p.m. event, Gabriel & Dresden conveyed a 1.5-hour showcase at The Raleigh consisting of some of their most noteworthy tracks. Beginning their classics only set with "Eleven" into their remix of "Swing 2 Harmony" by Perasma, the guys continued with "Dust In The Wind" featuring Molly Bancroft and their notorious remix of Duncan Sheik's "On A High."
It was truly a classics event as Dave and Josh proceeded with "Arcadia," Andian's "Beautiful Things (Gabriel & Dresden Unplugged Remix)," their popular variation of The Killers "Read By Mind," "Bloom," and their Motorcycle project alongside JES, "As The Rush Comes (Gabriel & Dresden Sweeping Strings Remix)."
Closing their Gabriel & Dresden Classics Only set with their Armin van Buuren collaboration "Zocalo," Paul Oakenfold's "Southern Sun," and Above & Beyond "No One On Earth (Gabriel & Dresden Remix)," the powerhouse pair reassured fans of why G&D is so deserving of their spot in the dance music hall of fame.
Listen to the Gabriel & Dresden Classics Only set from Anjunabeats in Miami at The Raleigh Hotel: