Five Unforgettable Sets From EDC Orlando 2016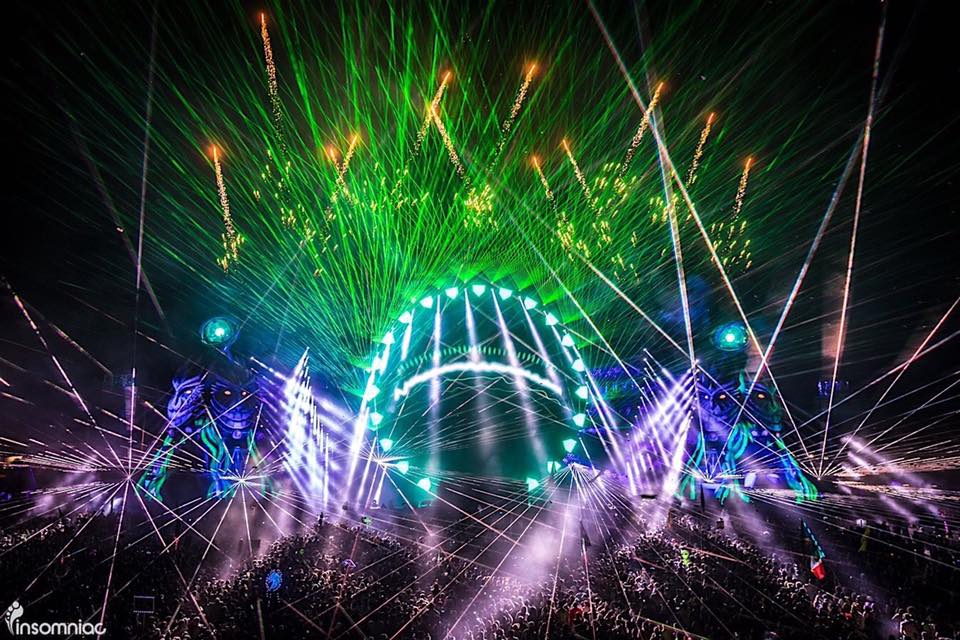 Insomniac's 6th installment of EDC Orlando made its way back to Tinker Field this November 4-5
Both days of this year's EDC Orlando journey filled Tinker Field with music, lights, fire, magic, love, and mayhem. Celebration was in the air as over 75,000 fans united with more than 60 world-class DJs in this grand adventure. The weekend provided the perfect escape for guests to dance their cares away, leaving nothing but positivity, love, and acceptance in the air.
Following all of the madness, The Nocturnal Times recalls five unforgettable sets from EDC Orlando 2016 that still have us buzzing.
The Chainsmokers
The chart-topping duo made an epic debut at EDC Orlando this year. Appearing during Friday's show at kineticFIELD, they really brought the storm. Despite rainfall fans packed the area and were more than ecstatic as they jammed to hits like, "Don't Let Me Down," "Roses," "All We Know," and the ever popular "Closer." They brought the energy with tracks like these, but also hit headliner's hearts with songs like, "Mr. Brightside" and "Yellow." The Chainsmokers more long-time fans fell in love hearing "New York City," "Until You Were Gone," and "Dreaming." This set was really one for all types of Chainsmokers fans to come together and celebrate under the rain.
Axwell
Iconic Swedish DJ, producer, and former Swedish House Mafia member Axwell brought an absolutely unforgettable experience with his set this year at EDC Orlando. His first appearance at the Orlando installment of EDC was heartfelt, warm, energetic, and emotional for everyone watching. Fans felt inspired by Axwell /\ Ingrosso hits "Something New" and "Sun Is Shining," and his remix of Ivan Gough & Feenixpawl's "In My Mind" feat. Georgi Kay. For some, tears even fell upon hearing tracks like, "If I Lose Myself," and Swedish House's, "Don't You Worry Child." Remaining true to his sound, Axwell gave headliners lots of positive vibes and a case of the feels on Saturday.
Alison Wonderland
Famed Australian DJ and producer Alison Wonderland brought thousands of bass-heads to circuitGROUNDS for her 8 pm set on Saturday. Completely surrounded by 360-degrees of lasers, pyrotechnic units, and bass, fans went insane for this performance. The hype was huge, and as expected she definitely showed up with everything she had. The crowd did not stop moving as she threw down with tracks like, "I Want U," "U Don't Know," and "Already Gone." In-between the heavy parts of her set, fans could feel her emotions radiating into the crowd. Watching her you can feel the energy and whole-heartedness that she puts into all of her music, which is really what makes it so special.  Alison Wonderland is also a true inspiration for women breaking into the industry, as she is an enormous global DJ.
Dash Berlin
Dash Berlin graced this year's kineticFIELD with a beautiful taste of trance. Playing hits like his remix of Lost Frequencies "Are You With Me," "Here Tonight," and "Till the Sky Falls Down," he left partygoers feeling euphoric and energized. The lights, lasers, and visuals equaled the mesmerizing vibes of the music. He even threw in a tribute to fellow trance DJ/producer, Gareth Emery, with "Concrete Angel" ft. Christina Novelli. He really got the crowd going with his high energy and stunning visuals. This performance turned out to be all that fans expected, plus a lot more.
Jauz
On Saturday evening kineticFIELD was booming with beats during a thrilling sundown set from Jauz. Jam-packed with smoke, lights, bass, and madness this set was one of the best of the weekend. From tracks like "Rock the Party" and "PLUR Police" to "Feel the Volume" and Nirvana's "Smells Like Teen Spirit," Jauz brought some serious heat. This set was absolute insanity. The crowd couldn't resist head banging and body thrashing during this one. Fans were a bit surprised to see Jauz play at kineticFIELD rather than the expected circuitGROUNDS, but he filled the grounds and put on an unbelievable show.
For more information about EDC and upcoming Insomniac events, visit insomniac.com.
Photo Credit: Insomniac Events