Esscala Presents: Simon Patterson B2B John Askew Open-to-Close at Output in Brooklyn on Dec. 17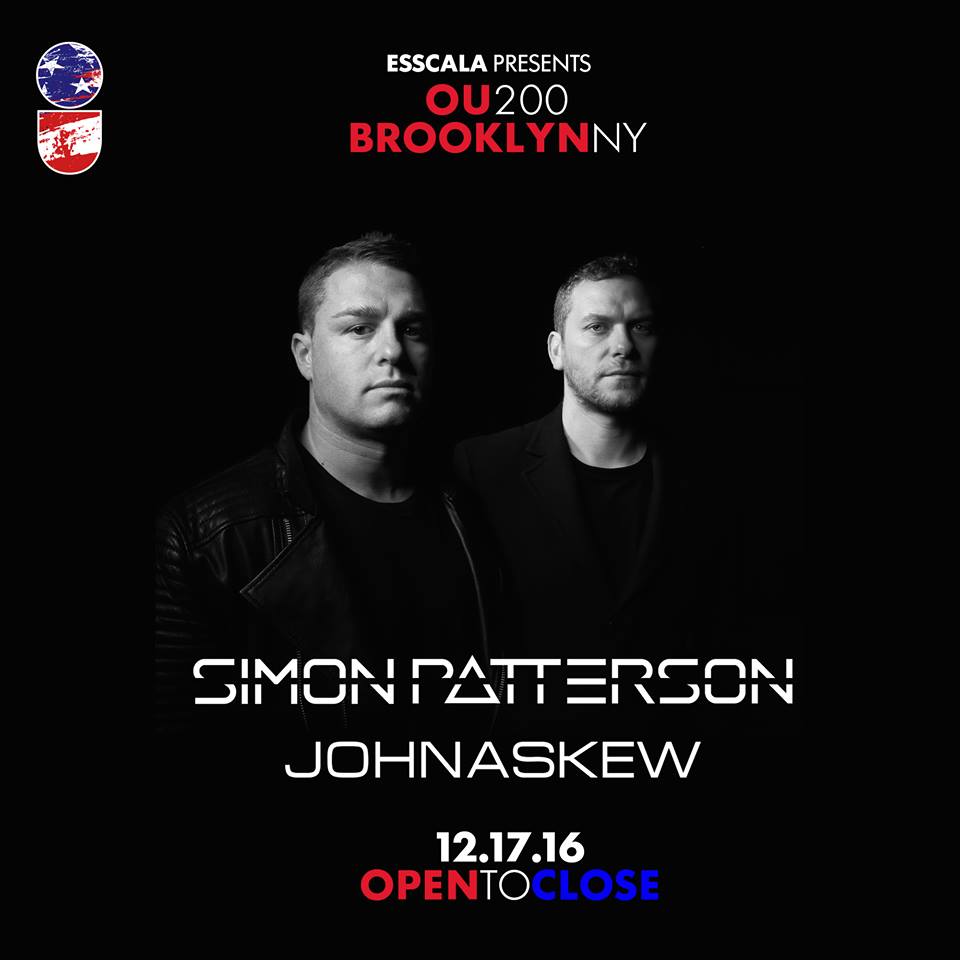 Simon Patterson B2B John Askew, Output Brooklyn, Open-to-Close.
After an unforgettable open to close night put on by Esscala at Output in September, Simon Patterson is back along with John Askew for a special event celebrating Open Up 200, Patterson's acclaimed radio show. Both Askew and Patterson have had a steady stream of extended sets in the last few months, touring all over the globe. Askew recently played in Simon Patterson's Open Up event at The Ministry of Sound in London, and the two producers have also been teaming up for B2B sets while on their solo DJ career tours. With the two touring so frequently it has exposed the talented producers to a wider, and growing audience.
Patterson comes off of a recent Open Up tour stop in Buenos Aires, with a six hour U.S. solo finale set in San Diego the week before. In September, Simon Patterson played a rare open to close set at Output, which was a special tribute to the artist's loyal fan base. Askew performed at the trance music festival Dreamstate which took place in New York for the first time in August. Each of their sets from both events were very memorable and got the crowd dancing and cheering excitedly. Both are a part of the killer and once in a lifetime Dreamstate SoCal lineup, on November 25-26 at the NOS Events Center in San Bernardino.
Askew's sound is a techno, acid trance focus while Patterson's is more melodic and uplifting. Together the duo makes a unique and diverse sound that can seamlessly span multiple genres that electronic dance music can have: techno, house, trance, progressive & psytrance, all in one night. The set lists the two curate together are emotionally provoking and wildly diverse in this way, and is the intersection of different fan bases which makes it stand apart from other events in this way. See what Patterson said on his Facebook page about their upcoming Brooklyn debut:
"After a killer night at Output last week can't wait to be back in Brooklyn for this special OU200 celebration. All night take over.
9 hours.
See. You. Later. Dot. Com."
With their careers picking up speed, Patterson recently shared the exciting news that he signed on to Insomniac Records, with a photo featuring him leaned over a table signing the formal agreement. The first track to be produced on the label is called "Vapour Trails" and is a huge, entrancing, vocal tune featuring Dave Wright, that is bound to top the trance charts. Askew's most recent release "Supersonic" has been featured in numerous radio shows and artist sets in the last few months, and is released on Future Sound of Egypt Records. Check out their video below where they announce their last two stops of the tour this year, and grab your tickets quickly for this can't miss event at Output!
Open Up Tour Video with Simon Patterson and John Askew on Facebook:

Tickets are available HERE.