Which Electric Zoo: Wild Island After Parties Are You Going To?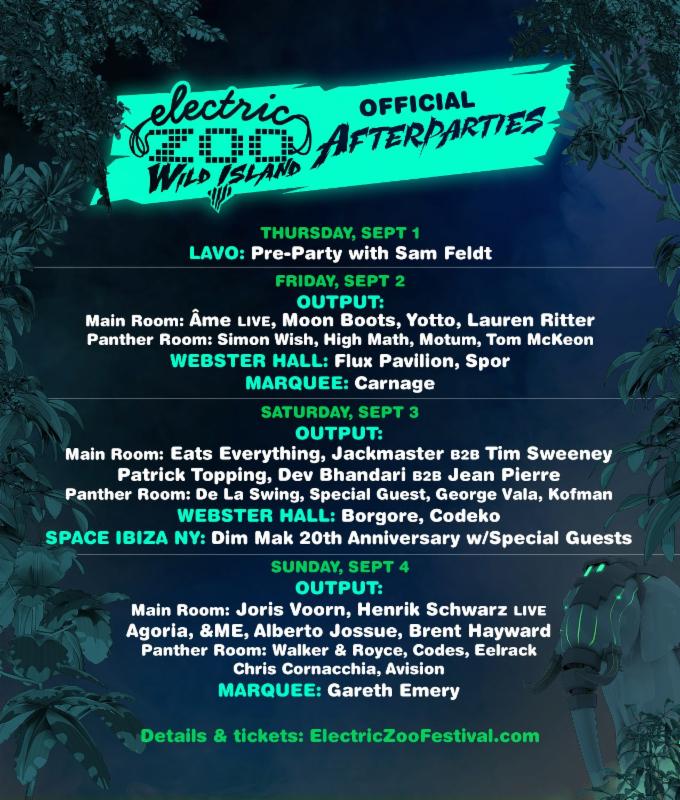 The Electric Zoo: Wild Island after parties have been unveiled and the festivities will continue well after the last sets on Randall Island in New York City
Electric Zoo: Wild Island will be taking over the City for this year's Labor Day Weekend and now they have an abundance of options for those looking to keep the party going into the late night hours. Electric Zoo has been a part of New York City music culture for the past eight years, and with the multitude of club options in the Big Apple after parties are a match-made in heaven. After party hours are a stable in the city that never sleeps, and with all the talent rolling in for the weekend, the party literally doesn't have to stop. To start things off the upscale club, Lavo NY, will be hosting an official pre-party the night of Thurs., Sept. 1. They will be playing host to the smooth sounds of this summer's house feel good artist Sam Feldt, whom will playing on Friday September 2 on the Wild Island.
Following the performances on Friday three-mainstay clubs of New York City will be putting on after-hours events. The clandestine Output nightclub in Brooklyn will be bringing Âme Live, Moon Boots, Yotto, and Lauren Ritter to their main room. The main room in Output won't be the only party on Wythe Ave, the Panther Room will also be alive with hand selected artists all weekend. The Friday edition of Electric Zoo after parties in the Panther Room will have Simon Wish, High Math, Motum, and Tom McKeon. For those looking for a bass fueled after party, Webster Hall, the undisputed grime-fest of New York City clubs will be blown up by Flux Pavilion and Spor. Be prepared for a late start on Saturday if you're in attendance at Webster Hall for this one. Marquee will be the third club to host a Friday night after party and Carnage will be taking everyone into ASOC.
The mid-way point of Electric Zoo on Saturday September 3 will be host to surprise and unique back to back sets for the afterparty market. At Output in the main room you will have Eats Everything, Jackmaster B2B Tim Sweeney, Patrick Topping, and Dev Bhandari B2B Jean Pierre. The Panther has their own bill for the night as well bringing De La Swing, George Vala, Kofman, and an unannounced special guest. Webster Hall will be following the bass heavy theme bringing the king of booty shaking, Borgore, and Codeko to the finish out their run as Electric Zoo afterparties for 2016. Space Ibiza NYC has a decadent night planned as well for Saturday. The only details thus far are it will be hosted by the Steve Aoki owned Dim Mak label, with surprise guests to be announced leading up to the festival.
The final day of Electric Zoo brings you one last and final run of after parties. One last shot for all those seasoned vets or excitable newcomers to close out the three-day weekend. Output once again will be throwing down an after party hosting a large collection of artists in their main room and Panther Room. Artists Jooris Voorn, Henrik Shwarz live, Agoria, &Me, Alberto Jossue, and Brent Hayward will be wrapping up things up in the main room at Output. The Panther Room's final bow will be conducted by Walker & Royce, Codes, Eelrack, Chris Cornacchia, and Avision. Marquee will be hosting another after party on the final night of Electric Zoo as well. This party will be headlined by the seasoned Gareth Emery, ensuring a delightful end to the Electric Zoo: Wild Island weekend.
Electric Zoo 2016 will be bringing you both three full days and late nights of musical fun and adventure for the closing of this year's festival season. Output in Brooklyn makes it hard to stay away the whole weekend with their consistent three day run of after parties. If you prefer the no-holds-bar asylum of Webster Hall you have options on both Friday and Saturday to let loose. Maybe bottle service and proper attire is more your route, and Space Ibiza NYC and Marquee will surely fill your needs there.
Don't miss out on the Electric Zoo: Wild Island after parties fun, check out the different venues sites for more information and tickets below:
Output Nightclub
Webster Hall
Marquee
Space Ibiza New York
Lavo
For more information on Electric Zoo follow along on their Facebook, Twitter, and Instagram.