Duke Dumont at TAO Beach Club on Sun., June 19 – EDC Week 2016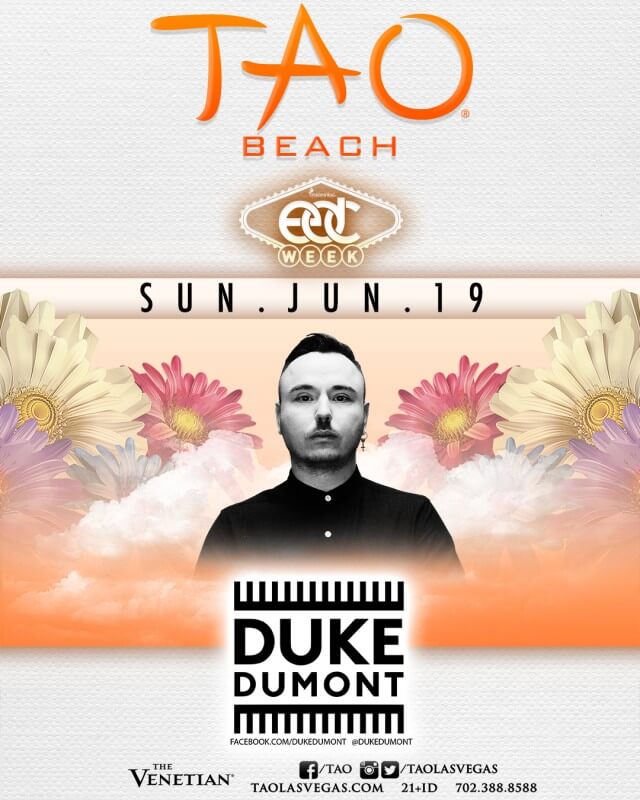 Duke Dumont is slated to take over TAO Beach Club on Sunday, June 19 during EDC Week 2016
Duke Dumont is making his way to the highly esteemed TAO Beach Club at The Venetian this EDC Week. With the oh-so-sexy deep house rhythms of Dumont set upon the luxurious and beautiful backdrop of the TAO Beach Club, this pool party is certainly not one to miss.
English DJ and record producer Duke Dumont has become familiar to electronic dance music (EDM) enthusiasts by his popular creations. He is best known for the singles "Need U 100%," "I Got U," and "Won't Look Back," which both reached number 1 and 2 the UK Singles Chart. He owns the record label "Blasé Boys Club," and has also used it as an alias for production. He has remixed a number of songs, including several which have charted in the United Kingdom. In 2014, "Need U (100%)" was nominated for Best Dance Recording at the 56th annual GRAMMY Awards; and in 2015, "I Got U" was nominated for "Best Dance Recording" for the 57th annual GRAMMY Awards.
This year alone, Duke Dumont is featured on a large amount of events and festivals internationally, including many U.S. festivals such as Shaky Beats, Lollapalooza, EDC, Neon Desert, and Governor's Ball.
Tickets for Duke Dumont at TAO Beach Club at The Venetian are available on June 19th are available HERE.
TAO Beach Club is also bringing out acts such as Thomas Jack (June 16), Blasterjaxx (June 17), and  Eric Prydz (June 18) for EDC week.
For more information about Tao Beach Club, and to view their event calendar, visit http://taolasvegas.com/Tao-Beach.
For more information about Duke Dumont, visit http://dukedumont.com.