Diplo Joins Madonna For Tonight Show Starring Jimmy Fallon Performance on NBC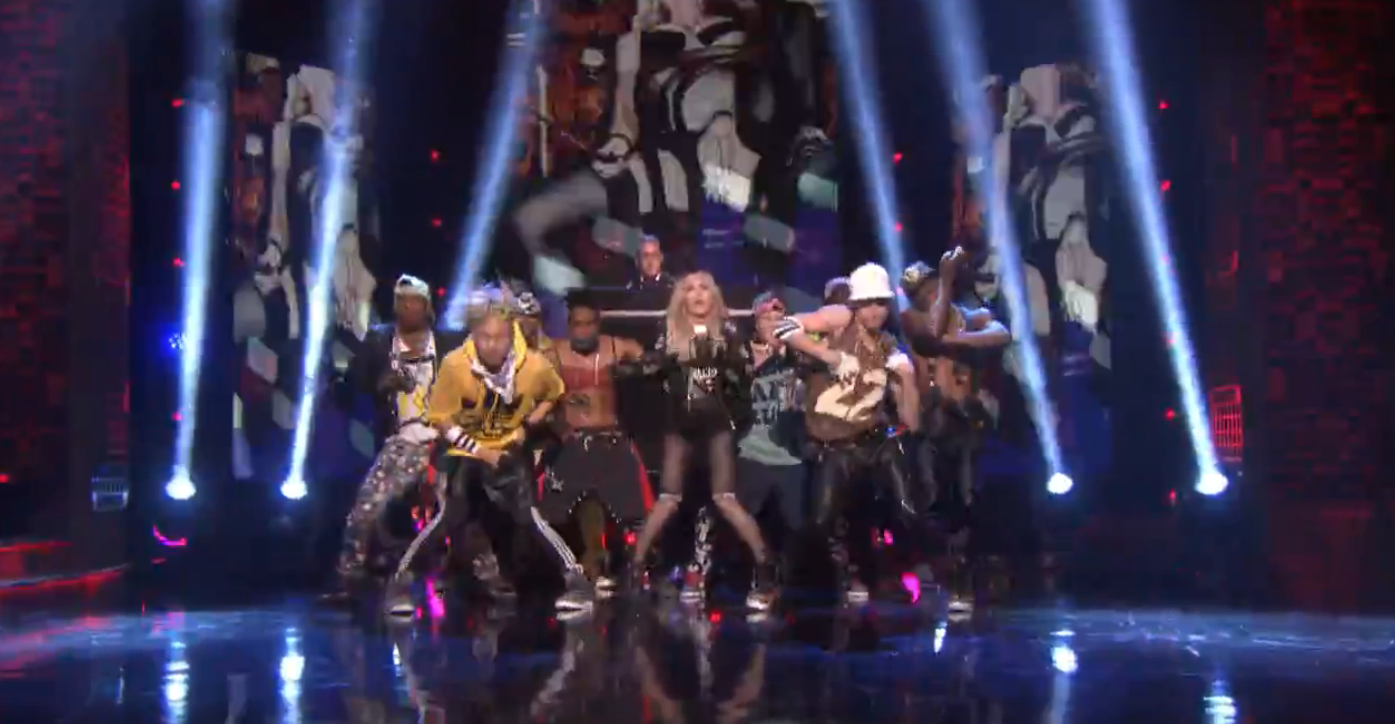 DJ and Producer Thomas Wesley Pentz—best known to fans as Diplo—made an appearance on The Tonight Show Starring Jimmy Fallon last night (Thursday, April 9) to accompany Madonna for a live performance of her latest single "Bitch I'm Madonna," which is taken from her new studio album and was produced by Madonna and Diplo.
Diplo, who is part of Major Lazer along with Jillionaire and Walshy Fire and one half of Jack Ü with Skrillex, has notably produced songs for Madonna, Sia, Beyonce, Usher, Britney Spears, Justin Bieber, Drake, Snoop Dogg, Lil Wayne, Jessie J, Chris Brown, Iggy Azalea, and M.I.A., among many others.
The go-to producer most recently scored writing and producing credits on Madonna's latest full-length studio album "Rebel Heart," which was released earlier this month on Interscope Records. The new Madonna LP also includes two productions from Tim Bergling (Avicii) and four from Kanye West.
Madonna's "Rebel Heart" album includes three productions from Diplo, including the album's first single "Living For Love," "Unapologetic Bitch," and "Bitch I'm Madonna," which was performed on Thursday, April 9, 2015 on NBC's The Tonight Show Starring Jimmy Fallon. During the live performance, Madonna begins backstage of The Tonight Show where parties have ensued in each dressing room. In one of the dressing rooms, Madonna finds Diplo, who joins her on stage to DJ for the remainder of the energetic performance.
The always-entertaining Tonight Show delivered a live rendition of "Holiday" with Madonna, Jimmy Fallon, and The Roots in addition to a lengthy interview with the queen of pop, and her first-ever stand-up comedy routine. The Tonight Show Starring Jimmy Fallon airs at 11:35 p.m. EST nightly on NBC.