Dim Mak Announces Phase 1 Lineup For Miami Party on March 26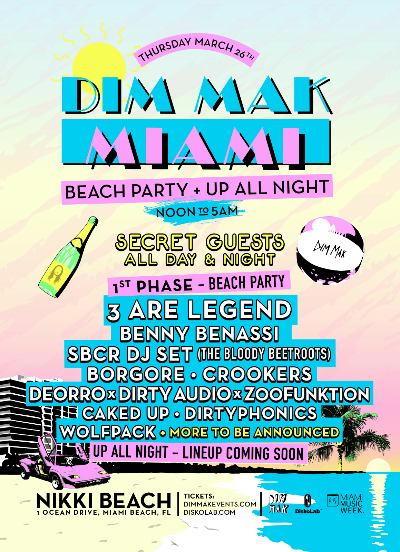 Dim Mak has announced the phase 1 lineup for their annual Miami Music Week event and it includes some of the labels heavy hitters. Dim Mak Miami originally began five years ago and has been one of the most anticipated events of MMW since its inaugural event.
Join other likeminded fans of the label for Dim Mak's first-ever Miami installment at the new Nikki Beach location. Taking place on Thursday, March 26 from noon until 5 a.m., partygoers can expect to frolic in the Miami sun with a soundtrack from their favorite Dim Mak artists, which will continue into their hallmark Up All Night after-hours affair.
The phase 1 lineup includes performances from 3 Are Legend (Steve Aoki, Dimitri Vegas & Like Mike), Benny Benassi, SBCR (The Bloody Beetroots DJ Set), Borgore, Crookers, Caked Up, Dirtyphonics, Wolfpack, and a special three-way back-to-back showcase from Deorro, Dirty Audio, and ZooFunktion.
Beginning outdoors, the party will make its way from the beach to inside Nikki Beach's luxurious nightclub for the Up All Night party, which offers seven additional hours of dancing.
Tickets are on sale now at dimmakevents.com. Attendees have the option of purchasing a combined pass that grants access to the entire event, or an individual pass to the Beach Party.
Relive the magic of last year's Up All Night party in Miami: