Dada Life Compound Show in Miami Included All-Star Lineup, Champagne, Bananas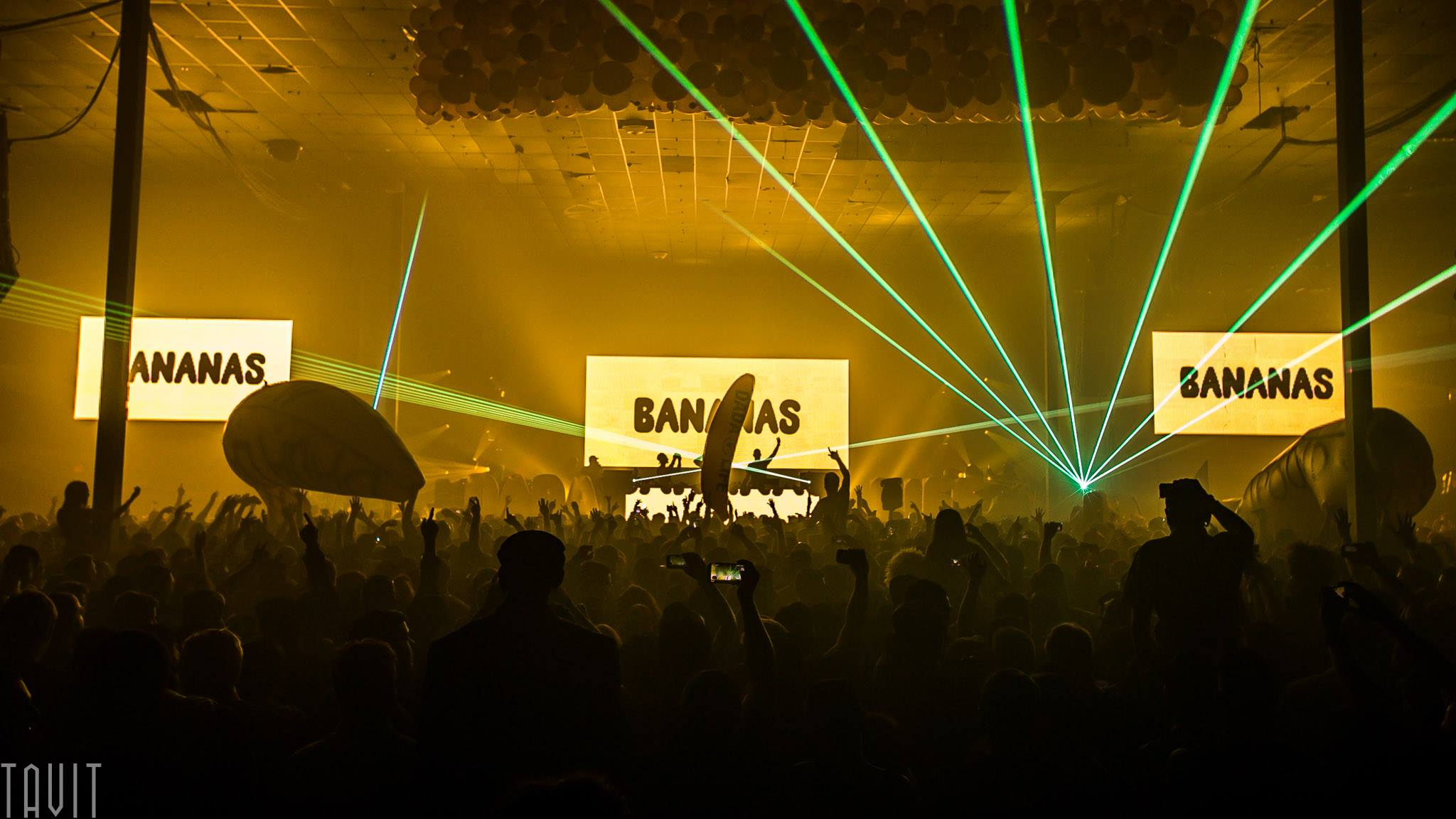 Swedish DJ and production duo Dada Life wrapped up an exclusive Compound showcase at Mana Wynwood during Miami Music Week. On Saturday, March 28, Olle and Stefan brought along a slew of special guests and supporting acts, and of course, champagne and bananas.
Joining the Dada Land Compound in Miami was Tritonal, Bingo Players, Morgan Page, Bixel Boys, Loudpvck, Henry Fong and Andybody, with surprise guests for an unforgettable, action-packed, and eventful evening.
The Nocturnal Times sat down with Dada Life to discuss some Miami Music Week and Dada Land Compound highlights. Feeling as though the show turned out amazing, Dada Life loves being in Miami that time of year. Olle explains, "It felt really special. You know we came to Miami before we were DJs just hanging out. So it felt really special."
Following much planning and preparation, the guys admit that a highlight for them is seeing everything come together for one night. Their vision: "We always want the Dada Land Compound to be extra everything: cream on ice cream on candy. And to see that happen is amazing!"
The duo are slated to release their newest single, "One Last Night On Earth," which they believe got one of the most energetic and powerful crowd responses during their MMW 2015 ensemble. When it comes to uniting with their fans, Dada Life believe they wouldn't feel any differently about their own live shows if they were part of the crowd. We don't really think that way. It's not about them and us. It's just us. We feel like we're in the crowd all the time," explains Olle.
From Tritonal's point of view, they joined their friends Dada Life, Morgan Page, Henry Fong, and others at Mana Wynwood "for a huge night [with] about 5,000" attendees. Dave of Tritonal explained, when he and Dave weren't performing or checking out friends' gigs, they "spent the rest of the week locked up in the studio, as [they're] so focused on finishing [their] next artist album."
It's certainly difficult to overlook their Dada Land Compound showcase where they dropped two of their new songs, one being their newest single "Untouchable," which is a collaboration with their buddies Cash Cash. The second track they included in their live ensemble was their remix of "Ghost Town," which is slated for release soon. Chad reveals, "if we were standing on the floor, we obviously wouldn't be debuting new records we'd produced!  ha! That said, that's exactly where we started. I've gone to WMC (Miami Music Week) for years, and the early years I was exactly that kid, standing on the floor watching my favorite DJs. It's those memories and times which have inspired me to write our own music!"
As for Tritonal, they felt that a powerfully energetic response from the crowd was felt during their own "Now Or Never," although they've had lots of releases since, it seems as though the amount of people singing along to the song gets to be more and more with each show. Following their Miami Music Week escapades, Tritonal has returned home to finish two more songs for their album, which they played at Seasons Festival in Vancouver with Eric Prydz and Carnage, as well as a return to their hometown for Euphoria Festival in Austin, TX. They recollect fond memories from both events and look forward to returning to Las Vegas this weekend and Life In Color next weekend in San Diego.
Catch Dada Life during one of their Dada Land Compound shows near you. Visit http://www.dadalife.com/shows/ for a full list of upcoming North American tour dates.
Photo credit: TavitsPhotography.com