Cosmic Gate Announces Tour Dates For 'MOSAIIK' North American Album Tour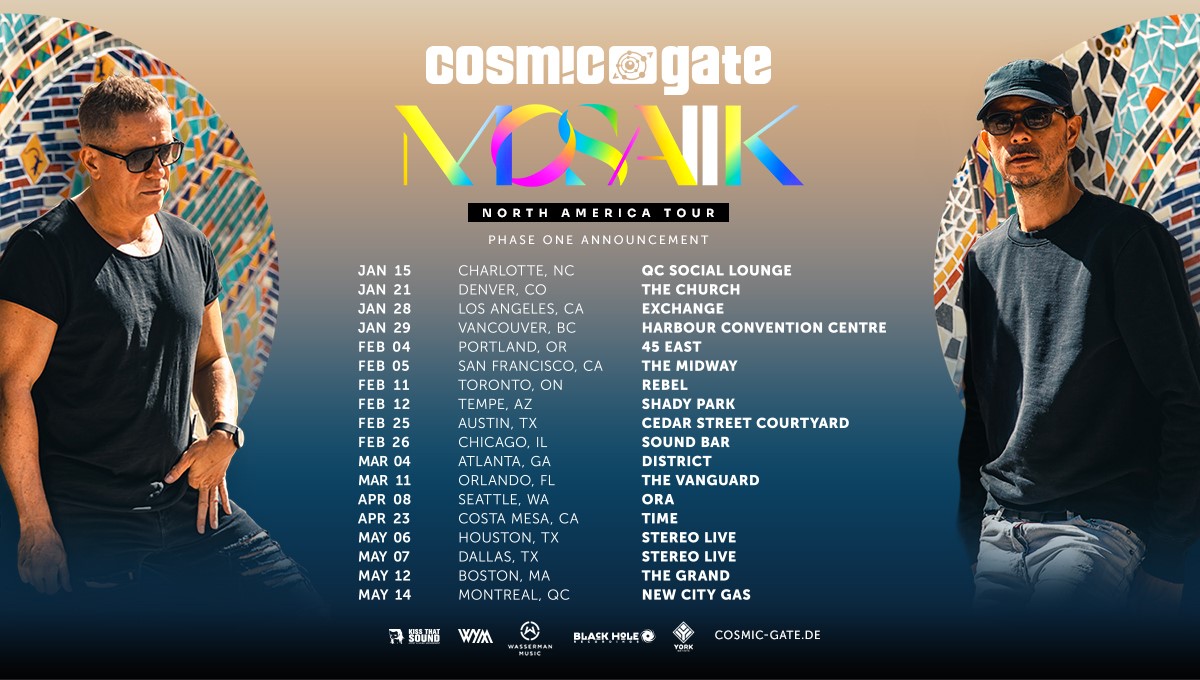 Hot on the heels of their release of MOSAIIK Chapter One, Comic Gate now has released the dates for their North American tour. It was with MOSAIIK Chapter One, that Cosmic Gate broke new ground with singles like "Nothing To Hide", "Blame" and "Vertigo". Now, the moment every artist anticipates (and ever more keenly these days), this January sees Cosmic Gate take the "MOSAIIK" album on its first official tour. Bridging the gap between the two "Chapters," its creators will personally deliver the music from the albums to audiences, north, south, east & west.
"What to expect of the tour then…? Musically, "MOSAIIK" was a big change-up for us. At shows we'll be playing extended sets, allowing us to start deeper, build up longer and best reflect the LPs broader stylistic range. So, you'll be hearing the "Chapter One" music you already feel and love, along with your first chance to hear the tracks from "Chapter Two!" – Nic and Bossi (Cosmic Gate)
Cosmic Gate has already disclosed that the first single from MOSAIIK Chapter Two will arrive in January, with further releases leading up to the album drop itself in May 2022.  
Throughout January and February, early ports of call for the tour will include L.A., San Francisco, Denver, Toronto, and Vancouver. Not far behind those will be shows in Dallas, Houston, Boston, Montreal, and many more to come with PHASE TWO's announcement. Tickets and more info are available here.
Cosmic Gate MOSAIIK North America Tour Phase One

JAN 15                   Charlotte, NC                      QC Social Lounge
JAN 21                   Denver, CO                           The Church
JAN 28                  Los Angeles, CA                  Exchange
JAN 29                  Vancouver, BC                     Harbour Convention Centre
FEB 04                  Portland, OR                         45 East
FEB 05                  San Francisco, CA               The Midway
FEB 11                   Toronto, ON                          Rebel
FEB 12                  Tempe, AZ                            Shady Park
FEB 25                  Austin, TX                              Cedar Street Courtyard
FEB 26                  Chicago, IL                            Sound Bar
MAR 04                Atlanta, GA                           District
MAR 11                  Orlando, FL                           The Vanguard
APR 08                  Seattle, WA                           Ora
APR 23                  Costa Mesa, CA                   Time
MAY 06                 Houston, TX                          Stereo Live
MAY 07                  Dallas, TX                              Stereo Live
MAY 12                  Boston, MA                           The Grand
MAY 14                  Montreal, QC                        New City Gas