Aly & Fila With Alex MORPH, Ben Nicky, Kyau & Albert at Club Space Miami on March 19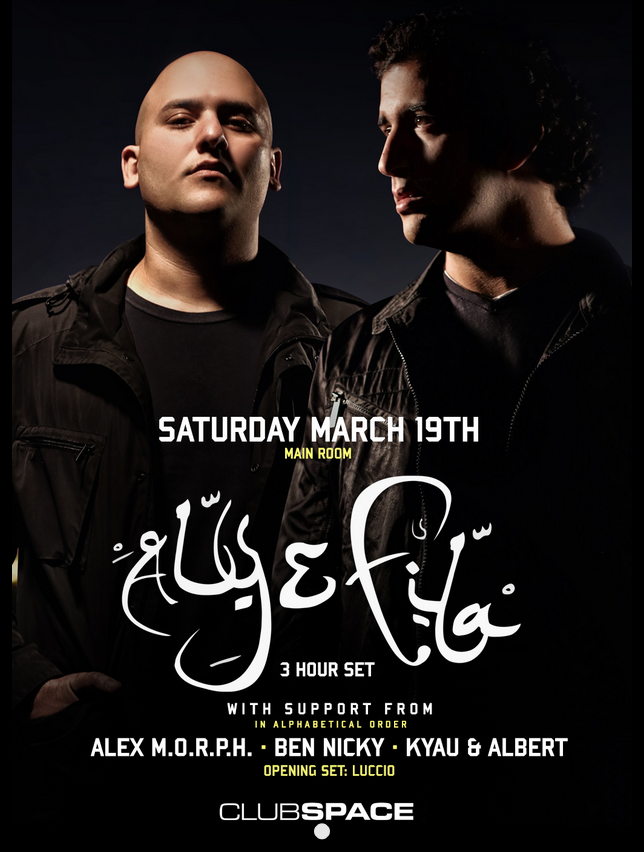 Miami Music Week 2016 heats up with a trance event at Club Space
Aly & Fila with Alex M.O.R.P.H., Ben Nicky, and Kyau & Albert will prove to the masses that trance is still alive and well with a main room event on Saturday, March 19, 2016 at Club Space.
The Future Sound of Egypt creators celebrate 450 episodes of their globally acclaimed FSOE radio show. Familiar to trance lovers for their uplifting productions and euphoric remixes, Aly & Fila will undoubtedly keep the Miami Music Week energy flowing with a Club Space main floor ensemble.
Kyau & Albert are electronic music veterans with nearly two decades producing music and DJ'ing. The well-balanced pair has consistently stuck to their signature sound, which continues to wow partygoers, both experienced and newcomers. The pair's extensive discography consists of their studio album releases and remixes and collaborations with Armin van Buuren, Above & Beyond, Paul van Dyk, Gabriel & Dresden, Cosmic Gate, Stoneface & Terminal, and Super8 & Tab, among others.
Paul van Dyk was the originally scheduled act slated to take the Club Space main room by storm, but the Trance pioneer is unable to perform. An official statement was released:
"Due to Paul van Dyk's recent accident, he is unable to perform at Club Space for Miami Music Week on the 19th of March. We at Club Space wish him a speedy and healthy recovery and we certainly cannot wait to have him back for you. We have scheduled Paul's Politics of Dancing 3 collaborators, Aly & Fila, along with Ben Nicky, Alex M.O.R.P.H. and Kyau & Albert to perform their Miami Music Week showcase at Club Space. All tickets for the Paul van Dyk event will be honored for entry on that evening."
Doors open at 11pm. Aly & Fila will perform a three-hour DJ set.
Tickets for Aly & Fila & friends at Club Space Miami on Saturday, March 19, 2016 are available HERE.