Above & Beyond Serenaded Camden, NJ With We Are We Need Tour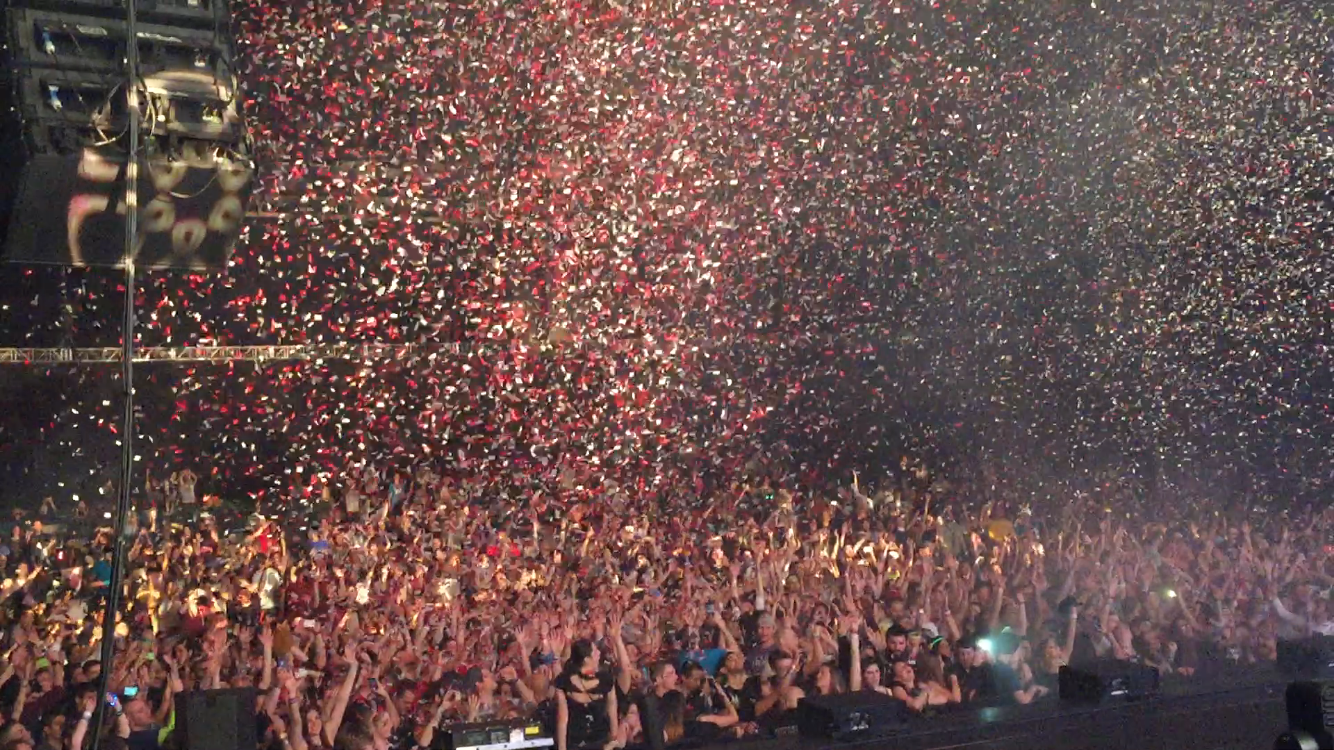 The snow, freezing rain, and sleet didn't stop Above & Beyond fans from the Tri-State area and beyond from receiving their dose of Group Therapy. Above & Beyond took their dedicated fans on an emotional rollercoaster during their We Are All We Need tour stop last night in Camden, NJ. Concertgoers gathered at the Susquehanna Bank Center on Saturday, February 21, 2015 for one of the most anticipated stops on the We Are All We Need tour.
Lane 8 set the mood with a deep live set as attendees began gathering in the Amphitheater from 8-9:30 p.m. followed by an energetic DJ set from the rising talent Seven Lions.
Above & Beyond took the stage at 11 p.m. Focusing on tracks from the new studio album, which was released on their Anjunabeats label on January 20, the trio began their 2-hour ensemble with "Quieter Is Louder" into their wildly successful single with Zoe Johnston, "We're All We Need."
The always crowd-pleasing "Sticky Fingers" featuring Alex Vargas and new album favorite "Save Me" featuring Zoe Johnston had the crowd singing along in unison. Tony and Paavo also included the trio's "Peace Of Mind" featuring Zoe Johnston, the instrumental "Hello," and their current single "All Over The World," which features vocals from Alex Vargas.
New Anjunabeats releases included in the Above & Beyond New Jersey showcase were Wrechiski & Jason Ross "Atlas," London Grammar's "Hey Now (Arty Remix)," Super8 & Tab with 7 Skies "Rubicon," and Same K "For You (Above & Beyond Edit)."
Group Therapy remixes and mash-up's included "Black Room Boy," "Thing Called Love," "You Got To Go" with Arty's "Believe," "Alchemy" with Axwell & Ingrosso's "We Come, We Rave, We Love," and "Sun & Moon" featuring Richard Bedford with Andrew Bayer's "Once Lydian."
When it came time for the always-anticipated push the button moment, a highly enthusiastic group button-pushing session ensued during "Blue Sky Action." Tony McGuinness chose a number of fans from the crowd at random.
Taking attendees back in time with Signalrunners "These Shoulders" featuring Julie Thompson with Cosmic Gate's "Yai" and their collaboration with Gabriel & Dresden featuring Zoe Johnston, "No One On Earth,
Paying homage to OceanLab, Above & Beyond's Camden ensemble included "Satellite (ilan Bluestone Remix)," "Breaking Ties" with Andrew Bayer's "Bullet Catch," and "On A Good Day (Metropolis)" into the acoustic rendition.
The final track "Treasure" featuring Zoe Johnston, which also closes the We Are All We Need album, was a beautifully subtle way to end the evening.
We Are All We Need debuted at #1 on the Billboard Dance/Electronic Albums chart following its January 20th release on their Anjunabeats label. Order the album on iTunes.