Above & Beyond Acoustic Serenaded The Beacon Theatre for Three Consecutive Nights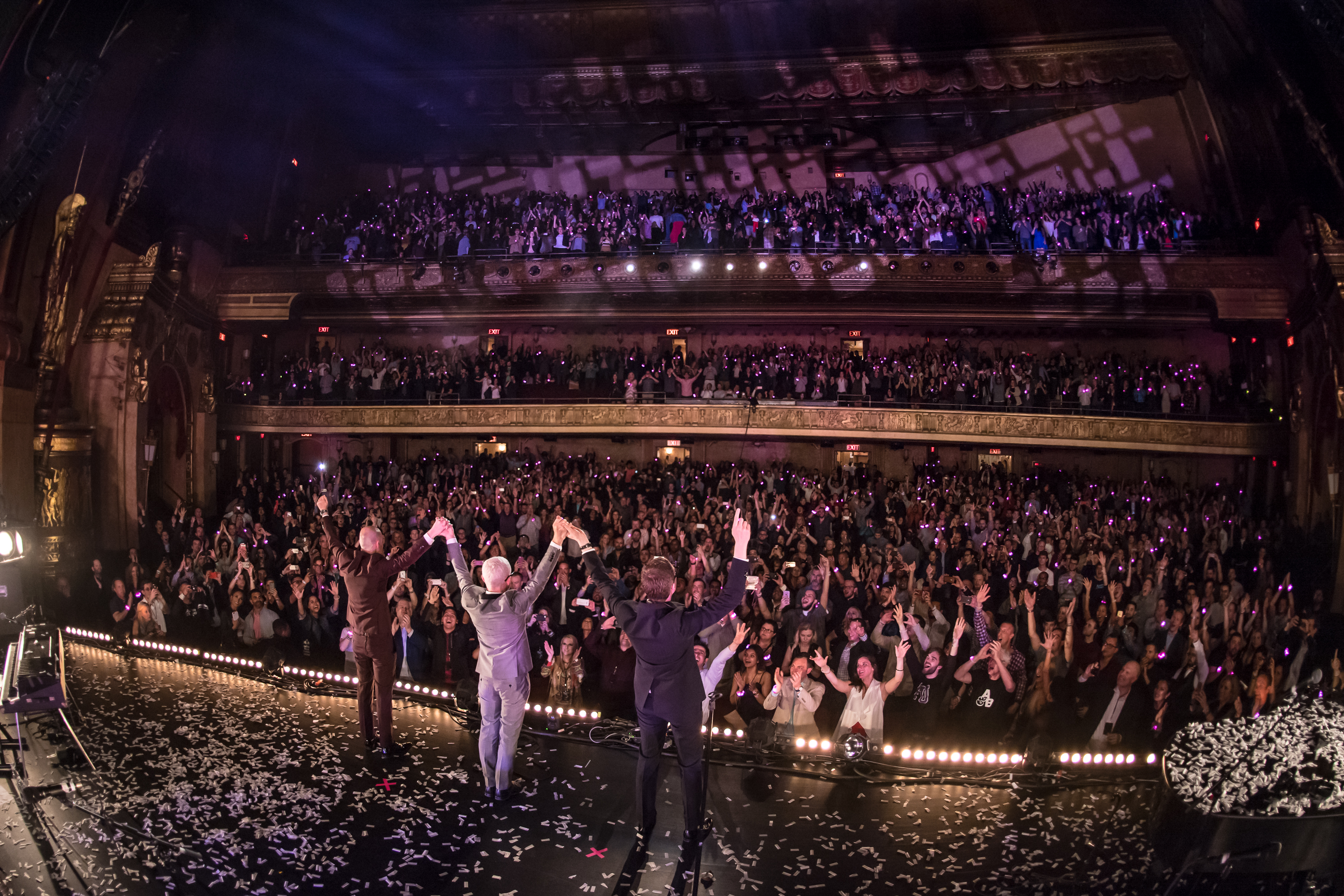 Famed dance music trio Above & Beyond brought their Acoustic Tour to The Beacon Theatre for three consecutive nights
Above & Beyond Acoustic landed at The Beacon Theatre last weekend for three consecutive nights. For the first time ever, Above & Beyond were on Broadway—and the show was stripped down and absolutely breathtaking. An intimate spectacular, Above & Beyond Acoustic filled the walls of the iconic Beacon Theatre for a two-hour showcase, which included band members and vocal talent. Supporting act Solomon Grey opened the shows throughout the course of the tour.
Members of Above & Beyond—Jono Grant, Tony McGuinness, and Paavo Siljamäki—were joined by vocalists Zoe Johnston, Justine Suissa, Cobi, and Natalie Holmes.
During the two-hour ensemble, Above & Beyond serenaded attendees with numerous fan favorites, completely stripped down and reimagined. Beginning with "Hello," the crowd was greeted by the trio, vocalists, and accompanying musicians.
Above & Beyond on Broadway proceeded with acoustic interpretations of "We Are All We Need;" "Blue Sky Action;" and OceanLab favorite, "Miracle."
From start-to-finish, the intricately selected set listing included some new acoustic renditions as well as interpretations that were first heard during the original Above & Beyond Acoustic tour.
The show continued on with "Sticky Fingers;" "Satellite/Stealing Time;" "No One On Earth;" "On My Way To Heaven;" and the newest OceanLab release, "Another Chance."
The sold-out Beacon Theatre crowd sang in unison to every tune the band played and gave rambunctious cheers in between them. During the latter hour of the ensemble, acoustic versions of "All Over The World," "Thing Called Love" and "Alone Tonight" highlighted the true talent of Cobi. As well as being a lyrical man, Tony gave an emotional guitar performance of "Black Room Boy."
The sound of Zoe Johnston's voice sent "Peace Of Mind" to all in attendance as she went on to sing "Save Me." All of this lead to the bittersweet finale which consisted of the classic, "On A Good Day" performed by the graceful Justine Suissa followed by confetti showers for Cobi's rendition of the ever-popular "Sun & Moon." Before taking their final bow and bidding New York farewell, Zoe and the band shut the show down with a breathtaking moment where "Good For Me" left fans in need of tissues.
Proving that dance music can be more than just bass and drops, Above & Beyond Acoustic was a one-of-a-kind showcase, suitable for all music lovers.
On June 3rd, Above & Beyond Acoustic II, the official album, sees its official release through Anjunabeats/Ultra Music.
For more information on Above & Beyond visit aboveandbeyond.nu.
Photo Credit: aLIVE Coverage