Above & Beyond #ABGT100 Live From Madison Square Garden NYC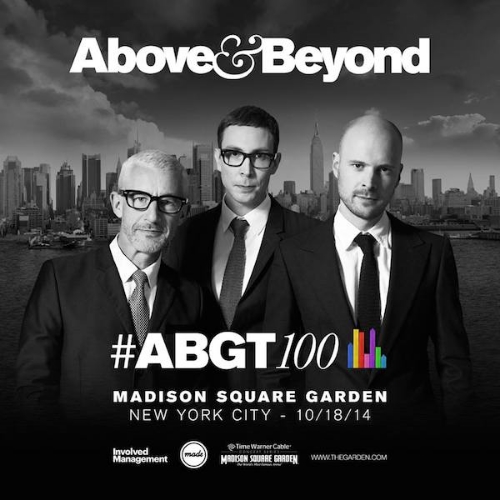 One of the most memorable events in all of dance music history, the sold out #ABGT100, dominated the world's most famous arena on October 18, 2014. Above & Beyond, along with a little help from their friends, provided an unforgettable evening with an unbeatable soundtrack and thousands of smiling faces.
Above & Beyond were joined by Anjunabeats friends Mat Zo, Andrew Bayer, and Ilan Bluestone in an event presented by Involved Management and Made Event.
The UK-based trio released their newest artist album "We Are All We Need" on January 20 through their Anjunabeats imprint. The studio release went on to reach the #1 spot on the Billboard Electronic/Dance Albums chart during the week of February 7.
#ABGT100 Tracklisting:
00:00:00 Above & Beyond – Quieter Is Louder (Original Mix)
00:02:29 Above & Beyond – We Are All We Need (Original Mix)
00:07:15 Above & Beyond feat. Alex Vargas – Sticky Fingers (Original Mix)
00:12:02 Same K – For You (Above & Beyond Edit)
00:16:03 Above & Beyond – ID
00:20:49 Porter Robinson ft. Urban Cone – Lionhearted (Arty Remix)
00:25:42 Faithless – Salva Mea (Above & Beyond Remix)
00:31:08 Sunny Lax – Daenerys (Original Mix)
00:35:37 Above & Beyond feat. Zoe Johnston – Peace of Mind (Original Mix)
00:40:37 Nick Sember – Forth (Original Mix)
00:44:51 Walden vs. Oceanlab – Sirens of the Toranian (Above & Beyond Mashup)
00:49:23 Wrechiski & Jason Ross – Atlas (Original Mix)
00:54:07 Genix – Durban (Original Mix)
00:57:40 Boom Jinx & Meredith Call – The Dark (Kevin Wild & Judah Remix)
01:03:11 Tom Staar & Ansolo – Totem (Original Mix)
01:07:09 Parker & Hanson – Gravity (Jason Ross Remix)
01:11:08 Cosmic Gate vs. Signalrunners – These Yai Shoulders (Above & Beyond Mashup)
01:16:35 Andrew Bayer vs. Above & Beyond feat. Richard Bedford – Sun & Lydian (Above & Beyond Mashup)
01:21:40 Jason Ross – Elements (Original Mix)
01:26:22 Above & Beyond feat. Alex Vargas – All Over the World
01:32:02 Super8 & Tab & 7 Skies – Rubicon (Original Mix)
01:36:43 Above & Beyond pres. Oceanlab – Satellite (ilan Bluestone Remix)
01:41:09 Above & Beyond feat. Alex Vargas – Blue Sky Action (Above & Beyond Club Mix)
01:47:08 Above & Beyond – Hello (Original Mix)
01:52:17 Above & Beyond feat. Richard Bedford