Swedish House Mafia "Don't You Worry Child" Wins #1 on Tomorrowland's Top 1000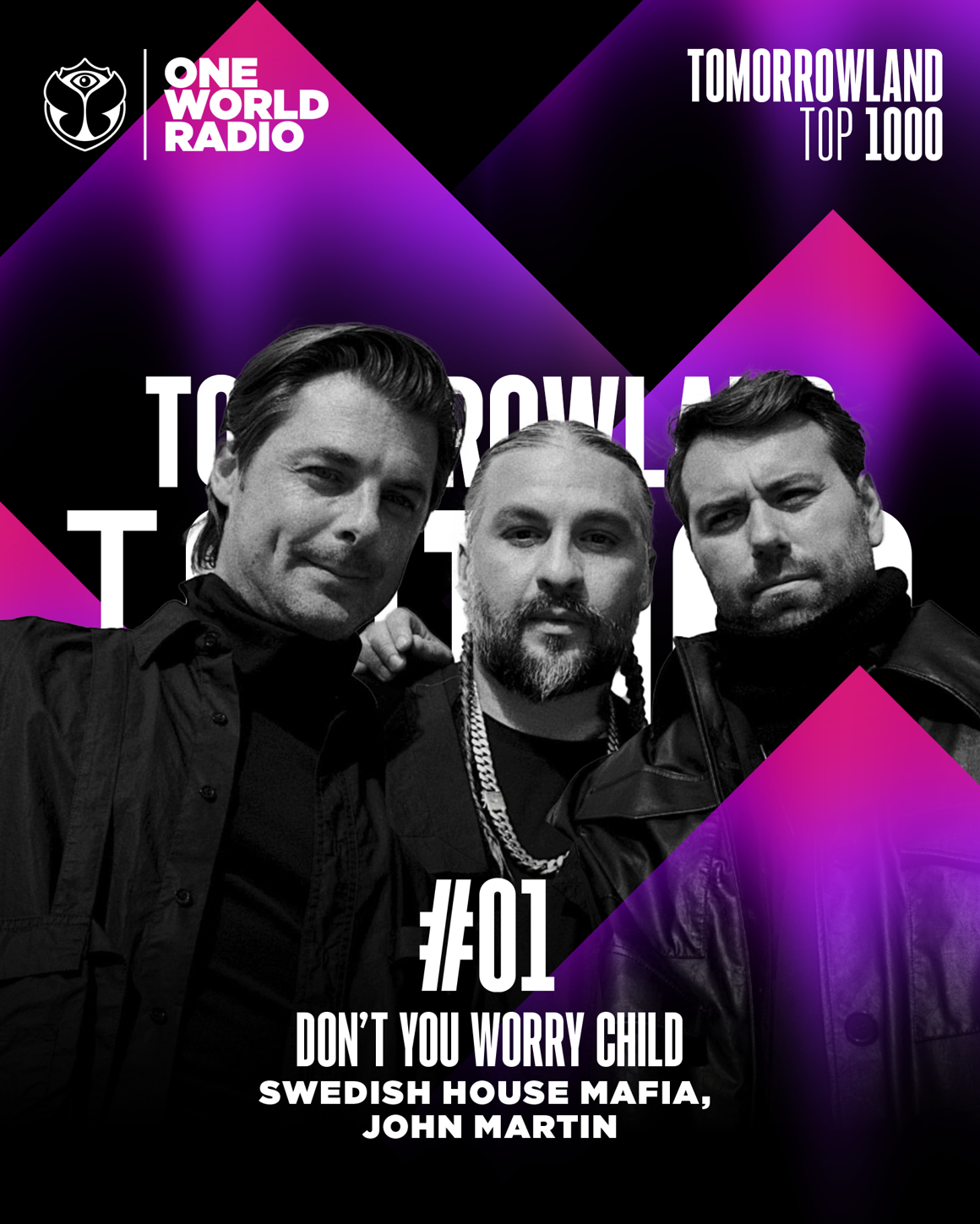 Music fans across the world massively voted for their favorite Tomorrowland Anthems in the Tomorrowland Top 1000. After compiling the 1000 most iconic tracks in the history of Tomorrowland into one list for the fifth year in a row, One World Radio has taken listeners on a complete rundown of the absolute highlights of electronic music history, counting down 125 tracks per day for the past 10 days. The legendary trio Swedish House Mafia now takes the crown with their legendary anthem "Don't You Worry Child." The late Avicii finishes on the second spot with "Levels," while Belgian brothers Dimitri Vegas & Like Mike and MOGUAI take the third place with their original classic "Mammoth."
"We want to say thank you so much for voting 'Don't You Worry Child' as the number 1 song in this year's Tomorrowland Top 1000!" – Axwell and Steve Angello
The Tomorrowland Top 1000 features an excitingly eclectic compilation with a mix of the biggest all-time radio hits, incredible classics, and some of the past year's most popular bangers. With two new entries in the top 10, only two tracks that could hold onto last year's spot in the top 10 and 129 new entries overall, this year's list had listeners on the edge of their seats.
Dutch superstar Martin Garrix is the most popular artist in the list with no less than 39 tracks, closely followed by electronic music legends David Guetta (35 tracks), Tiësto (35 tracks) and Armin van Buuren (35 tracks). Being a pioneering trio in the history of electronic music, Swedish House Mafia is the highest ranked trio, while Belgian techno queen Charlotte de Witte is the highest ranked female artist in the list. The Netherlands is the country that is most represented in the Tomorrowland Top 1000 with plenty of Dutch artists, while Fred again.. & Swedish House Mafia's super collaboration "Turn On The Lights Again" ends up as this year's highest new entry on number 81.
The Top 10 of the Tomorrowland Top 1000 in 2023
Swedish House Mafia ft. John Martin – Don't You Worry Child (+2)
Avicii – Levels (=)
Dimitri Vegas & Like Mike, MOGUAI – Mammoth (-2)
Martin Garrix ft. Bonn – High On Life (=)
Armin van Buuren – Blah Blah Blah (+1)
Sebastian Ingrosso, Tommy Trash, John Martin – Reload (+2)
David Guetta ft. Sia – Titanium (-2)
Age Of Love – The Age Of Love (Charlotte de Witte & Enrico Sangiuliano remix) (+83)
Avicii ft. Aloe Blacc – Wake Me Up (+19)
Alesso vs. OneRepublic – If I Lose Myself (-3)
Relive the Grand Finale of the Tomorrowland Top 1000 right here and check out the Tomorrowland Top 1000 Official Playlist on Spotify, Apple Music, and Deezer.