Soundgarden Hall Offers Sander van Doorn, Duke Dumont Ticket Package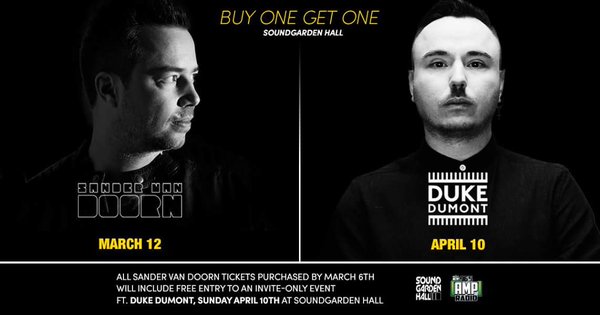 We love buy one get ones, especially when they grant us access to two of the of the most enticing DJs. Soundgarden Hall is giving fans the opportunity to buy tickets for Sander Van Doorn, which includes entry to a special invite-only event featuring Duke Dumont. Soundgarden Hall is known for bringing the best music to our ears with only the finest DJs and music producers. On March 12, 2016 and April 10, 2016 they do it again with this combo deal.
Sander van Doorn, Dutch DJ and music producer will make a return to Soundgarden Hall on March 12 for a heart-warming set. With his extensive collection of crowd pleasers, party-goers can be sure to be in for a night filled with energy and hops. Van Doorn's sounds will have every one dancing the night away in one of Philadelphia's popular venue.
Duke Dumont made an appearance this past summer in Philadelphia for their eclectic festival, Made in America, and blessed hundreds of fans with his deep house sounds. The surrounding trees and skyline served a great backdrop for his popular tracks like "I Got U," "Won't Look Back," and many others. The familiar walls of Soundgarden will provide an intimate night for the invite only event on April 10th.
Put on your dancing shoes because both events will be sure to blow you away. From the upbeat familiar sounds of "Koko" from Sander to the bass throbbing beats of Dumont both nights will be ones to rave about. Tickets for both events can be purchased here.