Rudimental & Gorgon City Co-Headline Central Park NYC With Live USA Tour Spring 2016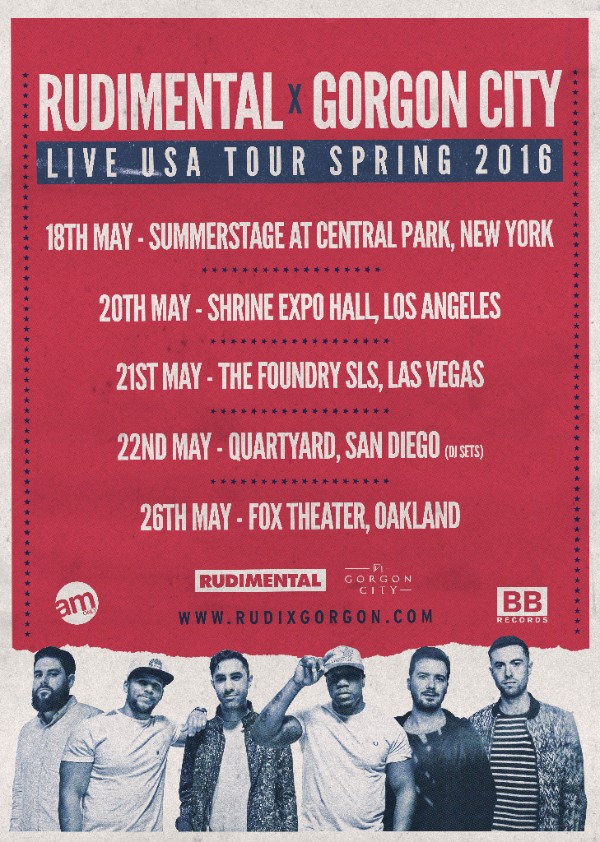 Both acts will perform at five events during their Spring 2016 Live USA Tour
Two of the most sought-after acts in electronic music, Rudimental and Gorgon City, are hitting the road together for a more than desirable combination. With five stops in May, Rudimental and Gorgon City embark on a North American tour, which includes co-headlining performances in New York City, Los Angeles, Las Vegas, San Diego, and Oakland.
Both of the UK-based electronic acts kick off their five-show tour at the famed Summerstage at Central Park, New York on Wednesday, May 18.
Following their outdoor event in NYC, Rudimental and Gorgon City head to the Shrine Expo Hall in Los Angeles (May 20); The Foundry SLS in Las Vegas (May 21); Quartyard in San Diego with DJ sets (May 22); and the Fox Theater in Oakland (May 26).
Rudimental is an enrapturing live act, known to deliver intense live sets consisting of saxophonists, guitarists, drummers, and added synths. With an extensive discography, Rudimental just added to their repertoire with their latest single "Lay It All On Me" with Ed Sheeran. The track, which was released on Big Beat Records, has already sold more than 2 million copies worldwide.
Gorgon City has garnered massive global successful since breaking into the scene in 2012. Almost two years ago, the duo released their debut album, Sirens, to massive critical acclaim. Collaborations alongside Jennifer Hudson, Clean Bandit, Katy B, Zak Abel, and Katy Menditta, among others, have proven their wide range of artistic capabilities. In 2015, Gorgon City released their wildly popular "Imagination" featuring Katy Menditta.
Electronic music lovers shouldn't pass up this opportunity to catch both of the Black Butter Records affiliates in one stop.
Tickets for Rudimental and Gorgon City's Live USA Tour are available on Friday, March 11, HERE.
For more information visit rudixgorgon.com.