OUTPUT New York Kicks Off This Weekend With Summer Hotspot, The Roof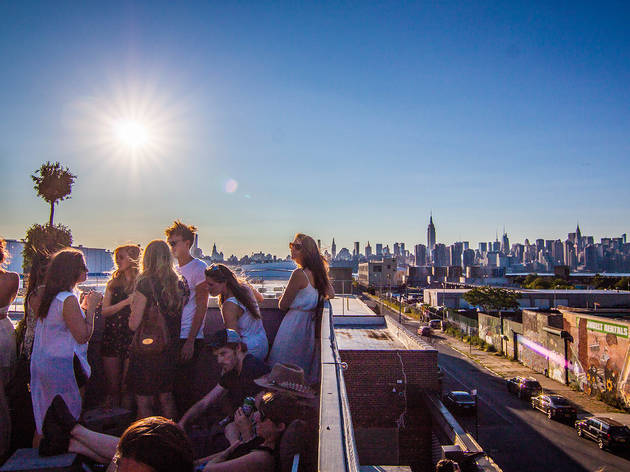 Returning for its sixth year strong, Brooklyn's esteemed nightclub OUTPUT has announced their summer opening weekend for The Roof – ready to rock with a stacked lineup and scoring its place as a surefire hot spot for all music lovers this 2018 season. The party begins this weekend, May 11th – May 13th as The Roof kicks things off for an entire new series of artists, performance, and excitement all the way through late September.
OUTPUT has earned its award-winning nightclub status by time and time again, creating truly the most memorable and exceptional music and dance experiences for endless crowds. From the 'Club of the Year' award by the Electronic Music Awards, to a spot on the renowned DJ Mag 'Top 100 Clubs' last year, OUTPUT has become a beaming soul within the heart of New York. Resting amidst breathtaking 360 degree views of the Manhattan skyline, fans dance the night away under dreamy sunsets and a warm, radiant, lively atmosphere. Highly recognized designer Pao Lopez is returning for her third year to pull out all the stops in dressing up The Roof with her signature style of lush foliage and paradisiacal embellishment.  
OUTPUT has arranged the days and weeks with numerous jam packed genres, themes, and music icons to fill the coming months with nothing but energy and outstanding performances. Going hand in hand with crisp New York City spring vibes and warm summer breezes rolling around the corner, The Roof Sunday series are bound to be one major highlight of the festive season. Opening at 2pm on Sundays, fans have ample time to get their groove on, catch performances by favorite artists, and discover all sorts of new music by top-notch DJs and producers. DJ Tennis, D'Julz, Francesca Lombardo, Audiofly, tINI & the gang, Kerri Chandler, Brawther, Daniel Bell, DeWalta, Francis Harris, ItaloJohnson, Jade, Kalabrese, Mano Le Tough, Move D, Nicolas Matar, and Nico Stojan are only the beginning of featured Sunday artists. With more already lined up and further acts to be announced, Sundays are reserved for The Roof in NYC.
Both Fridays and Saturdays are no slouch when it comes to reigning in heavy hitter performances, literally creating an entire weekend FULL of festivities. Friday Night Live will appear on select Fridays throughout the summer, starring full bands and top tier electronic musicians. Opening at 5pm as afterwork events, sunsets with Roy Ayers, KiNK, Giorgia Angiuli, Stavroz, Crussen, and more are simply idyllic combinations.
Saturday afternoons also kick off at 2pm and waste no time jumping in with headliners like Dubfire, Anané & Louie Vega, David Morales, and Victor Calderone. And no rooftop party is complete without Andy Pry, Eli Escobar, and Lloydski, better known as Tiki Disco – bound to host all around zestful vibes for fans. Danny Krivit is set to switch it up with a soulful set at his '718 Sessions' parties, while Alex Cruz's Deep & Sexy house nights will light up New York with bangin rhythms.
Back by popular demand this year are The Roof's free weekday parties from 5-10pm of both favorite local musicians and prized international talent, from The Scumfrog, to Jesse Calosso, to Jean Pierre, and to Blas Cordero, just to name a few. Memorial Day, Independence Day and Labor Day are reserved for Everyday Afrique showcasing freshly minted African rhythms and Caribbean vibes.
With this mass amount of music, energy, and dancing ready to go, check out which days and nights you'll be attending at with the lineup below, and stay tuned for more announcements from The Roof at OUTPUT:
Friday Night Live May 11
Roy Ayers (live)
Sunday May 13
Resolute on The Roof
SIT
Move D
Lauren Ritter
Saturday May 19
Tiki Disco
Sundays on The Roof May 20
DeWalta
D'Julz
Nicolas Matar
Thursday May 24
Arcana Presents
Jesse Calosso
Jean Pierre
Blas Cordero
Friday Night Live May 25
KiNK (live)
Giorgia Angiuli (live)
Saturday May 26
718 Sessions
Danny Krivit
Sundays on The Roof May 27
Nico Stojan
Christian Voldstad
Monday May 28
Everyday Afrique
DJ Moma
Cortega
Silent Addy
Kashaka
Underdog
Rich Knight
Saturday June 2
The Ritual with
Anané and Louie Vega
Sundays on The Roof June 3
Tom Trago
Brawther
Recloose
Friday Night Live June 8
Stavroz (live)
Crussen (live)
Saturday June 9
Dubfire (classic house set)
Nicolas Matar
Sundays on The Roof June 10
Mano Le Tough
Jade
Ray Zuniga
Friday June 22
SNBRN
Saturday June 30
Tiki Disco
Sundays on The Roof July 1
Audiofly
Wednesday July 4
Everyday Afrique
Saturday July 7
David Morales
Sundays on The Roof July 8
tINI & the gang
Sunday July 15
Resolute on The Roof:
Daniel Bell
Thomas Melchior
Kalabrese & Rumpleorchester (live)
Saturday July 21
718 Sessions
Danny Krivit
Wednesday July 25
M.B.T.S.
The Scumfrog
Saturday July 28
Tiki Disco
Sunday July 29
DJ Tennis
Sundays on The Roof August 5
Francis Harris
DJ Fett Burger
Saturday August 18
718 Sessions
Danny Krivit
Wednesday August 22
M.B.T.S (Most Below The Surface)
The Scumfrog
Saturday August 25
Tiki Disco
Sunday August 26
Kerri Chandler
Sundays on The Roof September 2
Prins Thomas
Monday September 3
Everyday Afrique
Saturday September 8
Tiki Disco
Sundays on The Roof September 9
Thugfucker
Francesca Lombardo
Galen
Saturday September 15
718 Sessions
Danny Krivit
Sundays on The Roof September 16
ItaloJohnson
Saturday September 22
Deep & Sexy
Alex Cruz