Interview: John Digweed & Alan Fitzpatrick on Lost Horizon Festival July 3 & 4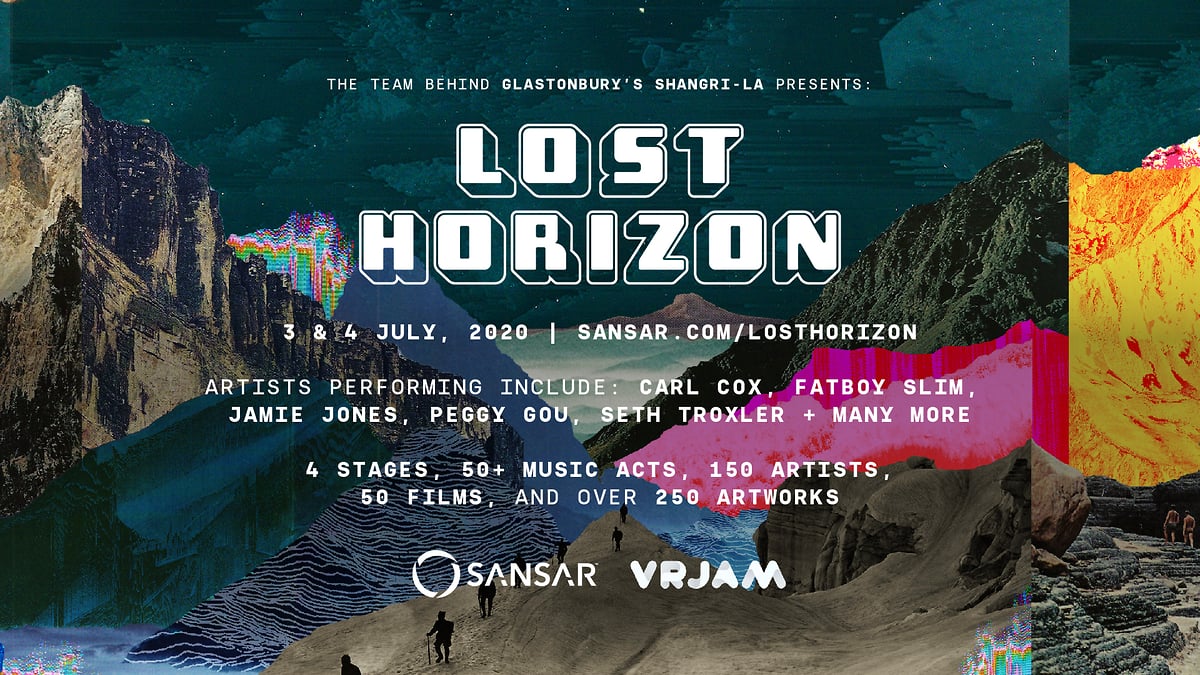 Glastonbury's Shangri-La is going virtual for the Lost Horizon Festival, introducing the magnificent Gas Tower Stage. This weekend on July 3 & 4, music will be curated by the Orca Sound Project, and fans around the world are tuning in for what is shaping up to be one of the best virtual festivals yet. Sign up to experience Lost Horizon in VR or on PC at: www.sansar.com/losthorizon
The Gas Tower Stage is taking center stage this weekend, as its roster of talent is bursting at the seams. Featuring artists like Carl Cox, Fatboy Slim, Jamie Jones, John Digweed, Noisia (DJ Set), Peggy Gou, Pete Tong, Sasha, and Seth Troxler. Virtual festivals and live streams have become a weekly (or even daily) highlight for millions of people around the world. Lost Horizon is proving unmissable – get your setup ready because this weekend is going to blow live streaming out of the water.
To celebrate the outstanding event, we've rounded up two of electronics' mainstay names, Alan Fitzpatrick and John Digweed, to shed light on its festivities. Earlier this year, John released his album Quattro via his imprint Bedrock Records. Spanning 45 exclusive tracks, the album serves as a successor to 2018's Bedrock XX, the last four-disc album he produced to celebrate Bedrock Records' 20th anniversary. Quattro is truly a trip through time and space and a devout body of work by John. The album also features the likes of Francesca Lombardo, Booka Shade, Tom Mangan, and more. Each of the 4 discs on Quattro is tailored to showcase a flurry of sounds ranging from deep house to techno and loads more in between. 
Good reason will always remain for John being one of the most respected and imitated DJs in the world. His sets are filled with moodiness and musical mystery but held down with a punchy distinctiveness and earthly rhythm. Experience a live set with John is a must for any dance fanatic, and a treasured memory for those who return time and time again.
Alan Fitzpatrick has been leading music releases throughout the year. New additions to his repertoire include I Still Remember (6 tracks), three edits of "Still Tonight," Fairytale Frequency (2 tracks), The Hole EP, four edits of "Step Away," three edits of "Haven't You Heard" including one remix, and "Awkward Desire." Alan's long standing career as a creator, performer, and overall jewel figurehead in the dance space is reflected in each and every one of these productions.
Fans from across the world continue to be attracted to the energy of Fitzpatrick's trademark music. The man from Southampton can be found headlining events across Europe, North America, Asia and South America, including his own We Are The Brave parties and festivals such as Tomorrowlands, Creamfields, Lovebox, Parklife, Junction 2, Hideout, EDC Las Vegas and a busy Ibiza season playing for El Row at Amnesia, Paradise at DC10 and hosting his own We Are The Brave four-date take-over as part of Do Not Sleep's season long residency at Sankeys.
Alan Fitzpatrick Lost Horizon interview below:
Nocturnal Times: How was the experience of recording your set for Lost Horizon?
Alan Fitzpatrick: It was a bit surreal actually. It was my first time out of the house doing something music related in months, so I was really excited and had some pre-gig nerves. When I got there, it was just a green screen set up and a few other people masked and adhering to the social distancing guidelines, a bit different to a normal gig set up! I enjoyed it though and can't wait to see the final stream.
Nocturnal Times: How was the process of firstly preparing your set and secondly playing for the festival when you usually have a crowd to vibe off?
Alan Fitzpatrick: Preparing my set was difficult, it's not something I usually put a lot of thought into, but I had so many wicked demos and promos stored up from lockdown that I wanted to share with fans but of course, not everything could make the cut. This is my Glastonbury, Shangri-La set, so I wanted it to be full of energy and still be representative of my style even though I'm performing in front of two people with a green screen, and yeah, playing to an empty room can really throw you. I vibe off the crowd a lot during my performances and read their energy to make sure my set flows and everyone is on the same page, when you don't have an audience you've just got to trust your instinct and believe in what you're doing.
Nocturnal Times: Have you ever done anything like this before? What are your thoughts on the many live streamed sets that have been broadcast over the past few months?
Alan Fitzpatrick: I've been involved in a lot of livestreams throughout lockdown, but this is the first proper VR festival I have been involved in. I think it's wicked that labels and artists have gone the extra mile to stay connected with their fans during the pandemic, of course it's not the same as a club experience but it's better than nothing and I think fans really appreciate being able to turn on the TV and dance along with their favourite artists.
Nocturnal Times: It's been an incredibly strange few months, do you think the scene will ever go back to the way it was pre COVID?
Alan Fitzpatrick: I'm not sure anyone really knows the answer to that question, and I don't like to speculate. All I will say is that we should stay positive and support each other and make the most out of the opportunities we get once clubs start to re-open.
Nocturnal Times: Have the last few months without gigs been beneficial for freeing time up for different creative projects for yourself and new angles for We Are The Brave?
Alan Fitzpatrick: Yeah, it's been great to get back to the drawing board and sort of press the reset button. We've got a lot of exciting things planned and the labels release schedule has seriously blown up.
Nocturnal Times: Have you been spending much time in the studio and if so when can we expect new music from you?
Alan Fitzpatrick: I've spent a lot of time in the studio, it's my way of destressing. My release schedule is full for the rest of the year and I've started a few exciting collaboration projects with different artists for next year. The next release from me is on We Are The Brave's second VA 'Electric Soul Music Vol. 2' which lands on 17th July. I have to stay tight lipped about the others unfortunately but keep your eyes peeled.
Nocturnal Times: Your recent planned events for We Are The Brave have of course been postponed, would you ever consider virtual events whilst the pandemic is ongoing?
Alan Fitzpatrick: 2020 was due to be a big year for the label events but I'm confident we can come back bigger and stronger. We recorded sets with our residents in an empty Southampton nightclub just before the UK lockdown was imposed and streamed these on Facebook to raise money for the NHS. I'm sure anyone who has been to a Brave gig will agree, our events are renowned for the energy and reaction from fans, it's not something you can easily recreate on a live stream.
Nocturnal Times: What else have you been doing with this additional free time, have you taken on any new interesting hobbies & are you missing touring?
Alan Fitzpatrick: I've really missed touring and spending time with my team on the road. It's been such a big part of my life for the past 12 years, so that's a fairly natural reaction. That said, spending time at home with the family has been amazing. We've done a lot of cycling and gone for nice walks, just little things I don't always get the opportunity to be involved in due to my touring schedule. I've also rediscovered my love for cooking and I'm a superb baker believe it or not, if you want sourdough bread or shortbread biscuits, I'm your man.
Nocturnal Times: Thanks for chatting with us Alan, can't wait to be back on the dancefloor to one of your sets soon!
Alan Fitzpatrick: You and me both ha!
Read on for our exclusive with John Digweed as well:
Nocturnal Times: How was the experience of recording your set for a VR festival?
John Digweed: To be honest, it was perfectly fine.
Nocturnal Times: Did you know which other artists were going to be on the line-up? How did you prepare your set in terms of flowing from the artist before you and then onto whoever was coming after?
John Digweed: I had no idea who would be playing before or after me, so I just did my thing and put together a set that I thought people would appreciate if I was playing there live.
Nocturnal Times: Is this the strangest set you've done so far this year? How are you finding the experience of streamed sets, online audiences, crowds that you can't see or hear?
John Digweed: I've been putting on a radio show every week for the last 20 years and even started a weekly live stream when lockdown kicked off over 16 weeks ago, so I had no problem putting together yet another set at home. My setup consists of the camera angled on my mixer / CDJs and my record collection in the background. I'm not keen on being the centre of attention in the camera frame so instead, I wanted to place the music front and centre. This seems to have resonated with my fan base as the streams get a solid number of views every week, and there's a real sense of community in the live stream chat. I'm sure a sense of stream fatigue has set in around the world with the sheer amount of DJ streams that have become available to fans, which is why I was excited to be part of the Lost Horizon virtual festival. I knew they would be taking the visual side of things to the next level and I'm looking forward to seeing the final result.
Nocturnal Times: You've been a figurehead of dance music for well over two decades now – is there anything you've come across in your career that even comes close to the current situation we're all in right now?
John Digweed: In one word – no. I think the entire entertainment industry feels like someone just turned the switch off and is hurting from so many people losing their jobs and business during this crisis. I guess clubs, festivals and theatres will also be the last to get the green light to open, and even then I'm sure it will take a while until the dust settles and the experience that we all know and love returns. At this point, all we can do is wait and see and pray that there is no second wave in the winter and that a vaccine is quickly on its way. I want to get in front of a crowd as soon as everyone else does, but we have to do this slowly and cautiously so it does not end up getting shut down again 2 months later.
Nocturnal Times: What positives have you been able to draw from the past few months?
John Digweed: No jet lag for the first time in 26, loads more family time, and no M25 for 4 months ☺
Nocturnal Times: Have you had an opportunity to make much new music and if so, when can we expect to hear it?
John Digweed: I released a new album project at the beginning of April called Quattro, a 4 x CD compilation with 4 different mixes: a collaborative downtempo album I made with Nick Muir called "Juxtaposition" and 3 other CDs full of tracks that I signed and commissioned or remixed. I spent most of April and May promoting and spreading the word about that project. Apart from that, I've been spending the last 4 weeks sorting and filing my records collection which consists of over 30,000 records – something I've always wanted to do but never had the time. It's taking ages but it's also very rewarding, as I've been finding so many forgotten gems in my vast collection.
Nocturnal Times: Do you think this is our new normal or do you think we'll return to our old ways? Will this change nightlife and the clubbing and festival scenes irrevocably?
John Digweed: I don't have the answers for this since we're navigating through uncharted territory, and none of us have been in this situation before. We all need to just wait and see what happens and how everything unfolds.
Nocturnal Times: What else have you been getting up to at home aside from streamed sets and production? Do you miss the touring or have you discovered a newfound love for staying in one place for a while?
John Digweed: The strange thing is I have never been so busy! The weeks just seem to go by faster and faster. I've been doing so many jobs around the house plus sorting through so many old boxes of paperwork and stuff I've had lying around for years and years but never got around to it. I've also been signing and giving away old club flyers to fans that signed up to www.johndigweed.com/bunker. I had so many sitting around and would rather give them away to people who will see the value in them rather than collecting dust in a box or throwing them out. I have loved waking up in the same bed every day; my sleeping pattern is the best it's ever been! I guess after all the years of constant traveling this has been a nice reset for my body.