Flesh & Steel Festival Announces Lineup Ahead of December NYC Debut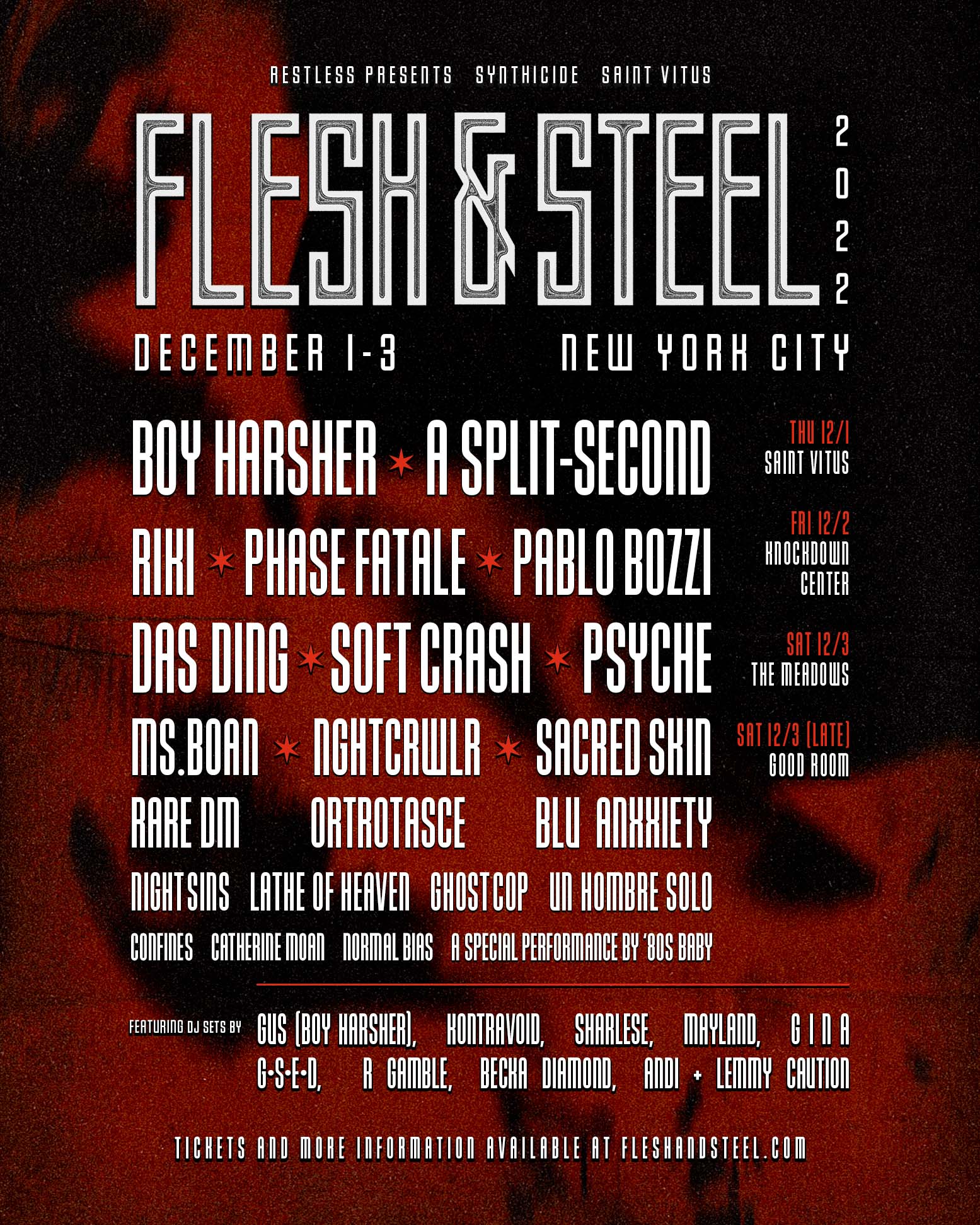 Renowned event imprint Restless Presents has joined forces with like-minded brands Synthicide and Saint Vitus to present the first-ever rendition of Flesh & Steel Festival in New York City. The event promotion trifecta is gearing up to transform the city that never sleeps into a three-day music haven across some of the city's most intricate live music venues. 
From December 1-3, Flesh & Steel will completely take over New York City's most exhilarating nightlife spots with its multitude of hard-hitting dark and heavy soundscapes. Festival goers will be able to bask in all of the brand-new festival's glory at iconic NYC music venues Saint Vitus, Knockdown Center, The Meadows, and Good Room. The festival's mission is to become the electronic/post-punk destination on the East Coast.
The highly-anticipated festival will kick off on Thursday over at Saint Vitus with performances by Canadian goth-pop legends Psyche and LA's Sacred Skin. The evening is scheduled to continue with eclectic sounds by Rare DM, Lathe of Heaven, and captivating DJ sets from prominent underground imprints Disko Obskura and Mayland.
On day two, the fest's most grandiose and large-scale event is set to take place at Knockdown Center with live sounds from Boy Harsher, A Split-Second, Soft Crash, Parade Ground, Ms Boan, NGHTCRWLER, and '80s Baby. Then, on the last and final day, Flesh & Steel will present an early show at The Meadows featuring Psyche, Sacred Skin, Rare DM, and Lathe of Heaven followed by a late-night event at Good Room with DJ sets by Boy Harsher's Gus Miller, Phase Fatale, Pablo Bozzi, SHARLESE, R Gamble, and Becka Diamond.
A festival experience for New Yorkers curated by New Yorkers, this upcoming debut of Flesh & Steel Festival is one you won't want to miss. Whether you want to partake in all three days of the action or choose to party it up at your favorite NYC venue for just one day, single-day tickets and bundle packages are now available here.
"There is a bounty of that rare synergy of community and culture between Restless Presents, Saint Vitus, and SYNTHICIDE whose visions align on opposite coasts," says Tarney. Given Restless Presents' work in supporting the dark-rock/electronic underground on the West Coast with its SUBSTANCE series, it makes perfect sense for them to partner in FLESH & STEEL's mission.