EDC Week 2018: Insomniac Shares New Dates & Details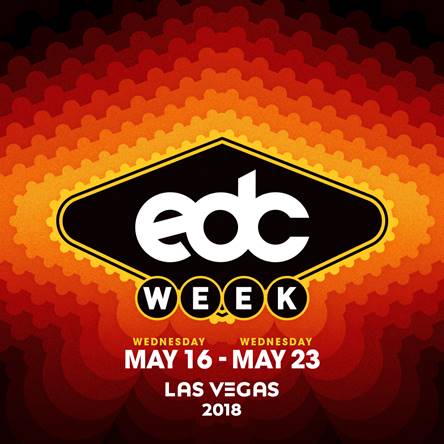 Insomniac's big reveal for EDC Week took a huge leap forward, extending to an entire week-long celebration this year. With brand new dates, it will span from Wednesday, May 16 through Wednesday, May 23, 2018.
Eight days of events across nearly all of the Las Vegas venues. And what's even better? The day after EDC Week starts Memorial Day Weekend events in Sin City. Hailing from cities in countries all over the world, the biggest names in dance music will convene in Las Vegas to honor North America's largest dance music event of the year. Taking to venues all over the city, the celebration will truly be one as majestic and awe-inspiring as EDC itself.
Insomniac Founder and CEO Pasquale Rotella added, "EDC Week has always sparked the energy that builds just before EDC Las Vegas, and is the party that continues even after the festival ends…We changed the dates to run from Wednesday to Wednesday so fans can arrive later in the week and stay later for a stacked lineup of events on the Strip and beyond."
Traditionally the week builds up the hype for the 3-day showdown, but this year the magic will continue past the festival to pack in even more music, dancing, laughs, and good times. Last year EDC Week brought a stacked lineup of over 100 world-class artists like Calvin Harris, RÜFÜS DU SOL, Kygo, Jamie Jones, and Galantis to take the lead at over 60 parties hosted at the city's finest day and night clubs including Hakkasan, Drai's, XS, DAYLIGHT, and Marquee.
The EDC Week extravaganza will operate simultaneously but separately from EDC Las Vegas itself. Tickets and reservations for the individual parties, exclusive events, luxury hotels, and more will be available in the coming weeks.
The Las Vegas Motor Speedway will host EDC Las Vegas' 23rd installment this May 18-20. Returning this year with a new makeover, the event will be underway in cooler weather, boast new stage designs, team with a new shuttle provider, and for the first time in EDC history, offer fans a unique and fully immersive camping experience. Situated immediately next to the Speedway, the camping grounds will exist as 'The Three Mountains.' Sol (Sun), Tierra (Earth), and Cascada (Waterfall) will come together as one to host the first EDC camp experience.
Stay tuned to EDCweek.com for all the upcoming details and announcements surrounding the week's festivities.