DGTL São Paulo 2022 Releases Full Lineup Featuring Amelie Lens, I Hate Models, The Blessed Madonna & Many more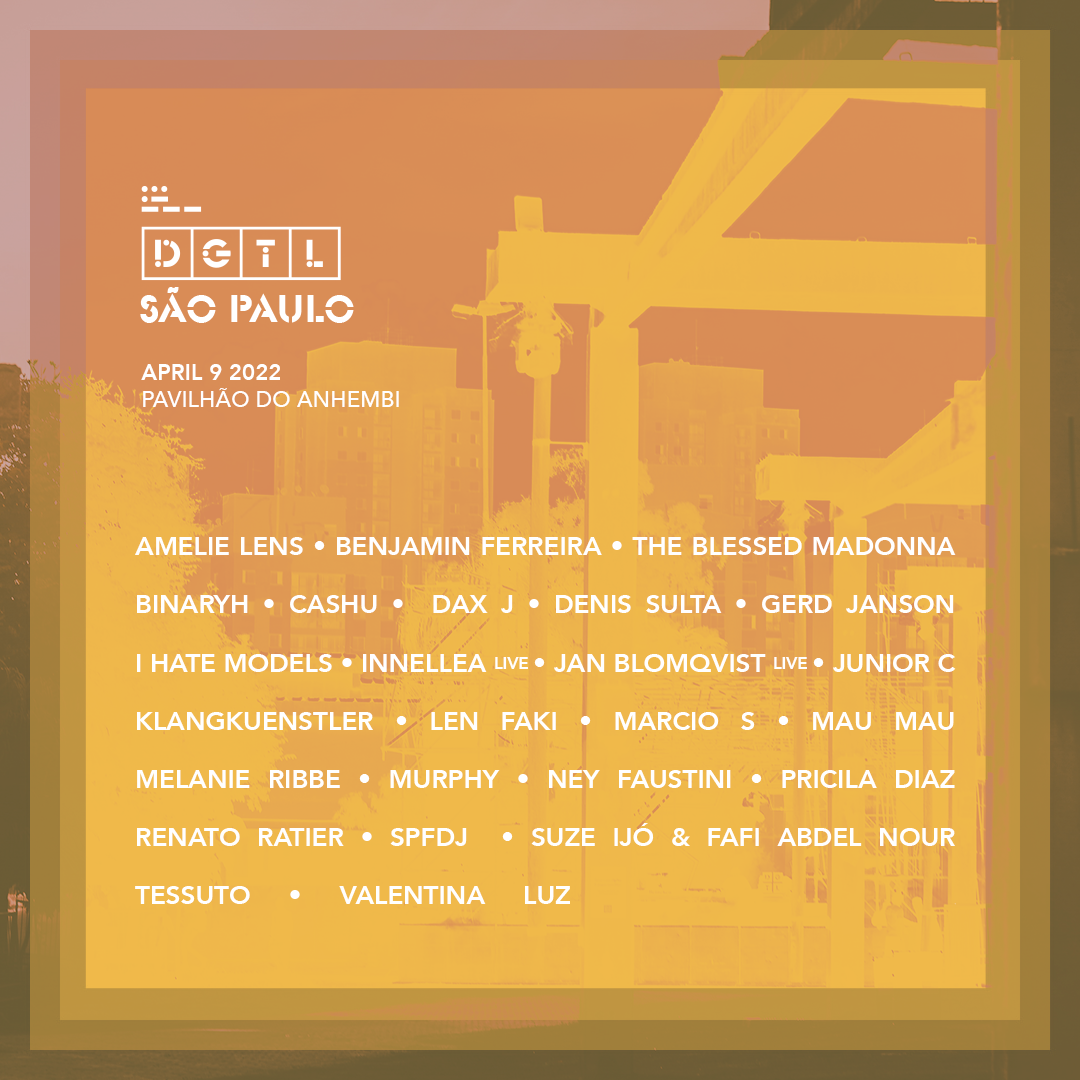 The long-awaited moment for the new era of DGTL São Paulo has arrived. Confirmed for April 9, 2022, the festival will take place at the Anhembi Pavilion in São Paulo, under the new direction of Du Serena, Edu Poppo and Silvio Conchon; renowned promoters in the Brazilian market.
Making her hotly anticipated debut for DGTL São Paulo 2022 is none other than 'techno phenomenon' Amelie Lens, with an exclusive, one-stop-only visit to Brazilian shores. Just six years into her career, the Belgian DJ and producer has quickly risen to the top of the industry and her set promises to raise the roof of the Anhembi Pavilion. Doubling up on the headliner heavyweight status is another major player on the global dance music scene, The Blessed Madonna (USA), who performed at Circoloco São Paulo 2019 and now returns with even more force to shake the hearts of electronic music lovers with her track "Marea," which of course went viral during the pandemic with her message of resilience and hope. 
A first for São Paulo, German DJ and producer Innellea arrives as one of the festival's most exciting new names. Among the most prominent artists of the melodic techno genre, Innellea has released on renowned labels Afterlife and Diynamic, and has been delivering great work both in and out of the studio. Jan Blomqvist, also unprecedented in the city of São Paulo, will present his emotional live set – set to be streamed via legendary dance music video channel Cercle – making the stage of DGTL 2022 truly something to remember.
Debuting on Brazilian soil, French DJ and producer I Hate Models has been drawing the attention of the global underground scene and is more than ready to make his mark on the São Paulo circuit. With a variety of releases on major labels such as Khemia, ARTS, Voitax, T/W/B or Pls.uk, he is as eclectic in his productions as he is in his performances. Among the other international artists on the line-up include: Cashu, Dax J, Denis Sulta, Gerd Janson, Klangkuenstler, Len Faki, Melanie Ribbe, SPFDJ and Suze Ijó & Fafi Abdel Nour.
Brazilians are also coming strong for this memorable edition. Particular highlights include veteran Mau Mau, who leaves his unique footprint on the dancefloor wherever he goes, and Brazil's Melodic Techno sensation of the moment, duo Binaryh, who are responsible for the official remix of the soundtrack for the launch video of DGTL São Paulo 2022. Completing the line-up, we have: Benjamin Ferreira, Junior C, Marcio S, Murphy, Ney Faustini, Pricila Diaz, Renato Ratier, Tessuto and Valentina Luz. Festival organisers have even reserved a special slot for the winner of the TECHNERA contest, giving an unprecedented opportunity to one unknown Brazilian artist to conquer the hearts of DGTL fans.
Tickets are on sale with the complete line-up for the Brazilian edition of DGTL festival available now online. [TICKET LINK]