Above & Beyond to Bring #ABGT150 to Sydney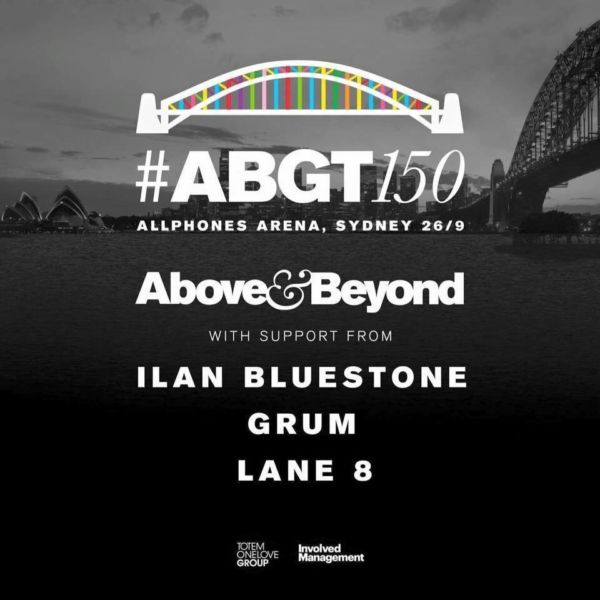 Anjunabeats trio Above & Beyond has announced the one hundred and fiftieth episode celebration of their famed Group Therapy radio show. #ABGT150 will land in Sydney, Australia on Saturday, September 26, 2015 at Sydney's Allphones Arena.
Following a massively successful sold out #ABGT100 showcase in October 2014 at the world's most legendary arena, Madison Square Garden in New York City, Jono, Tony, and Paavo have selected Sydney as the host of #ABGT150.
It has been announced that supporting acts at ABGT 150 include ilan Bluestone, Grum, and Lane 8.
Bluestone is an Anjunabeats favorite having released a number of successful singles on the label. Familiar to many for his uniquely uplifting signature sound, ilan's productions and remixes fit seamlessly into Above & Beyond live sets.
The inclusion of Lane 8 at ABGT 150 assures a groovy, down-tempo performance from the Anjunadeep producer/DJ who epitomizes deep house.
Presented by the Totem OneLove Group and Involved Management, ABGT150 will be streaming live on Sat., Sept. 26 across the world. Group Therapy fans will be tuning in for a session from New York to Tokyo, Buenos Aires to London, and Los Angeles to Sydney, just to name a few.
What time will Group Therapy 150 be streaming where you are?
Tune in to #ABGT150 on Saturday, September 26 at aboveandbeyond.nu.