The BPM Festival Announces Dates for 2016 Event in Playa Del Carmen, Mexico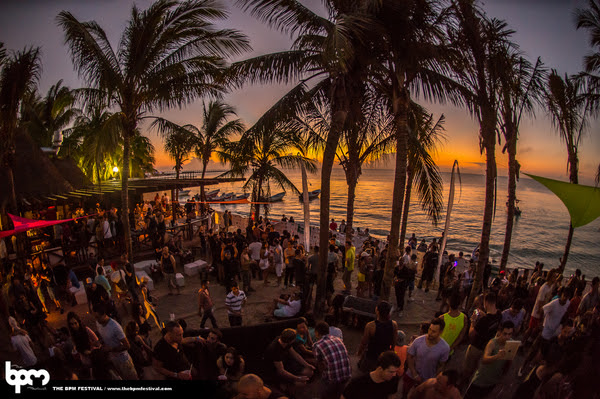 Celebrating its ninth anniversary, The BPM Festival returns to its home in Playa Del Carmen, Mexico from January 8-17, 2016. Dance music enthusiasts unite and kick off the global festival calendar in Mexico for The BPM Festival.
Becoming a staple in the international festival circuit, The BPM Fest encompasses an eclectic and diverse lineup each year, which showcases various acts in underground dance music, techno, and other house music variants. In 2015, The BPM Festival showcased more than 375 artists during the 10-day event, which hosted more than 60,000 attendees from over 60 countries.
Some new additions that The BPM Festival plans to include in the 2016 installment includes the unveiling of the official BPM crest spotlighting the Black Jaguar in traditional mask form, as one of Mexico's national animals. The Black Jaguar  (also known as "panther") is an endangered species and a magical beast with mythology dating back to the Mayan and Aztec civilizations. BPM is spotlighting the plight of this iconic cat and supports big cat rescue from the tourism trade in Mexico.
Toolroom Records creator, Mark Knight, says, "If you've never been before and you like this style of music, this is definitely the place to come." From an artist's standpoint, Pete Tong reveals, "The whole theme of BPM is the champion of the underground, that's what people cherish. It was never about big theatrical events, pyrotechnics, stuff like that. It's focused more about the music, and the social circle. I always get asked the question 'Is Vegas the new Ibiza?,' well really no, Playa Del Carmen is almost Ibiza to an American audience."
The official BPM Festival travel portal is powered by Orbitz.com; offering the best prices for flights and hotels for those traveling to Playa del Carmen. Booking hotels, condos, and flights through Orbitz can be done here.
Watch The BPM Festival: DJs Sound Off:

 
Super early bird 10-day passes will be available beginning on Friday, July 17 at 5 pm EST / 6 pm EDT at TheBPMFestival.com. The super early bird tickets are a limited release and will only be available while supplies last.
Photo: Circo Loco | Nathan Navarro for TheBPMFestival.com