Omnia Nightclub at Caesars Palace Las Vegas Unveils August & September DJ Lineups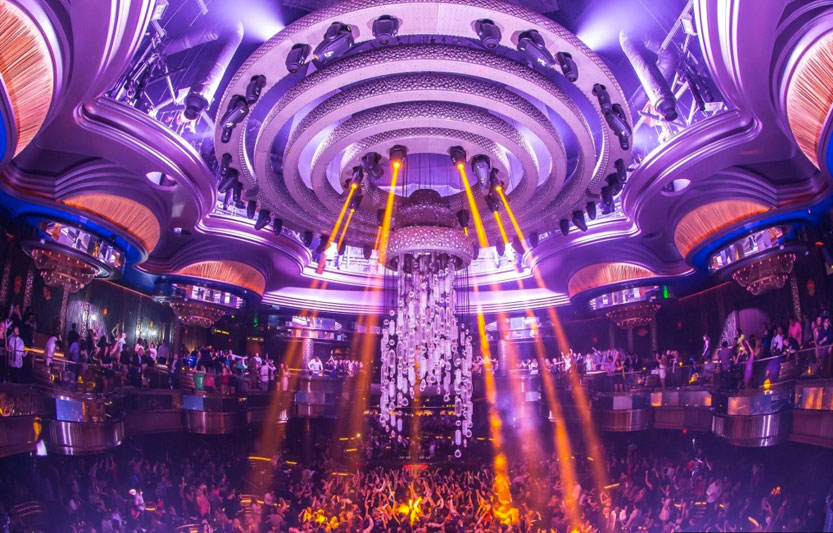 Las Vegas' premier hot spot, Omnia Nightclub, has announced two additional months of non-stop entertainment. The new event space, which is located at Caesars Palace, has revealed its highly anticipated DJ roster for the summer months, including their awaited Labor Day Weekend festivities.
Beginning Saturday, August 1, Omnia will Chuckie followed by headlining performances from resident DJs Axwell, Afrojack, Armin van Buuren, Calvin Harris, Dirty South, Krewella, Nicky Romero, Oliver Heldens, Showtek, Tchami, and more.
The action-packed Labor Day Weekend lineup at the new Omnia Nightclub includes Grammy Award-winning DJ and producer Calvin Harris with Burns on Friday, Sept. 4, Protocol Recordings boss Nicky Romero on Saturday, Sept. 5, and A State of Trance creator and five-time DJ Mag number one Armin van Buuren on Sunday, Sept. 6.
In the coming week, Omnia is also slated to host some of the biggest names in dance music—including Armin van Buuren, Calvin Harris, Afrojack, Martin Garrix, and Nicky Romero, among others.
Tickets are now on sale and can be purchased by visiting omnianightclub.com or by calling concierge services at 702.785.6200.
August DJ Lineup
Saturday, Aug. 1
Main Club: Chuckie
Heart: Fred Matters
Sunday, Aug. 2
Oliver Heldens| IMAGINE at OMNIA
Tuesday, Aug. 4
Main Club: Special Guest
Heart: DJ Crooked
Thursday, Aug. 6
Thursdays on the Terrace
Friday, Aug. 7
Main Club: Afrojack with Dwayne
Heart: DJ Five
Saturday, Aug. 8
Main Club: Axwell
Heart: Sid Vicious
Sunday, Aug. 9
Main Club: Martin Garrix |IMAGINE at OMNIA
Tuesday, Aug. 11
Main Club: Tchami
Heart: DJ Shift
Thursday, Aug. 13
Thursdays on the Terrace
Friday, Aug. 14
Main Club: Showtek with Fergie DJ
Heart: DJ Crooked
Saturday, Aug. 15
Main Club: Nicky Romero with Ansolo
Heart: DJ Irie
Sunday, Aug. 16
Main Club: IMAGINE at OMNIA
Tuesday, Aug. 18
Main Club: DJ Irie
Thursday, Aug. 20
Thursdays on the Terrace
Friday, Aug. 21
Main Club: Special Guest
Heart: OB One
Saturday, Aug. 22
Main Club: Afrojack with Dwayne
Heart: DJ Jazzy Jeff
Sunday, Aug. 23
Main Club: IMAGINE at OMNIA
Tuesday, Aug. 25
Main Club: Special Guest
Heart: Rev Run & Ruckus
Thursday, Aug. 27
Thursdays on the Terrace
Friday, Aug. 28
Main Club: Krewella
Heart: DJ Ruckus
Saturday, Aug. 29
Main Club: Dirty South
Heart: DJ Shift
Sunday, Aug. 30
Main Club: Showtek |IMAGINE at OMNIA
September DJ Lineup
Tuesday, Sept. 1
Main Club: Special Guest
Heart: OB One
Thursday, Sept. 3
Thursdays on the Terrace
Friday, Sept. 4 | Labor Day Weekend
Main Club: Calvin Harris with Burns
Heart: DJ Irie
Saturday, Sept. 5 | Labor Day Weekend
Main Club: Nicky Romero
Heart: FAED
Sunday, Sept. 6
Main Club: Armin van Buuren |IMAGINE at OMNIA | Labor Day Weekend
Tuesday, Sept. 8
Main Club: Oliver Heldens
Heart: DJ Shift
Thursday, Sept. 10
Thursdays on the Terrace
Friday, Sept. 11
Main Club: Calvin Harris
Heart: Mr. Mauricio
Saturday, Sept. 12
Main Club: Special Guest
Sunday, Sept. 13
Main Club: IMAGINE at OMNIA
Tuesday, Sept. 15
Main Club: Showtek
Heart: DJ Crooked
Thursday, Sept. 17
Thursdays on the Terrace
Friday, Sept. 18
Main Club: Krewella
Heart: Special Guest
Saturday, Sept. 19
Main Club: Martin Garrix
Heart: Special Guest
Sunday, Sept. 20
Sundays on the Terrace
Tuesday, Sept. 22
Main Club: Martin Garrix
Heart: FAED
Thursday, Sept. 24
Thursdays on the Terrace
Friday, Sept. 25
Main Club: Armin van Buuren
Heart: DJ Shift
Saturday, Sept. 26
Main Club: Martin Garrix
Heart: DJ Irie
Sunday, Sept. 27
Sundays on the Terrace
Tuesday, Sept. 29
Main Club: Special Guest
Heart: Melo D