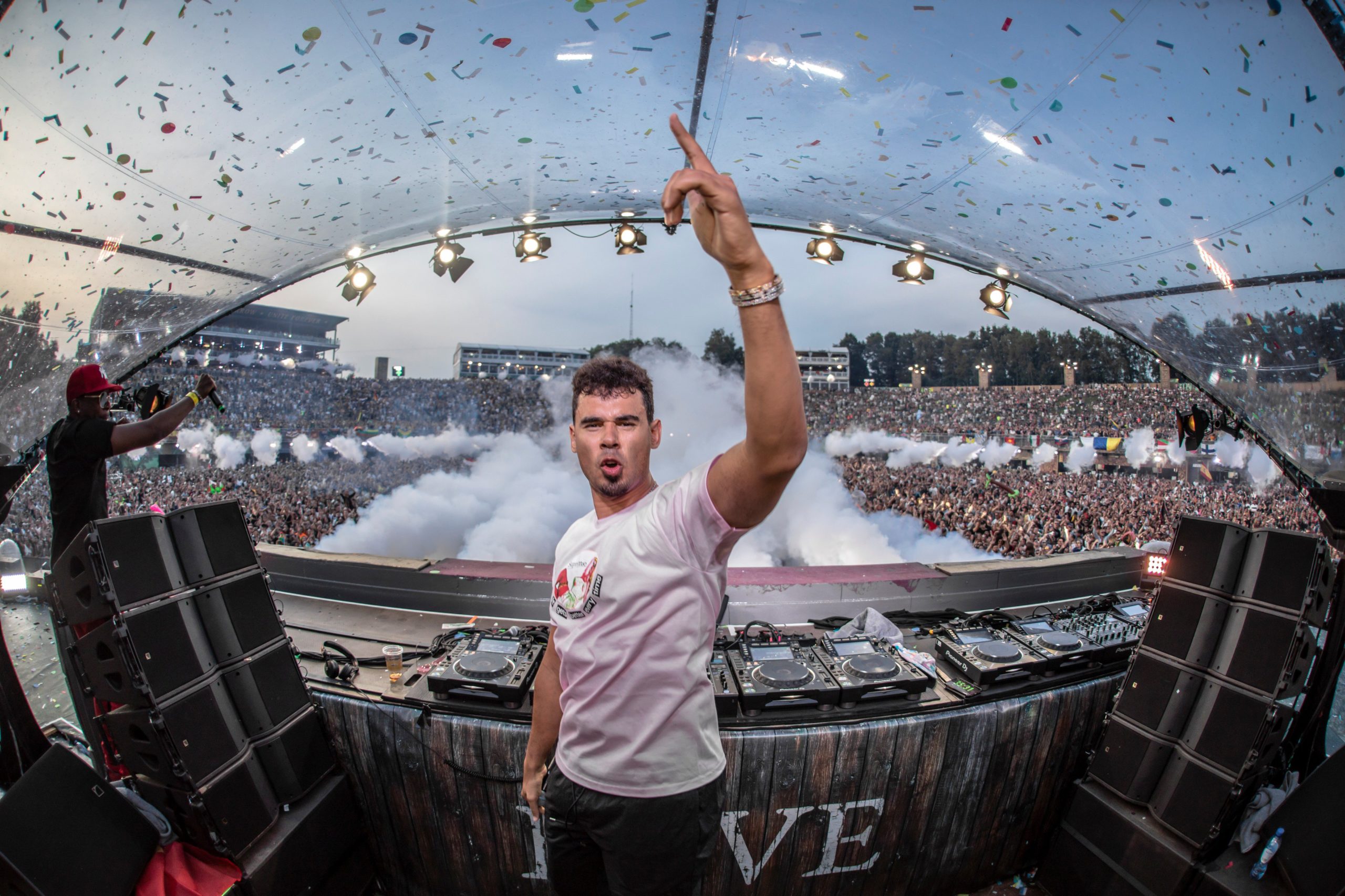 Afrojack Discloses Fresh Single "Anywhere With You" & Never Sleeps Imprint [Interview]
No one does it quite like dance music legend Afrojack does it, and this time around he surely has something extraordinarily special for fans across the globe. The renowned DJ/producer never ceases to amaze us with his powerful musical creations and forward-looking music career aspirations, but his latest releases and ongoing projects might just take the cake. With a vision unlike any other, Afrojack continues to revolutionize the scene with each cutting-edge idea, and its artists like him that make this magical world of dance music we've chosen to be a part of spinning round as time goes on.
This past week, the acclaimed musician released what's easily the anthem of 2021 alongside talented producers DubVision and Lucas & Steve titled "Anywhere With You." Out now on his very own Wall Recordings, the high-spirited single is nothing short of breathtaking, and encompasses that true, happy-go-lucky festival vibe we just can't get enough from beginning to end. Perfect for massive worldly recognized festivals like Tomorrowland, "Anywhere With You" is all about the beautiful concept of dancing, letting go of all your worries and just having loads of fun next to your loved ones, wherever you are in this world. With these five taking control of the studio on this one, there's no doubt the alluring track is en route to become a one-of-a-kind festival top-hit moving forward.
On top of this magnetic release, Afrojack is thrilled to unveil his most authentic concept to date with the rest of the world: Never Sleeps. The Never Sleeps imprint is all about inclusivity and ensuring that every artist in this industry has the opportunity to make it big. Always pushing music in daring directions, Afrojack stands tall with the ideal that making it in the dance music industry is alway within reach if you genuinely have the heart and soul for it. That's all it takes. An imprint designed solely to be all about the music and less about power and fame, its core mission is sure one to cherish and follow.
The notion behind Never Sleeps is so fascinating that we just had to get in touch with the mastermind behind it all ourselves to learn more. Following the highly-anticipated release "You Got The Love" on Never Sleeps and "Anywhere With You", we were finally able to catch up with Afrojack to gain further insight on his two most recent awe-inspiring projects. If you haven't yet, get a glimpse of "Anywhere With You" and it's heartfelt, touching melodies and make sure to read on to learn more about Afrojack's latest music career highlights in our exclusive interview with him below.
The Nocturnal Times: Thanks for having us! You've been on a roll in regards to your music career recently. Let's talk about your newest single that was just unveiled to the world earlier this week, "Anywhere With You". Can you tell us more about the creative process and what inspired the idea behind the stunning track?
Afrojack: My friend Tonino Speciale actually wrote the song and played me a beautiful piano demo of it, and immediately I thought, wow that's an anthem right there. It had instant anthem potential. I just knew that if we produced it right, it would blow up. He mentioned that nobody had picked up on it yet so I started working on it myself to make it what I immediately imagined it to be.
The Nocturnal Times: "Anywhere With You" was a mutual collaboration between you, Lucas & Steve, and DubVision. How did this collaboration come about?
Afrojack: Once I started working on the song on my own and finally got it going in the direction I envisioned, I immediately realized it needed some DubVision sauce to make it just right. So I called them up so they could add their special touch to it instead of trying it all on my own, and we eventually got Lucas & Steve involved as well to add some extra sprinkles to it. And now it's the song it is now. As simple as that!
The Nocturnal Times: You've released a few tracks like "Back To Life" and "New Memories" with DubVision, but this is your first time collaborating with Lucas & Steve correct? How would you describe your relationship with the young and flourishing duo?
Afrojack: Yes, I've worked very closely with DubVision in the past but its my first time working together with Lucas & Steve. This was our first real introduction actually. From here, we're probably going to meet more often and work on more music together! We just have the same life. We're both Dutch, we're both DJs and producers so thats enough to just want to get to know them better moving forward haha!
The Nocturnal Times: "Anywhere With You" screams free-spirited, outdoor festival vibes. We absolutely love it! Do you plan on performing the moving tune at other venues outside the festival ambiance?
Afrojack: I sure hope so, I just have to come up with the right remix of it for the smaller venues first since the song has more of that large festival sound all-around. I've been really leaning toward a more tech-house sound these days for my smaller performances, and this song was created mostly to play at the festivals. But I definitely want to work on some sort of remix so I can play it everywhere!
The Nocturnal Times: The track is full of upbeat, positive lyrics and a moving melody all throughout, did you intend for the song to instill a specific emotion or feeling in listeners as they hear the track for the first time?
Afrojack: Festival. That's the feeling. If you've been to a festival before, you know exactly what feeling I'm referring to and that's the emotion we want listeners to encompass with this song. It's a beautiful feeling only some understand but that's the point.
The Nocturnal Times: Speaking of spreading positivity and inspiration, we'd love to gain more insight on your newest project, Never Sleeps. Could you tell us more about what the project is all about and what your main vision for it is?
Afrojack: Never Sleeps is an imprint built for festivals. A lot of artists produce all types of music but a lot of it never gets properly released because of all the pressure from labels and management so that artists can successfully perform streaming-wise. They just want us to create these happy and relatable streamable songs just so that they can make money, but this was becoming a problem, even for myself. Everything was just aimed at Spotify success and I thought why not make a label that's just there for dancefloor success. A label that's there simply for people to who like going to festivals and EDM-focused clubs and venues to enjoy. It doesn't matter if you get 1 Million streams or 100,000 streams, all that matters is that you create a song that people will love. That's what we're trying to do with Never Sleeps.
The Nocturnal Times: "You Got The Love" was the first song release associated with the imprint. What message were you hoping to portray with this tune?
Afrojack: Ironically, this record actually became very successful even though that wasn't our intention. It just felt like the right record for the label's first release since its very forward-looking and progressive. I remember when I was at the last Tomorrowland, a lot of people asked what song I closed out my set with and it was with this record. So I figured let's use this track to reveal the Never Sleeps concept and what we're truly all about.
The Nocturnal Times: Do you have any specific artists already in mind to recruit to "Never Sleeps" in the near future? How do you decide who you want to invite to release tunes on the imprint?
Afrojack: Well, Never Sleeps is in collaboration with Tomorrowland so of course we have the whole Tomorrowland roster that we can always reach out to. But mostly, I aspire to recruit those artists I constantly talk about this idea with and that just seem really interested and excited about it all you know? DJs first, producers second. They should feel happy knowing they are able to put out a song that they love and not worry so much about compensation or fame.