Tomorrowland Winter Returns To The Breathtaking Ski Resort Alpe d'Huez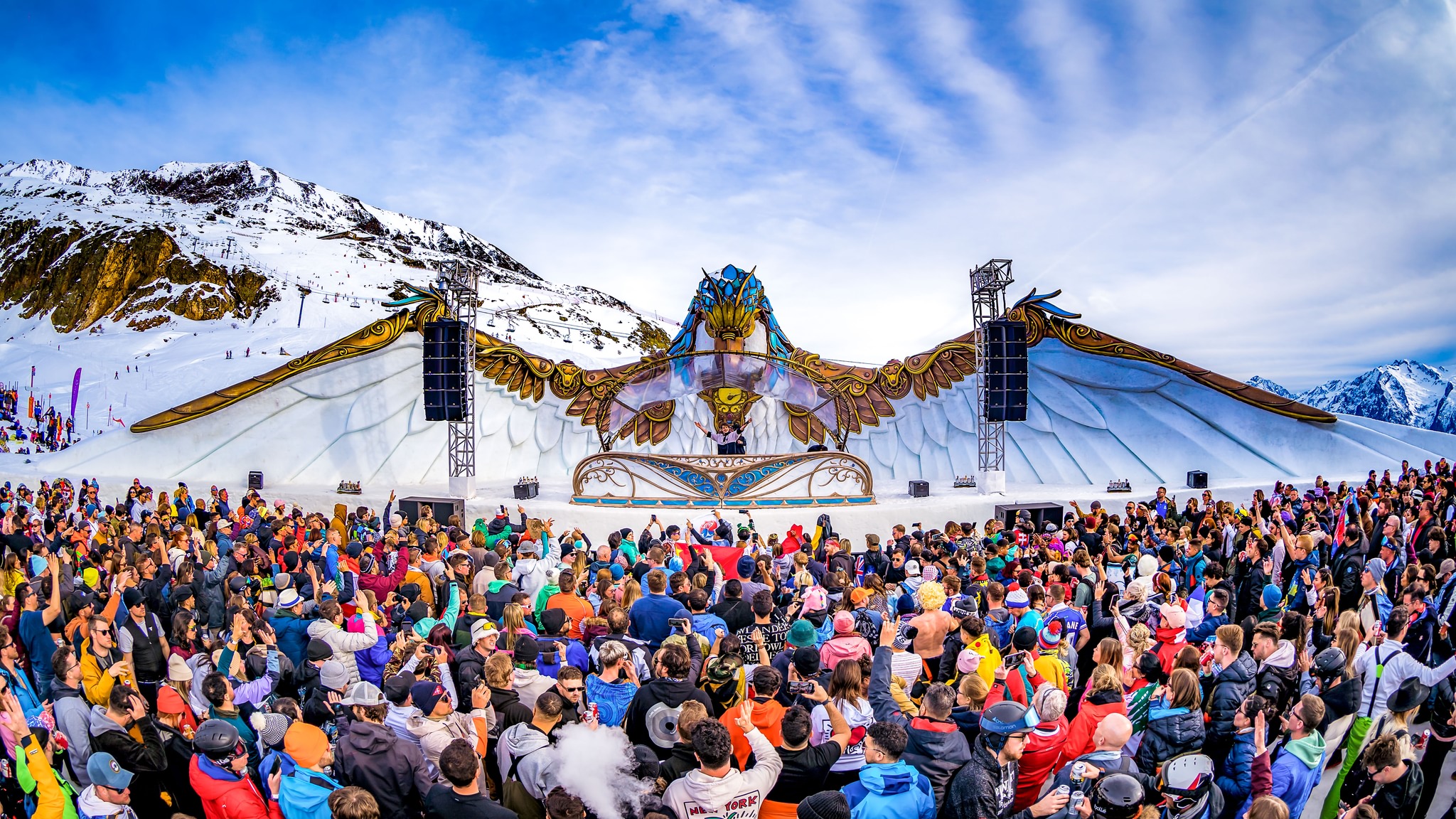 The magical story of Tomorrowland Winter continues! Tomorrowland will return in 2024 to the breathtaking French ski resort of Alpe d'Huez for the fourth edition of Tomorrowland Winter. From March 16-23, 2024, the People of Tomorrow will unite again for a unique winter sports holiday & festival adventure filled with snow, skiing, snowboarding, the world's best electronic artists, amazing outdoor activities and delicious mountain food at a dazzling altitude ranging from 2.000m up to 3.330m.
This year's sold out winter edition welcomed 22.000 People of Tomorrow in the beautiful Alps for a week-long experience with stunning performances by more than 150 of the planet's greatest artists and spectacular views of Alpe d'Huez and the surrounding mountains. Festivalgoers were treated to two brand-new stages, Youphoria (in the heart of the ski resort) and Frozen Lotus (in the mountains), as well as daily "Start to DJ" workshops and inspiring artist sessions at the Tomorrowland Academy, numerous surprise back 2 backs and performances from amazing DJs at Brasa's intimate setting, extraordinary lunch experiences at the brand-new ski lift restaurant Nubes, magical cocktails at Papillon 1860 and much more.
8 magnificent stages on the mountains and across the ski resort
​High up in the beautiful Alps, the fourth winter edition of the iconic dance festival will again host sets by more than 100 world-class artists from all genres and sounds in electronic music at 8 magnificent stages on the mountains as well as across the ski resort – also accessible for non-skiers and pedestrians. People can continue their festival experience in the evening at multiple stages in the ski resort of Alpe d'Huez and party through the night in the covered and heated Mainstage. The highest stage will be located on Le Pic Blanc, the highest point of the Alpe d'Huez Grand Domaine Ski at a breathtaking 3.330m above sea level, overlooking the entire resort.
A broad variety of lodging & hotel options​All Festival Packages include a lift & ski pass and a regular festival ticket, while visitors can choose from a broad variety of lodging & hotel options (including an array of new accommodations) or opt to stay in a chalet or apartment with friends. Tomorrowland Winter Festival Passes include a regular festival ticket, as well as a lift & ski pass. Relive this year's most magical moments with the Official Tomorrowland Winter 2023 Aftermovie.
A fabulous winter wonderland
​Located in the heart of the French Alps, Alpe d'Huez Grand Domaine Ski is the gateway to an outstanding skiing area, boasting 250 kilometers of slopes and 300 days of sunshine a year – ranked among the top-rated ski resorts in the world. The ski area offers fun for every level of skiers and snowboarders: from beginner areas to legendary ski slopes like Sarenne with a length of 16 kilometers. Non-skiers will also enjoy the festival with a variety of winter snow activities that don't involve skiing or snowboarding, including dog sledding, paragliding, snowmobile rides and much more.
Thanks to the Tomorrowland Winter Simulator, people can now start putting together their own favorite travel packages featuring a wide range of transport (flight, bus, own transport) and lodging options (apartments, hotels, chalets) – there's definitely something for everyone. 7-Day Packages for Tomorrowland Winter 2024 go on sale on September 23; 4-Day Packages and 7- & 4-Day Festival Passes go on sale on September 30 on tomorrowland.com.